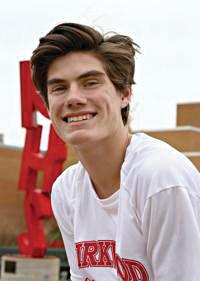 Christian Baker's senior year of high school was certainly memorable. Actually, it was legendary.
The recent Kirkwood High School graduate won four state championship medals this school year: three in track and field at Battle High School in Columbia on May 25, and the other coming in the Class 4 state boys cross country meet at the Oak Hills Golf Course in Jefferson City on Nov. 3. Baker won that 5.1-kilometer state championship race in a time of 15:42.03.
Overall in his career he has totaled six state championship medals, five coming in track and field.
In December, the slender 5-foot-11, 140-pound Baker qualified for the mile in a national indoor track meet in New York. Though he finished 22nd in a time of 9 minutes, 15 seconds, he said, "It was an incredible experience. I ran pretty well."
To top off his spectacular injury-free season, the confident, hard-working Baker won the boys championship mile in the 12th annual Festival of the Miles at St. Louis University High School on May 30. His winning time against some of the best distance runners assembled was 4:08, one second faster than the runner-up.
"It was exciting and to win such a competitive race was incredible," said Baker, Kirkwood's most decorated boys distance runner in school history.
Even though these were his goals, the Tulsa University-bound Baker said he would have been "grateful" to win one state championship medal when he started this journey four years ago.
"I still can't believe it," Baker said. "I accomplished everything I wanted to this year.
"Definitely, I ran a lot faster than I hoped to run," Baker added. "Every race I felt great. Training went real well. Races went very well. It's been a really great experience, training and racing. Nothing could have been better. Everything went perfectly."
In the state track championships, Baker totaled 30 of Kirkwood's 36 points to finish sixth as a team.
The meet was moved from Jefferson City High School to Battle High in Columbia because of the tornadoes that struck Jefferson City on May 21. The meet was reduced to one day from the standard two-day event. The change didn't effect Baker in his final high school performance.
Baker was part of the 3,200-meter relay in a time of 7:43.68. His split time was 1:55.009 as the first leg. He won the 1,600 by 3.36 seconds in a time of 4:13.03 and the 3,200 by 1.71 seconds in a time of 9:16.34.
As a junior, Baker helped Kirkwood win the 3,200 relay in 7:49.90. His split time in the first leg was 2:00.018. He captured the 3,200 race in 9:21.60. He is the first Kirkwood runner to win the 3,200 at state. He leaves with two state championship medals in that event.
In every race, whether it was in cross country, indoor track or outdoor track, Baker's strategy was to run with the lead pack, then in the final 300 meters or so he applied his kick to the finish line. His kick is what separates him from his competitors. He ran even smarter and stronger this season.
Baker said he did more speed work this year, but he also listened to his body more after hard runs in practice and races. Last summer, he logged 60 to 70 miles per week. During the season, he averaged 50 to 60 miles per week.
It helps that Baker comes from a running family. His father, David, and his mother, Kari, both ran track at Southeast Missouri State University in Cape Girardeau at the same time. His father was a distance runner while his mother ran the 400. Today, his father is the head cross country and track and field coach at St. Louis College of Pharmacy.
Baker chose Tulsa over Arkansas and Drake among others because of its academic program and distance running aspect of the cross country and track squads. He will run cross country, indoor and outdoor track. His major is going to be sports and exercise science.
It is simply the beginning of the next chapter of his life.
"My legs are getting faster," Baker said. "I want to keep trying to improve and get on the varsity (as a freshman)."