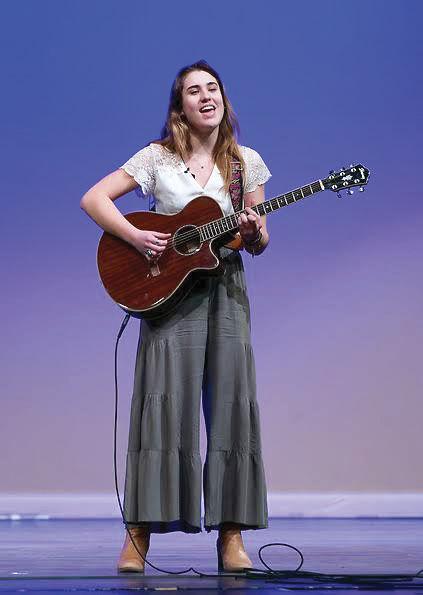 Kirkwood High School senior vocalist and guitarist Joanna Serenko brought the crowd to their feet during a performance that won her the title of this year's St. Louis Teen Talent Competition at The Fabulous Fox Theatre.
This is the second year in a row the winner of the prestigious competition has been a Kirkwood High School student. Serenko's musical talents pushed her to the top as she performed "Valerie" by Dave McCabe during the ninth annual St. Louis Teen Talent Competition at the Fox on Saturday, April 13. Serenko beat out 14 other acts to take first place.
Second place went to Parkway South High School student Samanvita Kasthuri for an original Bharatnatyam dance performance. St. John Vianney High School student Oliver Layher and Kryan Walton from Metro Academic and Classical High School took third place for their hand-to-hand partner acrobatic performance. Acts are judged by a panel of performing arts professionals on interpretation, stage presence, technical ability and originality.
In addition to the thrill of performing on the Fox stage, the winners receive college scholarships, prizes and performance opportunities. in the St. Louis area. Serenko's first-place win earned her an $8,000 college scholarship, and she plans to attend Maryville University in the fall.
Serenko, 17, has received training at the Webster School of Music and JazzU at the Bistro, and has performed at Blueberry Hill, KDHX, Monterey's and Schlafly's.
Kirkwood High School junior Emmanuel Morgan and Kirkwood High School sophomore Thaddaeus Morgan also made it to the final round of competition at the Fox with their piano/drums duo. Kirkwood High School sophomore singer Madelynn Gartland and Nerinx Hall High School sophomore Kaley Bender were also among the 15 finalists this year. The evening also included a special performance by Kirkwood High School senior Nicaya Wiley, who won last year's St. Louis Teen Talent Competition.
The competition was videotaped by The Nine Network for a special program that will be aired on Tuesday, May 21, at 7 p.m. The 10th annual St. Louis Teen Talent Competition at The Fabulous Fox has been set for Saturday, April 4, 2020.