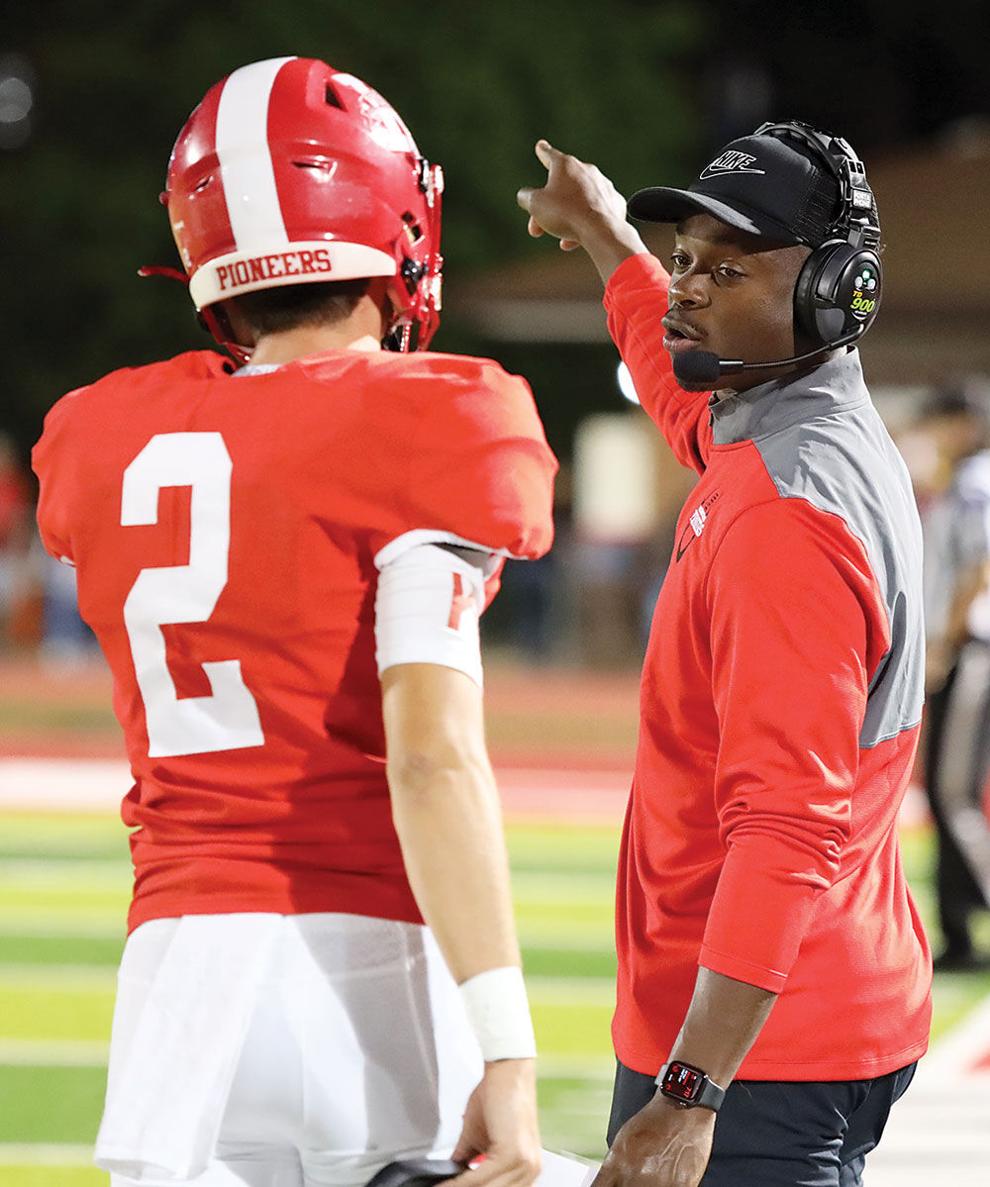 When the Kirkwood High School Pioneers take the field under those Friday night lights, Coach Jeremy Maclin is all about the game. But the rest of the time, the Kirkwood native and former NFL player-turned-coach is more interested in teaching his players how to be successful off the field.
While he's grateful for the opportunities he's had to play at the professional level, it's clear that Maclin has found his calling as a coach.
"It's all about the kids," said Maclin, a 2006 Kirkwood High School graduate now in his first year as head football coach for the Pioneers. Prior to being named head coach earlier this year, Maclin joined the Pioneers as an assistant coach in 2019 after retiring from the NFL.
"It's not just about a football game on Friday night — it's about preparing them for life," he added. "It's my job to help them learn, grow, mature and become responsible citizens."
The players have an incredible example in Maclin, who grew up in Kirkwood and played football for the Pioneers before becoming a two-time All-American at the University of Missouri and going on to play in the NFL for eight seasons. During his professional career, Maclin played for the Philadelphia Eagles, Kansas City Chiefs and Baltimore Ravens.
But ask Maclin about football and all he wants to talk about are "the kids" — the 100-plus players under his watch on the Kirkwood High School varsity football squad. The highly accomplished, humble wide receiver has a place in the Missouri Tigers Athletics Hall of Fame and was a first-round draft choice for the Philadelphia Eagles in 2009. 
"I want the kids to see me as Coach Maclin — not the Jeremy Maclin who played pro ball," he said. 
For his players, it's both. Most of them still can't believe they're being coached by a pro, but Maclin's hometown roots and down-to-earth nature make it easy for the players to connect with him.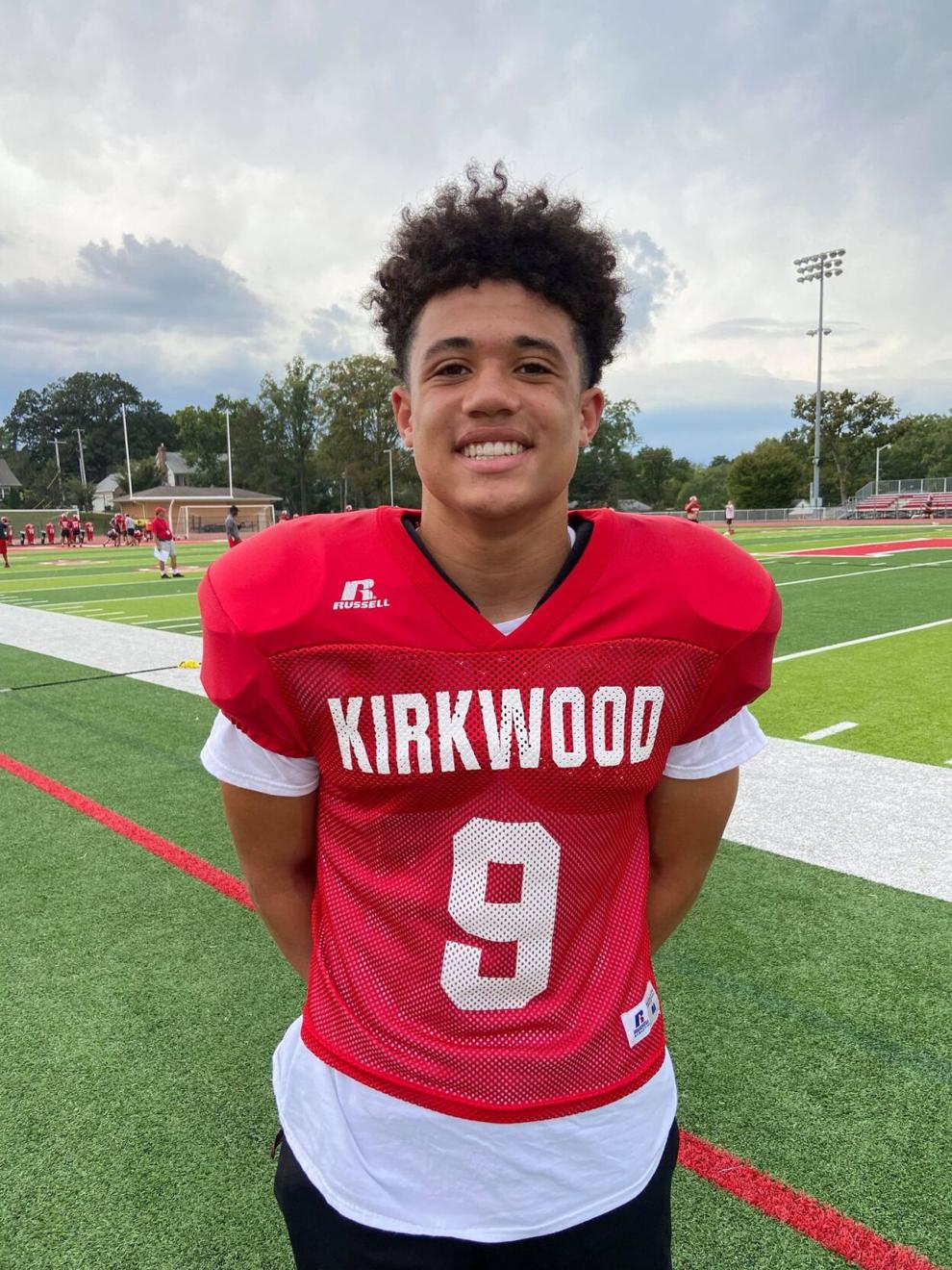 "It's awesome," Kirkwood High School junior Tyler Macon said of having Maclin as a coach. "I can remember watching him play (football) on TV when I was in elementary school. It's crazy because he went to every single school that I've gone to — Westchester Elementary, North Kirkwood Middle and Kirkwood High. He knows everything, and he's been through everything we have."
Maclin has always been true to his roots, and gives credit where credit is due. He's also big on giving back.
"I grew up in Meacham Park, so I've always had a soft spot for Kirkwood," said Maclin, who has long hosted football camps in Kirkwood that draw hundreds of young football players in the St. Louis area. His charity, the Jeremy Maclin Foundation, helps assist youth and families forced into alternative living situations.
"This is the community that raised me and helped me become the man I am today," he said.
Maclin, 33, now wants to do the same for his players. The team members know how much he cares about them, and how much he wants them to succeed beyond the football field.
"He definitely takes the classroom seriously and reminds us that our academics are the most important thing," Macon said. "He's always telling us to take care of our business off the field first, then take care of business on the field. He holds everybody accountable, but he also likes to have fun. He teaches us and wants us to be good citizens of the world."
To that end, Maclin has two important lessons for everyone on the team.
"Communication is key — if you don't learn to communicate with others, it's going to be very difficult to get through life. The other thing is don't be afraid to ask for help," he said. "Those are more important than winning on a Friday night."
Maclin wants his players to know there's no shame in asking for help, and that they can always come to him — for anything.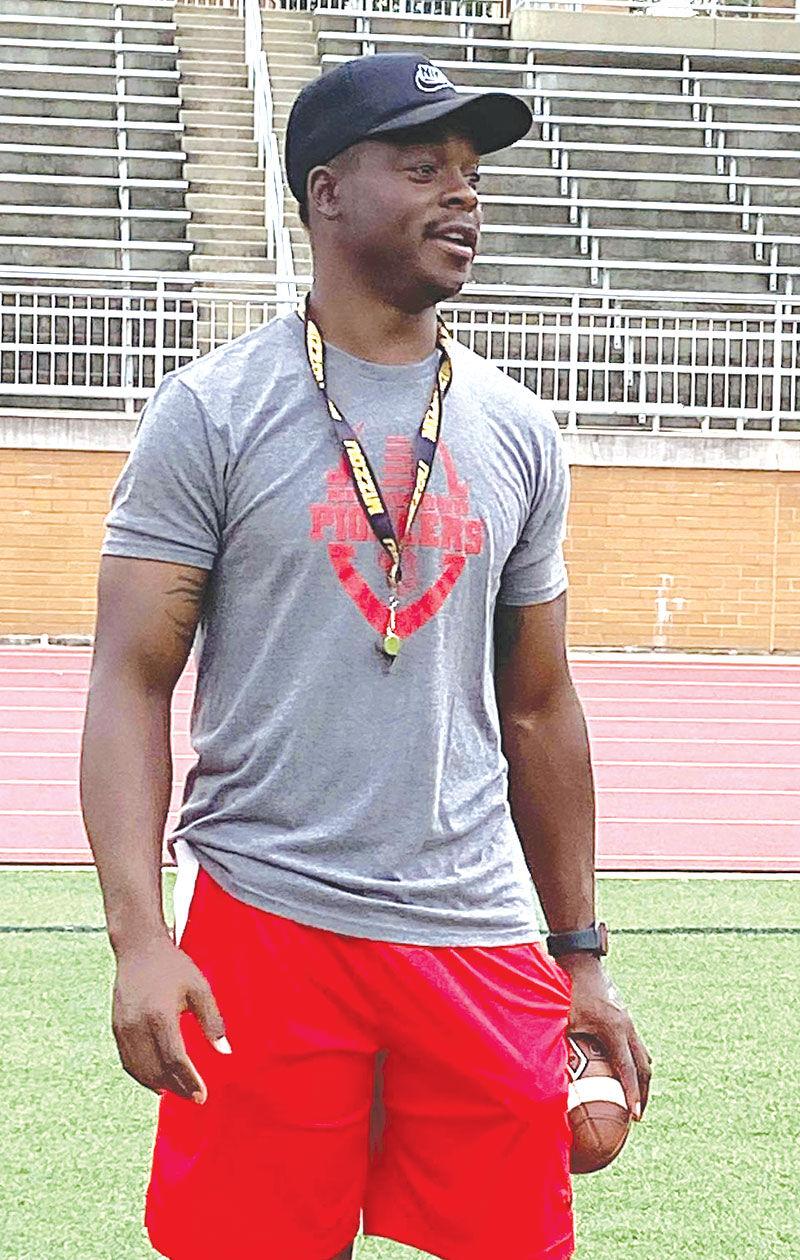 "I didn't get to all the places I got without a lot of help, and I'll do everything I can to help them," he said. "If I don't know, then I'll figure it out or direct them to someone else who can. I want to be an example of what hard work, dedication and also a lot of help from others can get you."
 "The Little Things Matter"
Maclin is also big on the little things.
"I want to teach them that things like saying please and thank you goes a long way," he said.
So does putting down the phone and being present.
"Be where your feet are and make those little moments count," he added.
The moments that have mattered most to Maclin this season have more to do with the life lessons he's trying to instill than football. 
"Seeing them do better in school or watching them finally pick up something they've been struggling with — that's everything," he said.
Maclin said one of the most rewarding experiences he's had this year has been watching a shy student gain confidence.
"To see the strides he's made in just opening up and talking to others has been amazing," he said. "This is also a first-year player who didn't even know if he wanted to play football, and now he's asking me, 'Coach, what can I do, what do I need to do to be able to play at the college level?'"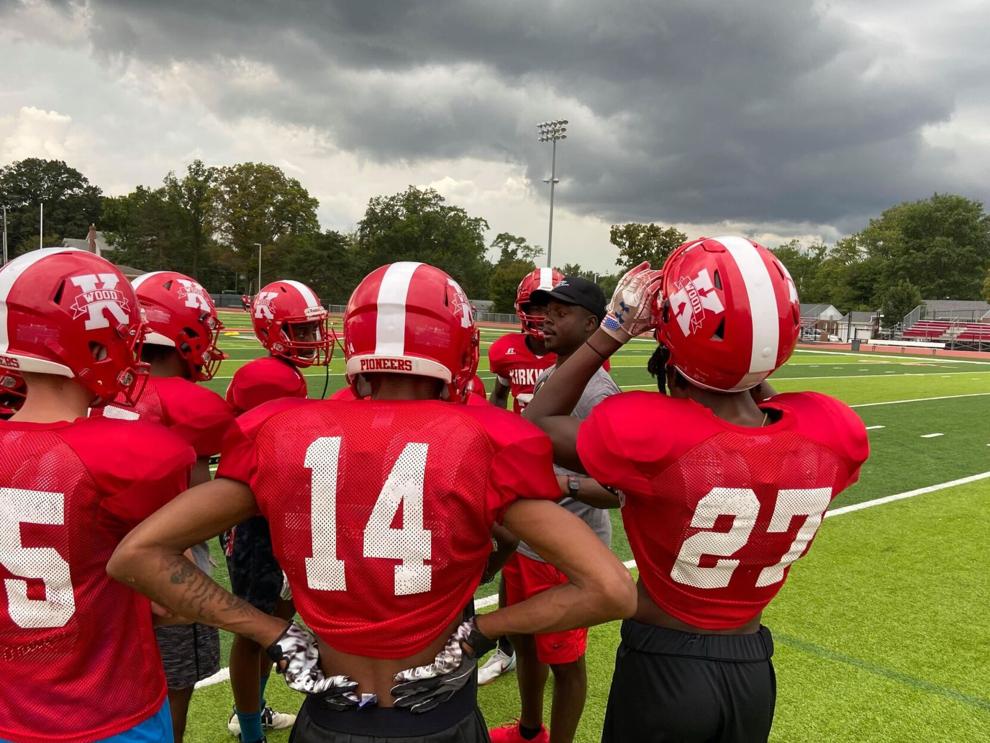 Witnessing that personal growth means the world to Maclin.
"It's been great, and I've had a lot of fun," he said of his first season leading the team. "Helping them with something they were struggling with — having that effect on them is what means the most to me."
It means a lot to them, too. 
"He's really helped me and encouraged me," Kirkwood High School football team member Gannon Sturdy said. "He helps us a lot on and off the field, and encourages us to excel in all areas."
The high standards that Maclin holds his team to off the field often translates to excellence on the field. The Pioneers started the season strong with four wins and just one loss. 
While winning football games is always good — the Pioneers have an overall record of 5-2 so far this season — Maclin keeps an even keel no matter the score.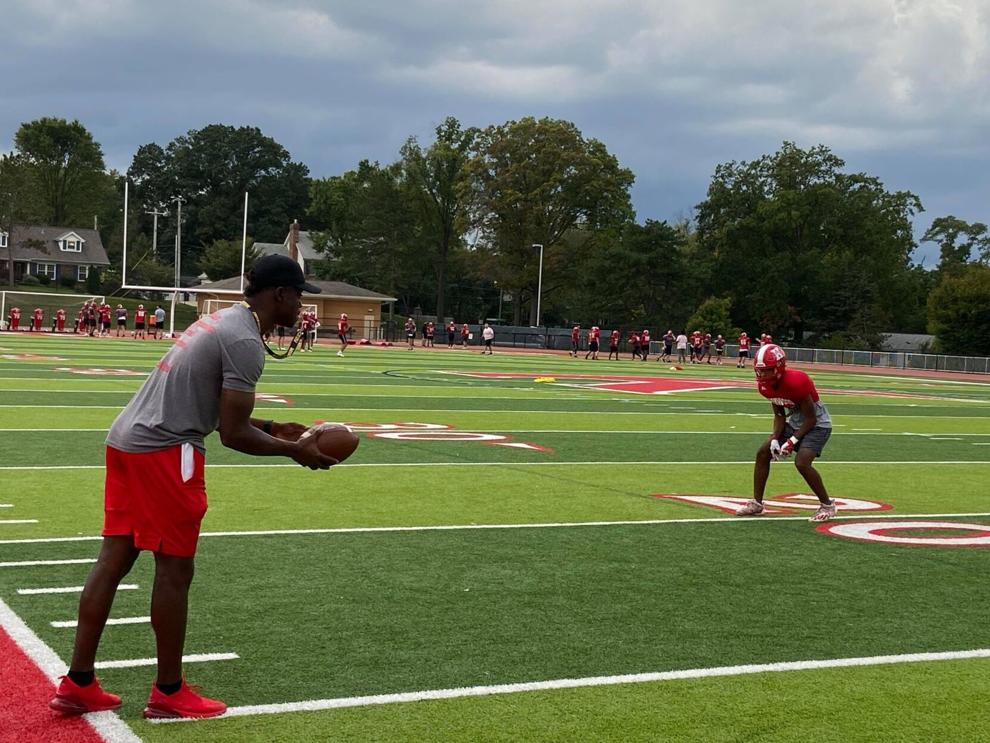 "He's no different after a win versus a loss," said Macon, who also played under Maclin during his time as an assistant coach. "He's always about working on what we need to do better and how to become our best."
In addition to Maclin's role with the Pioneers, he also takes great pride in being a father to his two young daughters. He and his wife are now raising their girls in Kirkwood.
His players say Maclin fosters that strong sense of family among the team.
"He's very big on family, and that no matter what happens, we're all in this together," Macon said.