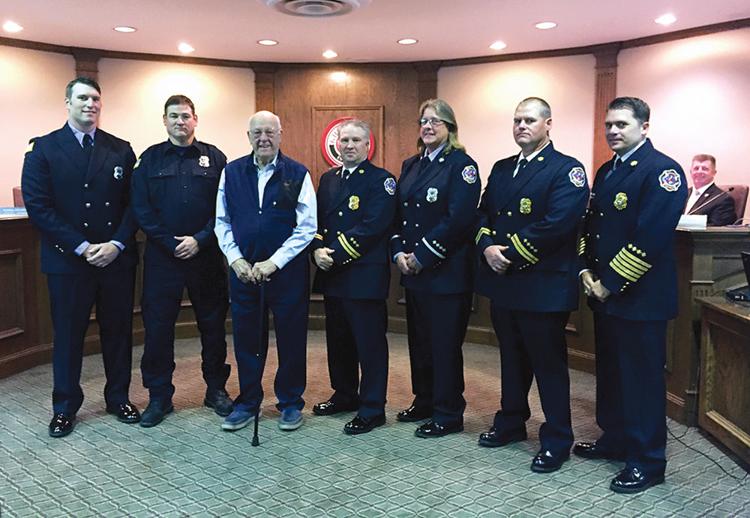 Bill Smith was sitting on the porch of his Woodlawn Ave. home the afternoon of July 26, enjoying his family as he had done on hundreds of Fridays during his four decades in Kirkwood. So what could go wrong?
Everything, as it turned out.
"I really began to feel bad, so I told my wife 'I'm going upstairs and lay down; I really don't feel good.'"
Smith, a retired U.S. Navy fighter pilot, is not given to exaggeration. But "don't feel good" was a larger than usual understatement, even for him. A few minutes after reaching his bed, Smith was in convulsions. A few minutes after that, he was unconscious and fighting for his life.
By an enormous stroke of good fortune, Smith's youngest daughter Michelle had come up from Texas for a visit. She followed her father up the stairs to check on him, and "when she got there, I was shaking all over," Smith remembers. "She said that whole bed was shaking. I couldn't control myself."
Michelle suggested calling 911, and Smith readily agreed. Then, everything went blank.
"I didn't wake up until 10 o'clock Saturday morning in St. Luke's Hospital. My memory of what happened after (the call to 911) is zero," Smith said.
What had happened is that "really quick thinking" — in the words of Kirkwood Fire Chief James Silvernail — and equally fast action by paramedics and firefighters from the Kirkwood Fire Department had gotten Smith down from his second-story bedroom into an ambulance and to the hospital in the nick of time to save his life.
Silvernail and Kirkwood Mayor Tim Griffin, at the Oct. 17 city council meeting, presented written commendations for the Smith rescue to Wiley and four other firefighters and paramedics.
The emergency derived from a case of sepsis, a virulent infection of the blood stream, that Smith had contracted. After losing consciousness, "my primary care doctor told me that I had one hour to go," Smith said. "He said I had just about depleted all my red (blood) cells."
Fortunately, Wiley and his crew made good use of the scant time available to them. After seeing that there was no possibility of toting Smith's unconscious body ("I was 230 pounds of dead weight," he said) down the narrow stairs from his bedroom, Wiley called for a ladder truck.
Carrying the still-comatose Smith onto a balcony above the dining room of his home, the first responders managed to load him into the bucket on the end of the 100-foot aerial ladder. From there it was a relatively simple task to swing the make-shift gurney down to the sidewalk and load Smith into the waiting ambulance.
Smith, 86, served aboard 5 Navy aircraft carriers as a pilot and flight technician 50-60 years ago. After retirement, he worked for 15 years at McDonnell Douglas Aircraft in St. Louis. He and wife Jane have three children (one son and two daughters), five grandchildren and seven great grandchildren. Aside from his bout with sepsis, he has had three major heart operations, back surgery and two knee replacements.
"I've been battered around pretty good, but I'm still kickin'," Smith said.
Smith praised Kirkwood's first responders.
"I can't speak highly enough of our firemen and EMT guys. When the bell rings, they run to where the danger is. They're quick, they're smart and they're in great physical shape and I respect them a lot," he said.
Silvernail said that it is moments like this that make him feel good about being the fire chief.