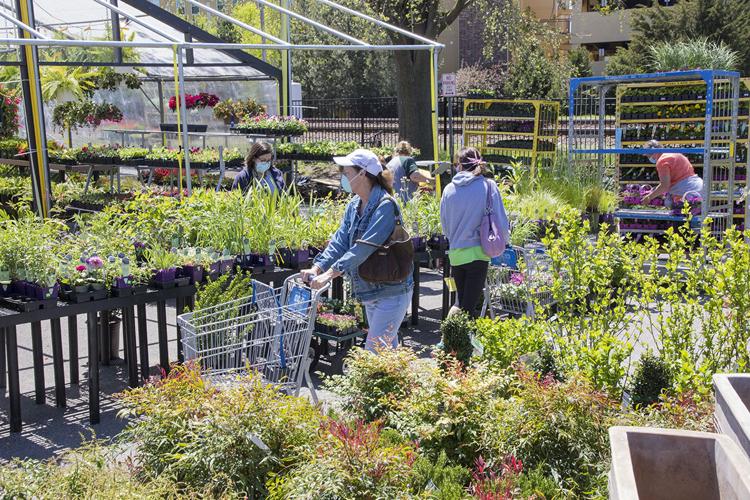 The Kirkwood Farmers' Market is gearing up for its sixth Saturday of the season on May 23, with more vendors, continued social distancing practices, and a food drive. Face masks are mandatory — not optional — for everyone who frequents the market.
The market, which is located at 150 E. Argonne Drive in downtown Kirkwood, will be open from 8 a.m. to 5 p.m.
For the most options from farmers and local producers, the best time to shop is from 8 a.m. to noon, as smaller vendors often wrap up for the day around 12 p.m., according to Donna Poe, executive director of the Downtown Kirkwood Special Business District.
In addition to longtime market anchor Summit Produce and Plants, this Saturday's vendors will include:
• Farrar Out Farm (Pasture-raised beef, pork and chicken + seasonal produce)
• Hope Soaperie (Homemade soaps/New to the market)
• Pete's Pops (Fresh ingredient popsicles/New to the market)
• Teleo Coffee (Coffee by the cup/New to the market)
Summit Produce will be offering a variety of fresh fruits and vegetables, local meats and foods, and plants and flowers. Summit will also be taking call-in orders for curb side pickup.
Poe stressed the importance and necessity of patrons practicing social distancing measures. Patrons are required to wear face masks and sanitize their hands before entering the market. Shoppers will not be allowed to enter without a face mask. There will be one point of entry and one exit limiting the number of people who have access to shopping at one time.
Once in the market, people will be required to maintain the six feet of social distancing from one another. Large family groups are asked to refrain from coming, as social distancing becomes more difficult with children and strollers.
Summit Produce
In addition to its presence at Kirkwood Farmers' Market, Summit Produce is now open daily. Hours are 9 a.m. to 6 p.m. Monday through Friday, 8 a.m. to 5 p.m. Saturday, and 10 a.m. to 5 p.m. on Sunday.
Call-ahead curb side pickup is available by calling 314-984-9496. In-store shopping is welcome, though a limited number of people will be allowed to shop simultaneously due to social distancing guidelines.
Summit Produce owners said buying options will match those of previous years and include not only fresh produce, local meats and foods, but also garden plants and flowers.
Online shopping is also now available Monday through Friday at www.summitproduce.com with the option of same-day home delivery or store pickup. Summit Produce will partner with local nonprofit Waigand Wheels for at-home delivery. Online ordering is not available on Saturdays during the Kirkwood Farmers' Market.