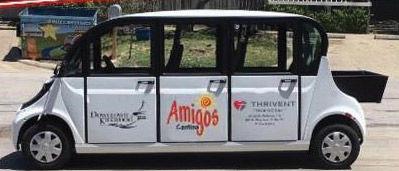 The Downtown Kirkwood Connector is once again offering free rides throughout the downtown area. The service is available on Thursdays, Fridays and Saturdays, from 5 to 10 p.m., through Dec. 29.
This is a free electric cab service by Electric Cab North America. Drivers will not expect payment or tips.
Access the service by signaling the driver or by phoning a ride request to 314-252-8889.
Last year the Downtown Kirkwood Advisory Commission introduced the Connector through a pilot program. It was well received by downtown businesses, the community and visitors, according to Nancy McGee, chair of the commission and owner of Fun in the Sun.
"We are hoping the Connector continues to help people circulate and explore Downtown Kirkwood," she said.