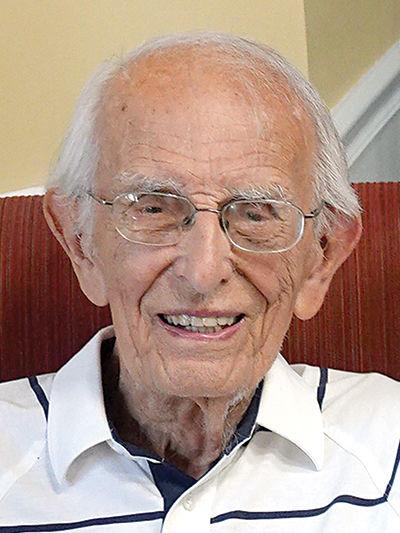 Shoulberg, Kenneth Wood, 99, of Valley Park, Missouri and a longtime resident of Webster Groves, died Dec. 26, 2019.
A native of Akron, Iowa, and a graduate of Grinnell College, he served in the U.S. Army in the Philippines in World War II. Following the war, he moved to Webster Groves, where he would live for most of the next 65 years. He worked in sales for various companies before starting a small paper-converting business, Fortune Paper Company, in the early 1970s in north St. Louis. He ran the company for a quarter-century, mostly on his own, but employing at various times in the early years all three of his sons.
He married June Mahaney in 1948 and they were together until her death in 2011; after her passing, he moved to the Cape Albeon retirement home in Valley Park.
A prolific piano player, he provided the musical accompaniment for PTA shows at Lockwood School in Webster Groves in the 1960s. He later entertained fellow residents at Cape Albeon.
Among other volunteer activities, he was a longtime adult literacy tutor.
He was preceded in death by his wife of 62 years, Dorothy June Mahaney Shoulberg, and son James Brook Shoulberg. He is survived by two sons, Phil (Diane) and John (Jean) Shoulberg; five grandchildren, Jennifer (Mason) Mocabee, and Jim, David (Amanda), Mike and Andrew Shoulberg; and two great-grandchildren, Cooper and Cameron Mocabee.
A memorial service will be held at First Congregational Church of Webster Groves on Friday, Jan. 3, 2020 at 11 a.m. with private interment to follow.  In lieu of flowers, donations may be made to First Congregational Church, Humane Society, or a charity of your choice.