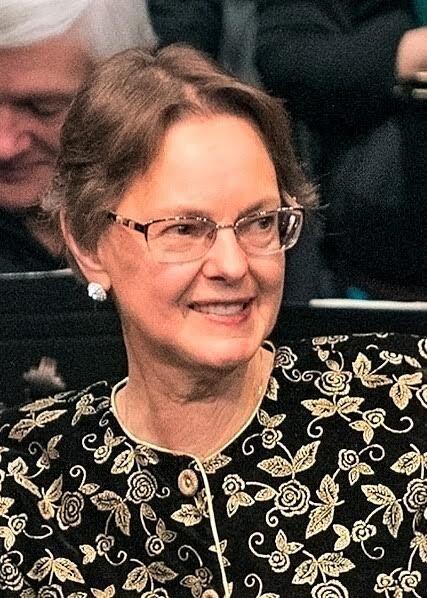 Bowers, Dr. Kathryn Smith, graced the lives of all who knew her through her loving musical leadership, her guidance and encouragement of her students, her service to her community, and through the warmth of her heart so freely shared with her family and many friends.
Kathryn passed away on Tuesday, June 30, 2020, from complications following heart surgery. She had recently moved with her husband, David Bowers, to Longmont, Colorado, having resided fulltime in Estes Park for nine years and part time for many years prior.
While in Estes Park, Kathryn served as director of the Oratorio Society of Estes Park Chorus and Orchestra, played organ and directed the choir at Saint Bartholomew's Episcopal Church, served on the Estes Park Planning Commission, and helped to encourage and coordinate recycling for the town.
Before retiring in 2010, she served as director of choral studies and coordinator of music education at Webster University for 26 years. In addition to her numerous outstanding performances, she instilled hope and inspiration in her students who, to this day, remain grateful for the belief she enthusiastically expressed in them.
Kathryn was born in Ventura, California, on Feb. 1, 1948, graduated from Arkansas City High School in Arkansas City, Kansas, earned her Bachelor of Music Education degree from Northwestern University, her Master of Music Degree from the University of Oregon, and her Doctorate of Musical Arts from the University of Illinois. Before joining the faculty of the Webster University Music Department in 1986, she taught at Butler University, Arlington Heights School District and Wichita Public Schools.
Her lifetime pursuit of knowledge of the choral art led her across the globe to study in Germany and Great Britain, and to sing professionally with many prestigious choruses including the Frankfurter Kantorei, the Gä chinger Kantorei, and the Chicago Symphony Chorus. Most recently, Kathryn studied organ with Rich Billingham in Estes Park and passed the American Guild of Organists Service Playing Certification exam.
Kathryn was preceded in death by her father, Dr. Newton C. Smith, and her mother, Mary Ellen Smith. She is survived by her husband, David Bowers; her sister, Carolyn Smith Managan and husband Mike; her brother, Norman Smith; and nieces Elizabeth Managan and husband Christopher Elsasser, Michelle Cameron and husband Matthew; and great nieces Audrey and Madeleine Elsassar, and Ainsley and Teagan Cameron.
Memorial gifts can be made to Oglala Lakota College, 490 Piya Wiconi Road, Kyle, SD 57752 (https://www.olc.edu/index.htm). Memorial service arrangements are pending due to the current COVID-19 health crisis.
Kathryn is deeply missed by her family and friends, and the singers, instrumentalists and students who benefited so richly from her leadership and teaching. Please visit http://www.allnuttestespark.com to share a memory of Kathryn and leave a message for her family.