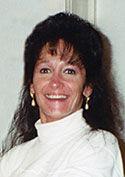 Nash, Karen Sue (nee Basich) passed away at age 55 on July 10, 2019.
Beloved daughter of Patsy and Philip Basich Sr.; loving mother of Nicholas and Brent Walkenhorst, Joshua Brown, Kalbe Miller and Lauren Evers; dear sister and sister-in-law of Linda (Diane) Basich Beaty, Lisa Basich (Mike Hebron), Colleen (James) Kallaos and Philip Basich Jr.; cherished aunt of Jimmy and Nicholas Kallaos and Santoe Basich Beaty; dear cousin and friend to many.
Memorial visitation from 1 to 4 p.m., with eulogy at 2 p.m., on Saturday, July 27, at Bopp Chapel, 10610 Manchester Road, in Kirkwood, Missouri.
In lieu of flowers, memorials may be made to the Humane Society of Missouri. www.boppchapel.com