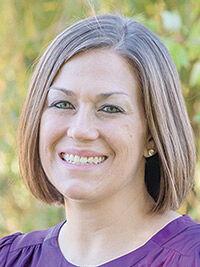 Dr. Jaclyn M. Scroggins and her team at Junction Orthodontics, LLC, are known throughout the community for providing exceptional service and quality treatment at a reasonable price.  They dedicate themselves to offering a personalized orthodontic treatment plan for all of their patients in a friendly and caring environment.
Dr. Scroggins graduated from Saint Louis University's graduate residency program in December 2012 with a certificate in orthodontics and a master's in dentistry. She began working alongside Dr. John Sahrmann in January 2013, then acquired Junction Orthodontics when he retired in December 2014. "I'm passionate about three things in life: my family, my community and creating beautiful smiles for my patients. Becoming an orthodontist was and always will be one of my greatest accomplishments and I consider myself lucky to honestly say I love what I do." 
Junction Orthodontics has made some recent changes and are taking extra precautions to help stop the spread of COVID-19. While the office and the appointment process may look a little different, don't worry, Junction Orthodontics has always been on the front lines of preventing the spread of diseases. They continue to thoroughly disinfect the treatment rooms and surfaces throughout the office, have individualized sterilization indicators for every pack of instruments, added additional CDC recommended personal protective equipment (PPE), put in HEPA air filters chairside and in common areas, and began team member vaccinations. The safety of their patients and team has always been the top priority at Junction Orthodontics.
Their latest google review had this to say about their experience: "We can't say enough positive things about Junction Orthodontics. Dr. Scroggins and her staff are not only skilled, courteous, and professional at the highest level, but they go above and beyond in their compassion and service to their community." If you are looking for an orthodontist, look no further, Junction Orthodontics will get your smile on the right track!

209 S. Kirkwood Road
Kirkwood • 314-821-1101