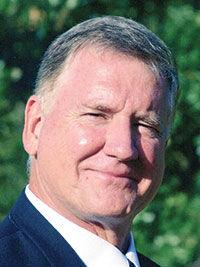 Eveler, John W. "Jay," 76 years old, passed away peacefully Oct. 22, 2022, in St. Louis, Missouri, after a long battle with cancer. 
Jay was born in Jefferson City, Missouri, on New Year's Eve, 1945, to Jack and Vera Eveler. The oldest of seven siblings, Jay was a 1963 graduate of Helias High School. He went on to attend and graduate from St. Benedict's College (now Benedictine) in Atchison, Kansas, in 1967. In September of 1968, Jay married Ann Maureen Corkrean, to whom he was married for 54 years. 
Jay had a successful career in banking and went on to own and manage other small, local businesses. Jay was a great lover of Mizzou sports, Cardinals baseball, coconut cream pie, and especially his numerous friends and loving family. For years, he was often found on the sidelines or at center court lending support and giving unsolicited guidance to his kids and grandkids at their many sports games. He is survived by his loving wife, Maureen (née Corkrean); his four children, Anne McHugh, Susan (Dan) King, Michael (Aly) Eveler, and Erin (Tom) Butler; his nine beloved grandchildren; his mother-in-law; six siblings; and numerous nieces and nephews. 
Visitation will be held from 4 p.m. until 8 p.m. Thursday, Oct. 27, at Bopp Chapel, 10610 Manchester Road, Kirkwood, MO 63122. A funeral Mass will be held at Mary Queen of Peace Church, 676 W. Lockwood Ave., St. Louis MO 63119 at 10 a.m. on Friday, Oct. 28. In lieu of flowers, please consider memorials to Benedictine College, Office of Advancement, 1020 North Second Street, Atchison, KS 66002; or Evelyn's House, The BJC Foundation for Hospice, P.O. Box 790369, St. Louis, Missouri 63179. 
Arrangements by Bopp Chapel.