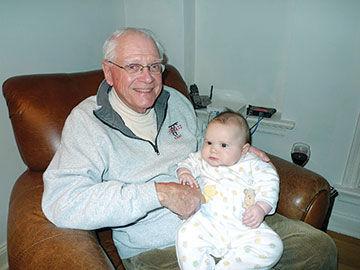 Frese, John Frederick (Jack), 89, of Webster Groves, made his journey safely home into the keeping of his redeemer in the early morning Wednesday, June 5, 2019.
He was preceded by wives Erline (Happel) and Marguerite (Berg) and sister Virginia (Svoboda). He leaves behind his son, John (Melody) Frese Jr., and grandchildren Samantha, Cordelia and Isaac, as well as his stepchildren, Michael (Lisa) Andrews, Dave (Brenda) Andrews, Daniel Andrews, Susan (Jeff) Nelson and Lisa (Jason) Andrews-Kaminsky.
Jack served with the Air Force in Japan during the Korean War and worked as an engineer with Western Electric and later AT&T for over 40 years. He was a devoted father and grandfather, coached CYC soccer and was a committed volunteer at Holy Redeemer parish and in the wider community. Jack greeted each chapter of his life as he greeted the people he met along the way: with an open mind, a generous heart and a smile.
He donated his body to Saint Louis University Medical School. We will celebrate his life at Holy Redeemer Catholic Church in Webster Groves on Friday, June 14, at 10 a.m. A reception will follow. In lieu of flowers, please consider donating to the society of Mary's work, providing education, empowerment and dignity to people suffering poverty in India and Africa: www.marianist.com/India-Africa.