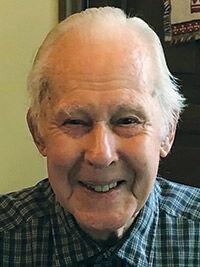 Rutter, John Fleming (Jack), passed away peacefully at his home early Christmas morning. He was 94 years old.
Jack was born on March 12, 1926, in Sault Ste. Marie, Michigan, to Andrew and Ella (Fleming) Rutter. He grew up in the Upper Peninsula of Michigan, graduating from Sault High School. Throughout his life, he was proud to be a "Yooper," a nickname used to describe those native to the Upper Peninsula of Michigan.
Jack joined the Navy just before his 18th birthday. He served his country for two years during WWII, earning several service medals as a radio technician aboard the aircraft carrier USS Randolph. 
At the end of the war, Jack returned to Upper Michigan where he met the love of his life, June Marie Jarvie. They were married on Aug. 28, 1948, and enjoyed 51 wonderful years together. Jack graduated with a degree in electrical engineering from Michigan Technological University in 1951. His career with General Electric took him to Dayton, Ohio; St. Louis, Missouri; and Evansville, Indiana. In 1958, he accepted a position with Emerson Electric, which brought him back to St. Louis, where he became a proud resident of Kirkwood, Missouri, for more than 60 years. 
Jack and June raised two sons while in Kirkwood and were very active in supporting their schools and extracurricular activities. They enthusiastically supported their Kirkwood community in numerous ways. Jack and June were long-time members of Glendale Lutheran Church and the Kirkwood Historical Society, where Jack served as president, and avid supporters of Mind's Eye (formerly Radio Information Services). In addition, Jack volunteered at Kirkwood's Amtrak Train Station for several years and was a frequent speaker on Veteran's Day at Kirkwood High School.  
Jack was predeceased by his wife June and sister Betty Lyon. He is survived by his brother Andy (Beverly), son John (Lisa) and son Jim. He was also cherished by four grandchildren: Kristin, Evan, Maaike and Hanna.
In lieu of flowers, memorials may be directed to: Glendale Lutheran Church, 1365 N. Sappington Rd., Glendale MO 63122 (www.glendalelutheranchurch.org) or The Historic Kirkwood Train Station Foundation, 110 W. Argonne Dr., Kirkwood MO 63122 (https://KirkwoodTrainStationFoundation.org/donate-now/).