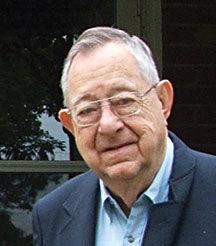 Jaeger, John A. (Al) of Kirkwood died at age 90 on Feb. 26, 2019, after a fall.
Al is survived by his wife of 64 years, Barbara Jaeger; a son, John Jaeger of Knoxville, Tennessee; daughters Laura Patrick of Kirkwood, Karen Weiss (Steve) of Des Moines, Iowa, and Cynthia Fritz (John) of Forney, Texas. He is also survived by six grandchildren, three great-grandchildren, and two of his seven siblings.
Al graduated from William Jewell College. He retired from Brown Shoe Company after a long career as a labor negotiator. Al also was an Army veteran. He loved bridge, running a duplicate bridge program for over a decade at STLCC-Meramec. In retirement, Al and Barbara travelled extensively. Al and Barbara enjoyed music together, a love which they passed on to their children.
Al was known for his intelligence, attention to detail, and his compassion. He was a loving husband, father, grandfather and great-grandfather.