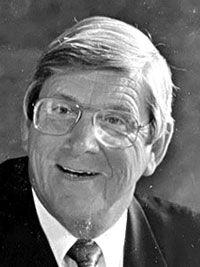 McGraw, Jim, formerly of Kansas City and Savannah, died peacefully on Nov. 17, at Evelyn's House Hospice in St. Louis, surrounded by his family.
Jim was born Dec. 15, 1931, in Minneapolis, Minnesota, the eldest son of Amy and Jack McGraw. Brothers Mike and Jerry were born several years later. While attending South High in Minneapolis, Jim met the love of his life at a school dance.  He and Ann were married in 1951.
After attending the University of Minnesota, Jim began his pharmaceutical career. He worked at Dorsey Laboratories and Warner-Lambert before joining Marion Laboratories in Kansas City in 1974, eventually serving as chief operating officer and member of the board.  Upon his retirement, he was asked by Marion founder, Ewing Kauffman, to join the Kauffman Foundation board, where he served for 14 years, ultimately as chairman.
After several years and many rounds of golf on Skidaway Island in Savannah, Jim and Ann returned to Kansas City. There, he created the LEAPP (Leadership, Empathy and the Power of Persuasion) program, through which he shared his entrepreneurial skills with local business and students from Pittsburg State, Rockhurst and Park University. An avid follower of world events, Jim published a monthly newsletter, "Reflections," sharing his view on politics, medicine and economics.  
Jim loved all things Irish, especially the University of Notre Dame. Their fight song was his phone's ringtone.  He served for 30 years on the Science Advisory Council, finally retiring last year.  He was proud to have a son and two granddaughters graduate from the university. In addition, he and Ann provided full scholarships to students in need from the Savannah area for over a decade.
Las Vegas was Jim's favorite destination. Several times a year he could be found at the black jack table or in the poker room, sharing stories and shamrock stickers with players and staff alike.  In addition, for 27 years, Jim and his sons held an annual golf tournament there dating back to the 1980's. At times, the golf was less than spectacular. The memories made were priceless.
Jim and Ann cherished family. To that end, they established Club Mac, which united their far-flung brood with reunions, poker and golf tournaments, Caribbean cruises and gatherings at Club Mac Headquarters. 
Jim is survived by his wife and best friend of 70 years, Ann; children Tim (Debra) of Healdsburg, California, Colleen (Craig) Ligibel of Annapolis, Maryland, and Mark (Mary Beth)of Kirkwood, Missouri; brother Mike (Sandy) of Carver, Minnesota; seven grandchildren; and six great-grandchildren.
He will be missed by all who knew him.  As the old Irish proverb says:  "May you be in heaven three days before the devil knows you are gone."
A memorial service will be held at a later date.