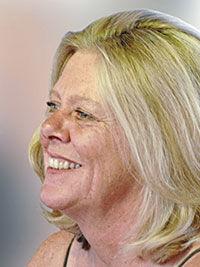 Vance, Jill passed away peacefully on Sunday, Aug. 1, 2021. She was daughter to Clyde Raymond ("Tad") Vance and Kathryn Jean Russell of Princeton, Illinois; beloved mother of Scott (Jenny) Thomes and Shannon (Robert) Ortiz; dear grandmother to Nora Leigh Thomes and Dylan Murray Thomes; sister to Craig (Kathleen) Vance; and dear aunt, cousin and friend to all. Her dazzling smile and sparkling eyes always brought joy to anyone around her. 
Jill graduated from Princeton High School in 1966 and Lindenwood University in St. Charles, Missouri. She started her career as a high school English teacher in the Ferguson/Florissant School District. She had a love of equestrian activities, gardening, tennis, bridge and hosting many never-ending progressive dinners in Greenbriar with her everlasting friendships that were created out of love and trust. 
Jill dearly loved her children, grandchildren and family. Her family always looked forward to her visits, a serious game of Rummikub, and of course, her famous oyster cracker recipe, passed down from many generations ago. Her ability to be mindful and listen will not be forgotten. Jill will be remembered as the beautiful, exciting, warm hearted, amazing mother, friend and family member she was to everyone. As many of us know, she would have done anything to make us feel welcome. In lieu of flowers, donations can be made in memory of Jill to the National Alliance for Mental Health, St. Louis Chapter.