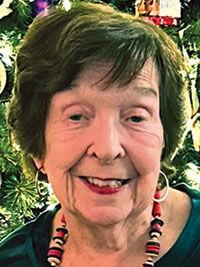 Bouchard, Jean Pullen, was born March 6, 1934, and passed May 1, 2023.
Jean had a wonderful and full life. She was a lifelong resident of Kirkwood. She was a very giving and caring person and all she wanted was for everyone she loved to be happy.
Jean was married to Dr. J Blake Pullen for 25 years. Blake died in 1982. Jean later met and married Edwin Dwight Bouchard. They had a full and wonderful life for 30 years. Dwight passed in 2021.
Jean is survived by her daughter, Michelle Gadell; son-in-law, Mike; son, Jeff Pullen; four grandchildren; and four great grandchildren.
The family will have no services in honor of Jean's wishes. Please keep Jean and her family in your thoughts and prayers. Memorials may be made to the Bethesda Foundation, c/o Linda Sanders, 1630 Des Peres Road, Ste. 290, St. Louis, MO 63131. Arrangements by Bopp Chapel.