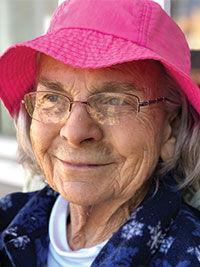 Smith, Jean E. Jan 10, 1924 - July 15, 2021. 
Dearest Mother, you have left us now after 97 years here on earth. But we know that you are not really gone.  You live on through each of your sons, daughters-in-law, grandchildren, great grandchildren and the many friends you have made over these years. 
We will see the world through your eyes; we will hear the sounds of nature through your ears; and we will have love and compassion for all living things through your heart. You have taught us all so much and we will not forget. You were the most optimistic person we have ever known. And you saw the good in every person you met, probably because you knew a loving God was within us all. 
You always moved forward through life spreading joy and happiness as you went. And now you have taken your next step. We will miss your physical presence, but know that your loving spirit will always be with us.