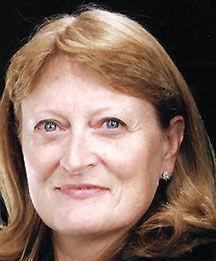 Barr, Janet Sue (Owens), 66, passed from this life Feb. 7, 2019, after a long struggle with cancer, her beloved family by her side.
Janet joins her father, John Washington Owens. Her mother, Mary Jo, is 91.
Janet was the devoted wife of 48 years to David Mark Barr; the loving mother to David William (Roxanne) Barr, Rebecca (Patrick) Randall and Jennifer (Jerry) Pyle.
Janet was the cherished grandmother to Charlie Mitchell and Adelaide Barr; Conner, Owen and Wyatt Randall; and Jeffrey, Megan and Brendan Pyle. Great-grandmother to Hunter Pyle.
Janet loved her two sisters, Gayle (Rick) Froehlich and Joyce (Gary) Sheldon, and her brother, John Wesley Owens, and dear friend Jane Cole. Janet is lovingly remembered as a dear aunt, cousin and friend to many, including Spooky.
Janet was proud to have been a Kirkwoodian for 64 years. She attended Kirkwood schools, as did her children. For Janet, life was a flurry of activity from dawn to dusk. Baseball and softball at Marshall Fields, local parades and the Greentree Festival, Lions Club carnivals on Argonne Drive, basketball and football at KHS. All this while running a household and lending a hand at the family business, Triple D. She accomplished all this with joy and laughter – she made life fun.
As life changed, Janet began her career at Dierbergs Markets. From a pharmacy tech to the corporate office, she displayed an innate knack for fixing things. She loved her job and made many friends along the way.
Janet's family would like to express their gratitude to the staff of U.S. Renal Care in Creve Coeur for providing professional, kind-hearted care every visit. Leesa and Sara are just two of the outstanding nurses who deserve our thanks. And Dr. Thomas Pohlman is a nephrologist wizard who kept Janet running without kidneys. We are so grateful for these dedicated, wonderful people.
Special thanks also to the staff of St. Luke's Hospice. These good folks provided professional, compassionate care every visit. Heartfelt thanks to Carla, whose visits always buoyed Janet's spirits; and to Angie, who became like a member of our family. True angels of mercy.
Please join us for a celebration of Janet's life on April 6, 11 a.m., at Eliot Unitarian Chapel in Kirkwood. Contributions may be made to the American Kidney Fund.