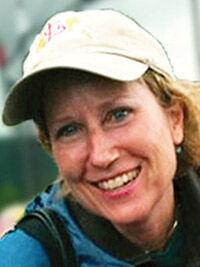 Knobbe, Janet, 62, passed away surrounded by family on Thursday, Dec. 17, 2020, due to complications from a brain tumor. She was born on Nov. 25, 1958, in St. Louis, Missouri, to her parents Marlene (Jack Parsons) Knobbe-Parsons and the late Donald A. Knobbe Sr. In April of 1987, she married Mark Viox, her husband of 33 years, with whom she shared a love for the ages and four children.
Janet was a strong, fearless and intelligent woman. Despite being initially advised that engineering was a "man's job," she excelled as a chemical engineer and helped pioneer gender equality in her field. She was incredibly passionate about making a positive impact on the world around her. She enjoyed volunteering her time at Loyola Academy and Marian Middle School, where she taught robotics and tutored, and she was exceptionally proud of her students' accomplishments. She was very actively involved in the SLUH Mothers' Club, serving as the president of the Alumni Mothers' Club this past year. Her love of music made it a joy for her to sing in her church's choir, and her beautiful, shining voice made renditions of "Happy Birthday" extra special.
Janet was a beloved mother, wife, daughter, sister, and friend. Her selfless and loving nature radiated feelings of value, comfort and joy to all those around her. She passionately celebrated the success and accomplishments of her loved ones, making them feel like the most important and loved people in the world. Each moment spent in her presence was one to be cherished.
She was the loving mother of Daniel (Melissa Heim Viox), Jeffrey, Elise, and David Viox; dear grandmother of Leila and Riley Heim Viox; cherished sister of Joan (Tim) Lorenz, Donald A. (Lisa Picker) Knobbe Jr., David (Julie) Knobbe, and Joseph (Colleen) Knobbe; and affectionate aunt to many nieces and nephews.
A private funeral Mass will be celebrated at Holy Redeemer Catholic Church in Webster Groves. A live-stream of the Mass can be viewed on the parish website, and a recording will be accessible via the parish YouTube channel. Those unable to attend the funeral in person are encouraged to share their favorite memories and observations of Janet via letters to the family residence or email. A larger celebration of Janet's beautiful life will take place at a future date.