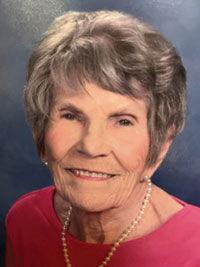 Evans,  Jane Bridges, died peacefully in her sleep Oct. 21, 2022. She was born Nov. 24, 1933, to Lucille Franklin Bridges and Howard Kisner Bridges. Raised in Webster Groves, Missouri, she spent the last half of her life living in Kirkwood, Missouri. She graduated from Mary Institute and after attending one year at Vassar College, transferred to Washington University, where she received her bachelor of arts degree in English and a minor in theater/stage makeup. She was a very active Washington University alumni and donor over the years. 
Jane's remarkable and inspiring professional life includes working on the movie "The Great St. Louis Bank Heist" with Steve McQueen, working as a stewardess for American Airlines, a travel agent, and as a private detective for Pinkerton Detective agency. 
She then transitioned into a successful 30-year career as a professional fundraiser.  Starting as the assistant development director at Alexian Brothers Hospital, then on to St. Joseph's Hospital. Subsequently, she then became the director of development and community relations for Missouri Goodwill Industries. From there, she moved to the National Museum of Transportation as executive director.  Her final professional endeavor was the formation and leadership of the Missouri Combined Health Appeal and National Voluntary Health Association of Missouri. 
She was also a lifetime member of the Daughters of the American Revolution (one of her life passions) and served as the Missouri President General, President General of the Ways and Means Committee and lastly one of the 13 Honorary National President Generals.  She was also very active with the Fundraising Executives of America, the Republican Women's Committee and Kappa Alpha Theta and served as President of both the Theta Alumnae Chapter and Foundation, amongst others.
She received many honors over the years including Kirkwood Citizen of the Year 1976, St. Louis Woman of Achievement 1976, DAR Woman of History, Republican Woman's Woman of Merit, Development Citizen of the year, and many others. She felt privileged and honored to have met and shaken the hands of seven U.S. presidents.
She was a strong woman and a fighter right until the end…
She is survived by her devoted husband, Robert (Bob) Evans; her daughters, Kathryn (Katie) Knetzer (David) and Helen (Annie) Evans (Rob Bolt); step-daughters, Linda Taylor (Steve) and Laurie Hayden (Marty);  brother, Howard Bridges Jr. (Mary);  grandchildren, Sam and Kristin Knetzer, Chris Taylor, Caroline Hayden, and Mary, Chris, Catie, Gilian, and Cameron Bolt; and several nieces and nephews. 
In honor of her love for and life of philanthropy, in lieu of flowers, we ask you to make a donation to the charity of your choice in her name. 
Arrangements by Bopp Chapel.