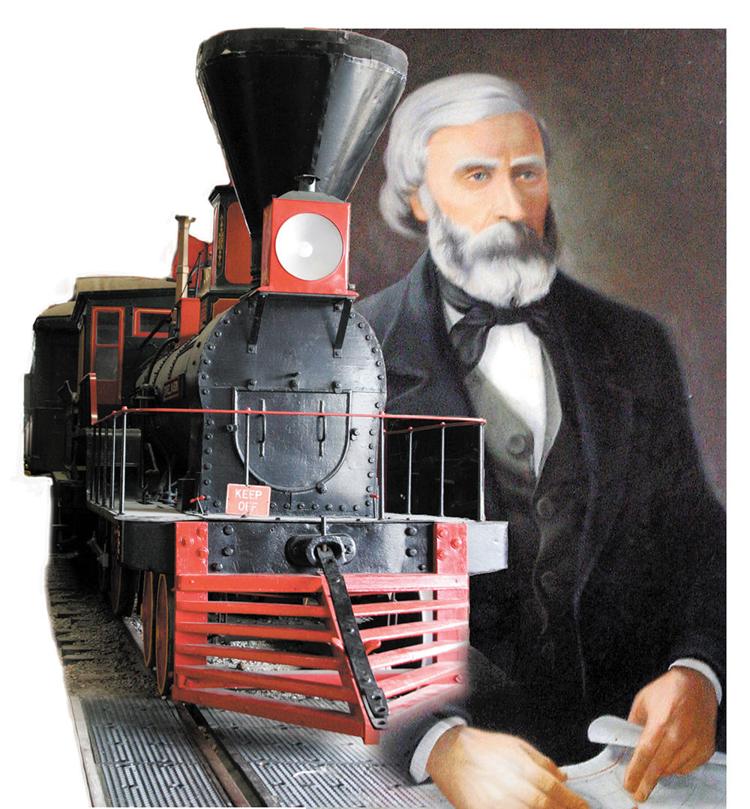 On Father's Day weekend, the Kirkwood Historical Society's Mudd's Grove anticipates many visitors. The question may arise when viewing the two splendid house portraits of James Pugh Kirkwood: Is this man the father of the Greentree City?
"We anticipate a lot of visitors as part of our house and garden tour event on Saturday," said Susan Burchett, the society archivist and librarian. "They are going to be amazed at the exhibit we have with almost a dozen posters on the life and times of James Pugh Kirkwood.
"Certainly a case can be made that he is the father of the city," added Burchett. "He brought the railroad through town that brought so much life to this city. Without that, would we have all ended up in Webster Groves?"
Burchett laughed about the Webster destination quip. And she said she has mixed feelings about calling Kirkwood the father of the town that hosts the Kirkwood Historical Society's many events from strawberry festivals to holiday open houses.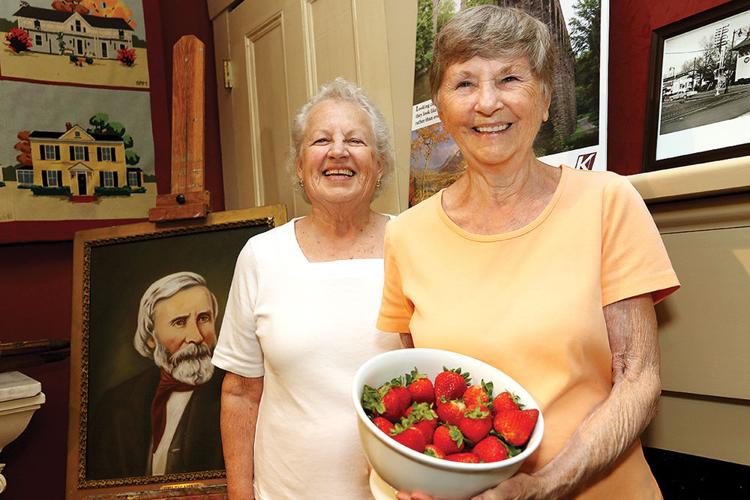 "Some would argue that Hiram Leffingwell and Richard Elliott were the forces behind getting Kirkwood started and incorporated," said Burchett. "Surely this is the kind of discussion that dedicated local history buffs should be having about their town."
Still, it's hard to argue about the paternity of Kirkwood when the town bears his name. After all, it's not the Leffingwell Historical Society that is preserving the rich history of a town that spreads north and south, east and west, of the iconic train station located at 110 W. Argonne Drive.
The Kirkwood Train Station boasts Amtrak passenger service today that heads east to downtown St. Louis and west to Kansas City — and points far beyond. Historians are unanimous that the train station wouldn't exist without James Pugh Kirkwood's survey work to decide where the Pacific Railroad's route west would travel from St. Louis.
Kirkwood came up with three routes. Legend has it that Elliott and Leffingwell then came up with a proposal that if he would bring the tracks through Kirkwood, the town that would prosper along the tracks would bear his name.
Lovers of the legend maintain that the proposal has credence, because the Kirkwood route was the least desirable of the three. That route through today's Kirkwood meant a tough climb for trains coming up the hill traveling east from Valley Park.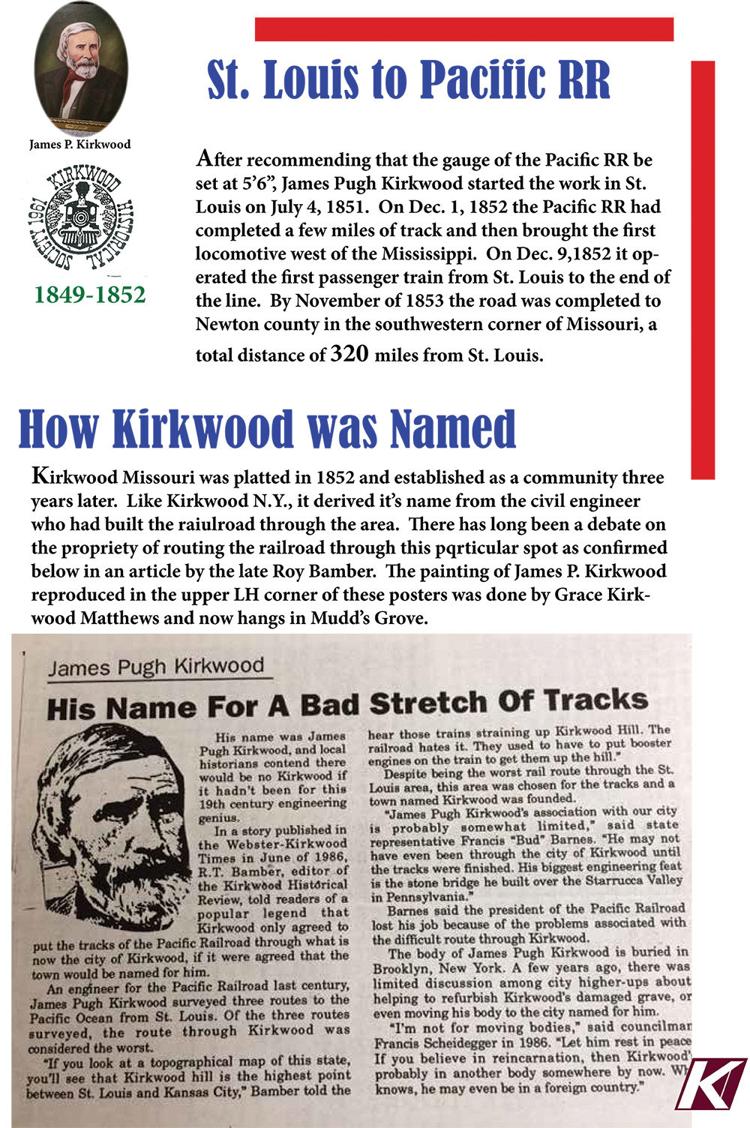 Michael Kearney: Skeptic
Michael Kearney, longtime historical society enthusiast and the man who put together the James Pugh Kirkwood exhibit, is a skeptic. He said there was "no collusion" between Kirkwood and the town's early founders to exchange a rail route choice for city naming rights.
Kearney maintains that Kirkwood had too many other irons in the fire, all over the United States, to be concerned with having a small outpost in Missouri named for himself in the early 1850s.
"I think Kirkwood would hardly be interested in the notion of his name for the city," said Kearney. "He was a crotchety old Scotsman who had plenty of other projects going and he would not be impressed by this idea.
"As to how bad a choice the route was from Valley Park, I think Kirkwood would shrug at that hill. He'd seen a lot of territory in America," said Kearney. "I'm a skeptic on this legend. If I saw it on Facebook, I would cry fake news."
Nevertheless, on Jan. 21, 1852, 37 men, including Leffingwell and Elliott, voted to name their planned town "Kirkwood," according to June Dahl's, "A History of Kirkwood." The group then referred to themselves as the Kirkwood Association.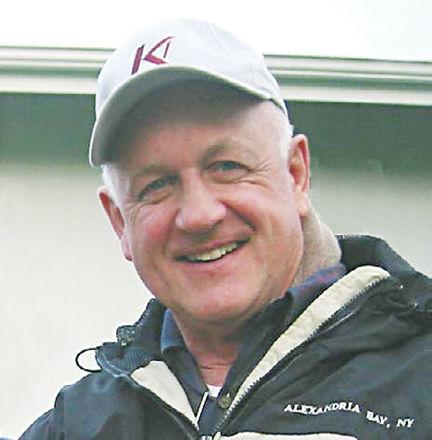 In addition to surveying the railroad routes while at the Pacific Railroad, Kirkwood also recommended that a five-foot, six-inch gauge (the width of a track) be used by the railroad. This recommendation was approved in 1858 by the Missouri Legislature.
Not A Bad Daddy
Though Kearney is a skeptic about the Kirkwood naming "conspiracy," he concedes that James Pugh Kirkwood is a worthwhile candidate for father of the city. He calls the 19th Century engineer a "renaissance man."
"When we started making the poster exhibit, we were thinking four or five," said Kearney. "It soon became clear that twice that number would not cover the man's accomplishments. I defy anyone to come to Mudd's Grove and not learn something new about Kirkwood.
"We've got a great school district here, but it's hard to match what Kirkwood was doing at age 8. Kirkwood was studying Latin, Greek, French, British history, plain geometry and more," said Kearney. "He grew up in Scotland before coming to America, and the Scots taught him well."
Kirkwood came to the United States in the 1830s where he worked as an engineer on several railroad projects, including the expansive Starrucca Viaduct for the Erie Railroad in Pennsylvania. The viaduct has 17 arches, each 50-feet wide, totaling 1,040-feet long and is 26-feet wide. It carries 400-ton locomotives on a viaduct designed initially for 50-ton locomotives.
Another Kirkwood – in the state of New York – bears the engineer's name because his railway construction feats. New York's Kirkwood is located about 50 miles south of Syracuse. Kirkwood headed west to St. Louis in 1850 to work on the Pacific Railroad after his work for the Erie Railroad.
Kirkwood didn't limit his expertise to railroads. He was among seven distinguished engineers who designed the Brooklyn Bridge In New York City. He was elected president of the American Society of Civil Engineers.
During the 1860s, Kirkwood was chief engineer for the Brooklyn Board of Water Commissioners. In 1865, the St. Louis Board of Water Commissioners selected Kirkwood as its chief engineer. Kirkwood went to Europe to study water filtration practices which led to his environmental report and historic water filtration concepts.
His report became a classic in the field of water engineering and was used as a text by water supply engineers for years. In 1865, Kirkwood submitted a slow sand filtration plan for Bissell's Point in St. Louis that was built in 1867.
"We need an infrastructure genius like Kirkwood in America now," said Kearney. "He was a marvel. It would be great if every grade schooler would march through Mudd's Grove to see what this man, James Pugh Kirkwood, was all about."
Who's your daddy? Kirkwood?
A trip to Mudd's Grove this weekend just might answer that question. The June 14 House and Garden Tour runs from 10 a.m. to 4 p.m. Admission is $5. Children under 12 are free.