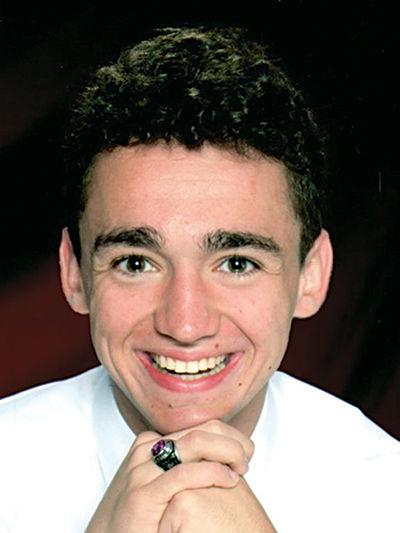 Fearn, Jack Michael, 17, passed away at 10:24 a.m. on Sept. 26, 2019, at Mercy Hospital in St. Louis, Missouri. Jack was born on Oct. 24, 2001, in St. Louis; son of Scott Fearn and Marisa May, both of St. Louis. He is survived by his parents.
Also surviving Jack are his maternal grandparents: Mark (Marcia) May of Elkhart, Illinois; paternal grandparents: Barry (Vivien) Fearn of Spain; his brother: Sam Fearn of St. Louis; great grandmother: Elizabeth May; step father: Dale Maxville of St. Louis; step brother: Wyatt Maxville of St. Louis; maternal aunts and uncles: Heather (Tim Helm) May of Iowa City, Iowa, Adam May of Boise, Idaho, Katie May of Normal, Illinois, and Matthew (Maggie) May of Lincoln, Illinois; paternal aunt: Kellie Fearn of England; cousins: Griffin Brunk, Morgan Brunk, Riley Brunk, Tate Brunk, Connor Kelley, Taylor Kelley, Max May, Brooke Pebble, Gage May, Paisley May, Harriet Coombs, and Charlie Ewers; his girlfriend: Ramina Melikova .
There are some who bring a light so bright to the world that even after they are gone, their light remains to shine. Jack's greatest joy, besides his love for his family, is music. His passion for music brought happiness to everyone he met. He ran the soundboard for the Theatre Department at Kirkwood High School and was going to continue his passion at Missouri State University next Fall.
Jack was a superstar whose star was too big for one body. Selfless in death, as he was in life, he shared his light and gave new life to six individuals through organ donation. His star now shines in them and in the sky. The amazing staff at St. John's Mercy Hospital in St. Louis named a star in his honor. The brightest of all stars, Jack Fearn, is located in the Bootes Constellation.
Services for Jack were Wednesday, Oct. 2, 2019, at Holy Family Catholic Church with Rev. Jeffrey Laible, Father Thomas Taylor, Father Eddie Voltz, and Monsignor Jack Costello officiating. Visitation was from Tuesday, Oct. 1, at Fricke-Calvert-Schrader Funeral Home in Lincoln, Illinois. Burial at Elkhart Cemetery followed the service. In lieu of flowers, the family requests donations be directed to The Jack Fearn Scholarship for Technical Theatre which will provide an ongoing scholarship to a graduating senior from Kirkwood High School pursuing Technical Theatre Majors in college.
We ask that you find the brightest star in the sky at night and pray to Jack.
"It is not the length of your life, but rather the depth of your life."
- Ralph Waldo Emerson.