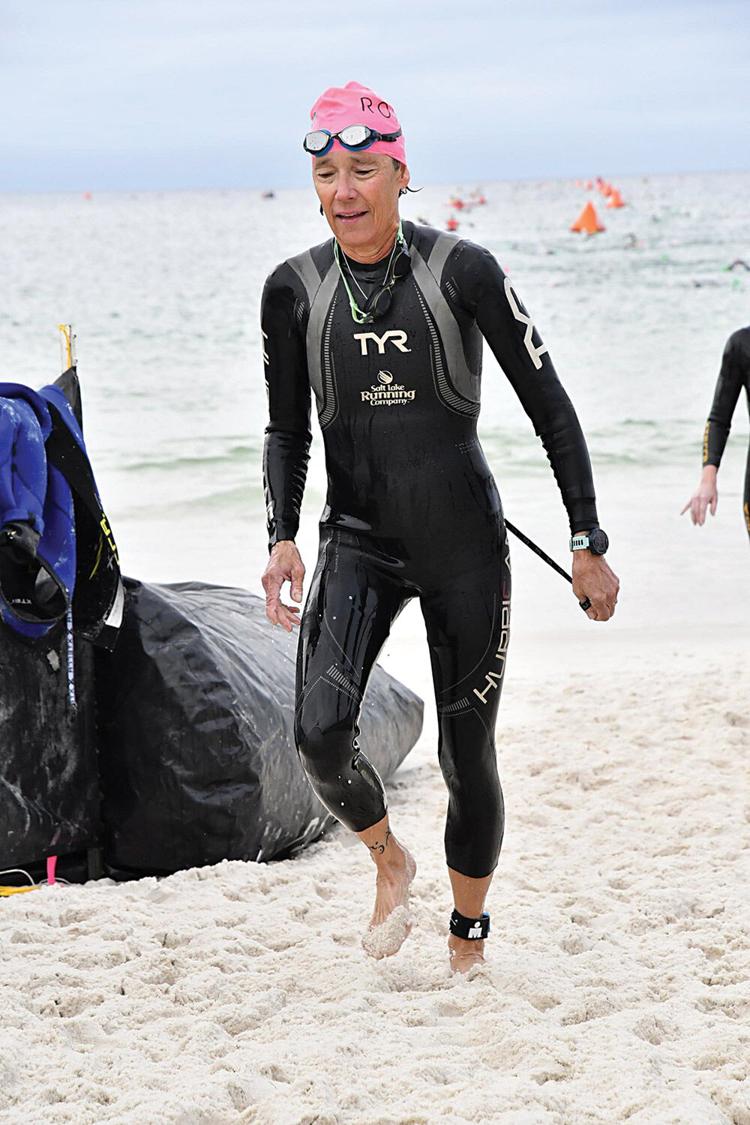 After several months and countless miles and hours of training, longtime Kirkwood resident Liz McCane recently accomplished her goal of becoming an Ironman.
The title is reserved for athletes who complete what's considered one of the toughest endurance races — an Ironman triathlon. Participants have 17 hours to finish the race, which consists of a 2.4-mile swim, followed by a 112-mile bike and a 26.2-mile run for a total of 140.6 miles.
The 66-year-old athlete crossed the finish line at the Nov. 7, 2020 Ironman Florida competition in a time of 15 hours, 52 minutes and 17 seconds. 
"I heard, then saw my husband, Jim, just before entering the finish chute and ran over to him. Then I ran toward the blinding floodlights and heard the announcer (the legendary Mike Reilly of Ironman fame) call out: 'Liz McCane, you are an Ironman!'" she recalled. "I was ecstatic and in tears."
It was the first and only full Ironman race that took place in North America last year because of the pandemic. Ironman Florida race organizers made several  changes to standard procedures and implemented safety measures that included limitations on spectators at the start and finish.
"All of us in Ironman Florida were astonished and grateful that ours was the only full Ironman to take place (in North America) in 2020," McCane said. 
She kept a steady watch on notifications from Ironman as race after race was canceled due to COVID-19, but she continued to train as much as possible. 
"I just kept training and started planning how I could do it in Kirkwood, self-supported, if it was canceled," she said. "Since I would already be fully trained, that was my plan. I kept an eye on Ironman Tulsa slated for June 2021 in case they offered that as a transfer. I tried hard to let go of anxiety about cancellation."
When the pandemic forced the closure of most pools for several months in the spring of 2020, she improvised.
"I swam a few times in the Courtois Creek, into the current, like an endless pool," she said. "Then I got a 12-foot above-ground pool for our cabin in Idaho, and tethered myself by my ankles to the fence to swim in place. I hated it, but it was better than nothing."
McCane had good company from several friends on her long bike training days in Idaho, where she and her husband have a second home and spend several months of the year. She also did  many of her long training runs there. 
Prior to training for Ironman Florida, McCane had completed several shorter triathlons and two half Ironman races, which include a 1.2-mile swim, 56-mile bike and 13.1-mile run.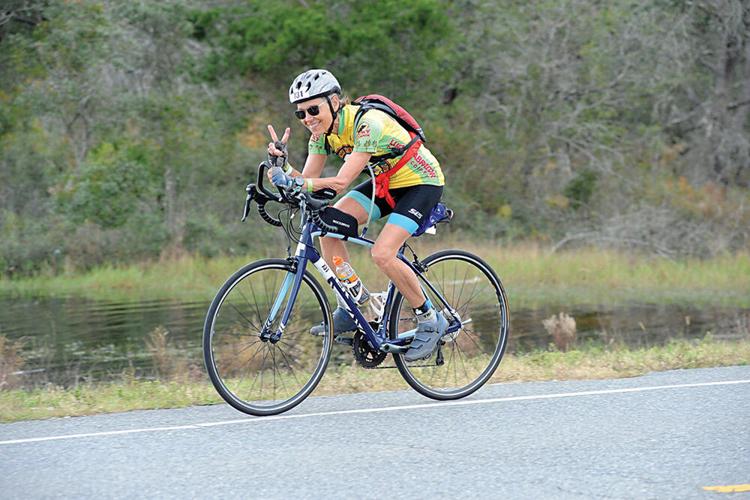 "A Lifetime Memory"
McCane's training and prior race experiences paid off when it came time to toe the line at Ironman Florida in November.
She had a great swim in the gulf, which was two loops of a 1.2-mile course. The 73-degree water temperature and wetsuit-legal race were a good combination for McCane, who swam competitively in college.
"This was the easiest part of the day for me and I finished exactly when I thought I would — in one hour, 30 minutes," she said of the ocean swim.
Next up was the bike.
"The 15 mph wind slowed me down a bit when it was in my face, but it was nothing compared to Idaho winds. Skies were overcast all day, which was a huge blessing," she said. "Jim was able to find me several times on the bike course, including one special visit to tell me that we had a new president — that gave me a burst of energy."
McCane stayed focused on her nutrition and hydration plans throughout the ride, finishing the 112-mile bike in seven hours, 32 minutes. 
Then came the run, which was her  first time running 26.2 miles.
"It was very hard to run my first marathon after swimming 2.4 miles and biking 112 miles in 15 mph winds, but the thought of everyone rooting for me kept me going," she said of her friends and family. "The Ironman run is more an exercise in mental toughness than physical."
The run began in daylight, but darkness soon fell and McCane made use of her head lamp for most of the marathon. Socially-distanced spectators along the route, some dressed in costumes, plus conversing with other runners, helped pass the miles.
"Jim surprised me with a sign and recruited other spectators to join him in cheering me on after dark," she said. "I ran the first 15 miles, then switched to intervals of 200 steps run/50 steps walk. My mind was completely focused on counting steps. I told myself: 'Forward is a speed.'"
Once McCane realized she had a chance to finish in under 16 hours, she started to run more than walk.
"The run took me six hours, 25 minutes — far slower than I'd hoped, but fast enough to finish well under the 17-hour cutoff," she said.
McCane's finish time was 15 hours, 52 minutes and 17 seconds. "You are an Ironman," boomed on the speakers. Although Ironman finish lines are typically packed with large crowds cheering for athletes, COVID-19 concerns meant far less fanfare. But that didn't bother most athletes, as they were just thrilled to have been able to race.
"It was one of those lifetime memories that will always stand out like graduations, births and marriages," McCane said.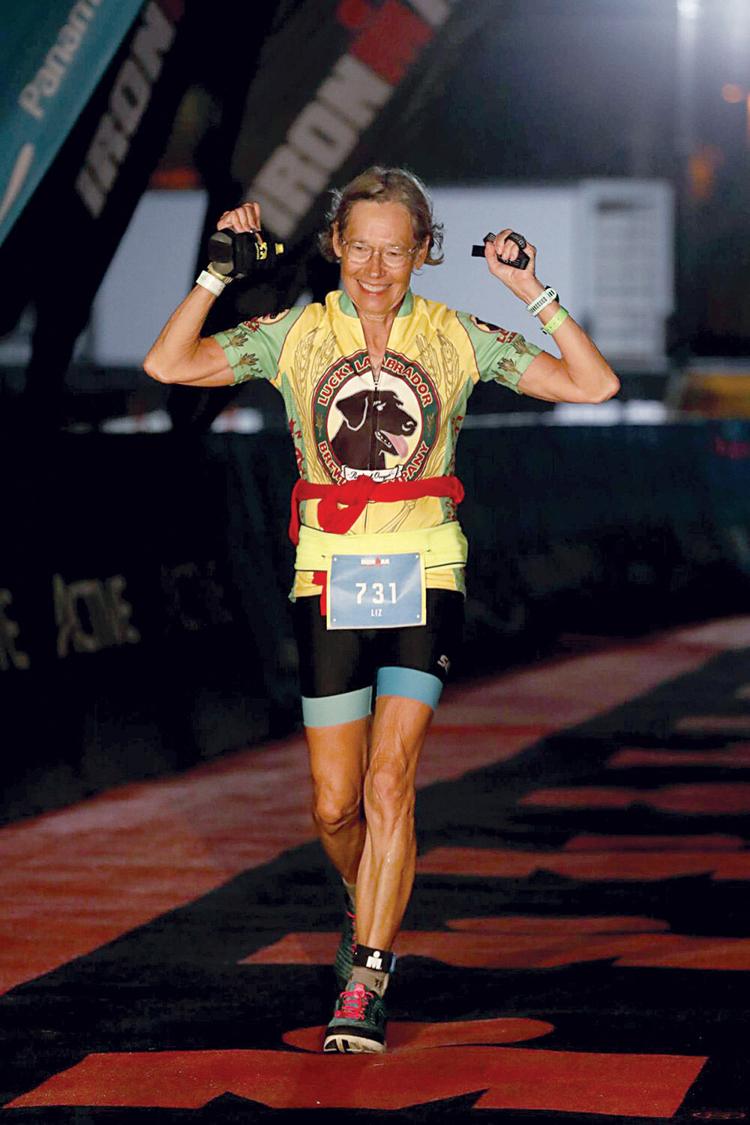 "Outside Your Comfort Zone"
Although McCane said she probably won't do another Ironman because of the time it takes away from other things she enjoys, she already has two half Ironmans and a marathon on the calendar for 2021. 
She encourages everyone, especially  her senior counterparts, to stay active. 
"Fitness is important to everyone's quality of life," she said. "So many activities of daily living are safer and more enjoyable when you have some muscle tone and good balance. For one person, a goal could be to get down on the floor with grandkids (and get back up without help), while someone else may aim to walk or run a 5K or longer race with friends. Any fitness goal is significant, especially if it takes you outside of your comfort zone."