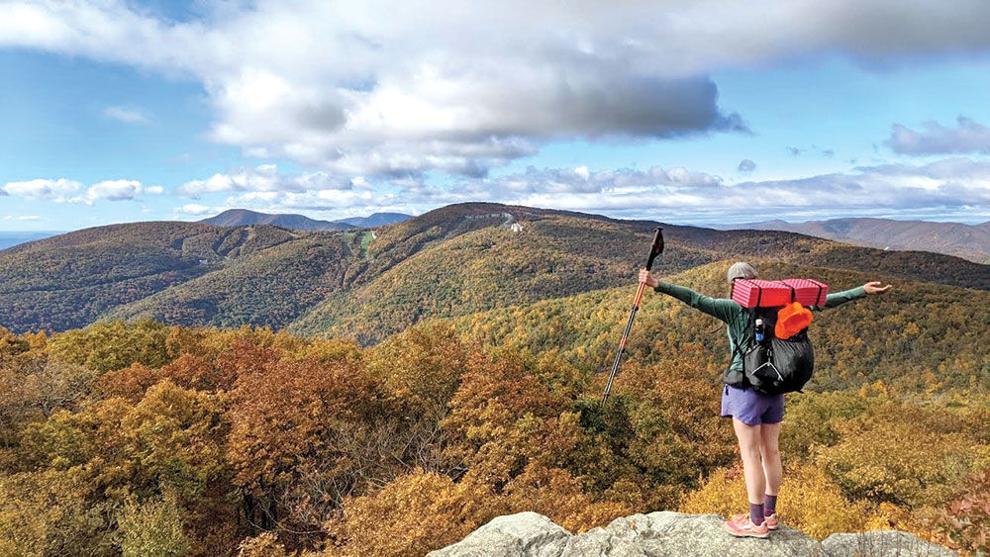 Webster Groves High School alumna Bethany Conerly is now part of a special group of hikers — those who have completed the roughly 2,200-mile Appalachian Trail.
Conerly, a 2015 Webster Groves High School graduate, has been hiking regularly since 2017 after discovering trails in Tennessee. The 25-year-old graduated from Nashville's Belmont University in the spring of 2021 with a bachelor's degree in music therapy. She also works at an outdoor-based retail business with coworkers who completed the trail, which piqued her interest.
"It took a few years for that to go from just a thing I wanted to do, but wasn't sure about, to me actually going out and attempting it," Conerly said. "Gradually, over time, that turned into 'I definitely want to try this' and  me actually making formal plans and buying gear and going out and doing it."
Conerly said those she works with were supportive of her endeavor — so much so that she was granted a leave of absence to complete the trail, for which she is very grateful.
Prior to deciding she wanted to hike the Appalachian Trail, Conerly had only gone on a few overnight and two-night hiking excursions. To prepare herself physically for the long-distance journey, she did a couple more of those overnight and two-night hikes, hiked two to three times per week and spent a lot of time walking around Webster Groves equipped with her trail gear.
"I would come home from work and then go on a one- to two-hour hike with my pack on," she said. "I actually walked around the neighborhood a lot with my dad with my pack, practicing carrying the weight. That was a lot of training."
Conerly said one of the most difficult parts of preparation were the logistics of getting from St. Louis to where she would start hiking the trail in Maine.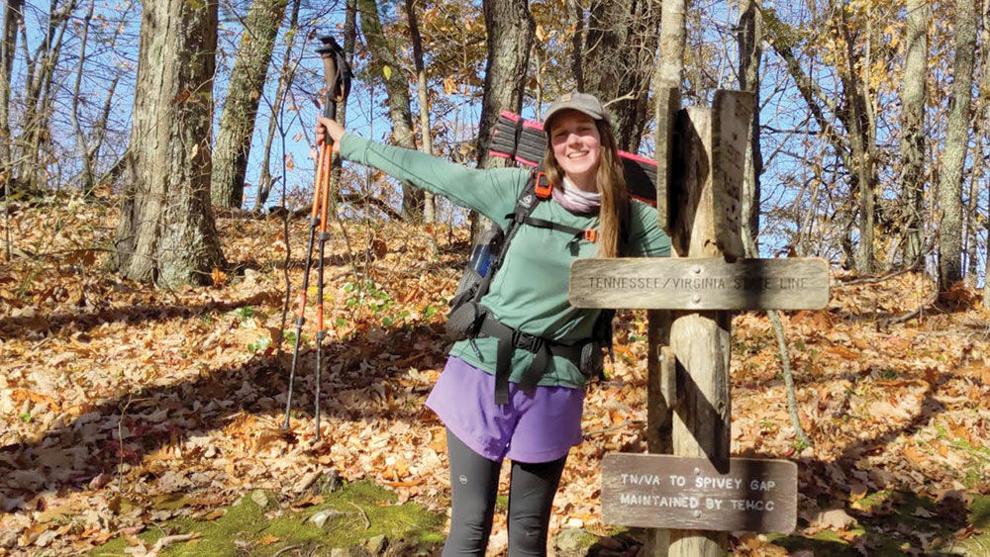 "So getting to the trail is a little tricky because I decided to hike the trail the less popular way. I decided to hike from Maine to Georgia, and most people hike from Georgia to Maine," she said. "The planning was buying the plane ticket, buying a bus ticket and making travel reservations to get to the trail. I also did a lot of planning buying my gear and testing that out, making sure I liked my gear and that it worked for me. Those two things alone were kind of overwhelming, but I got it all figured out."
During her first night's stay at a hostel in Maine, Conerly was relieved to finally be starting her journey. Early on, she would climb Mount Katahdin, which means "greatest mountain."
"It is named properly. It's one of the greatest mountains I've ever seen — so amazing," she said. "So the first day was really, really, really exciting, and it was a beautiful day. Honestly, the whole first week was one of my favorite weeks on the whole trail."
Conerly said she most enjoyed a sense of community from supporters called "trail angels," who offer encouragement and sometimes food, and the simplicity of continuing the trek each day.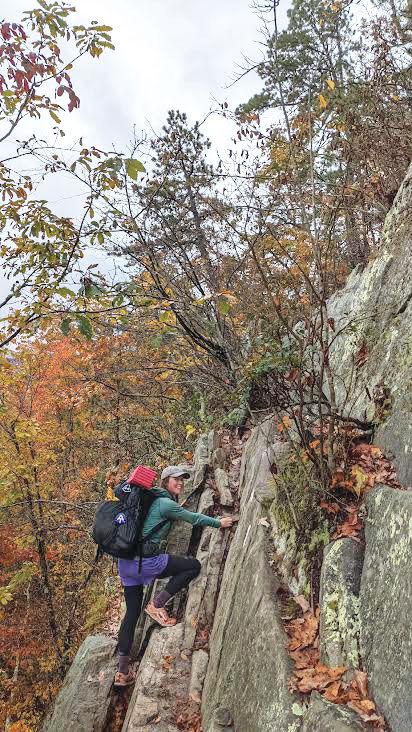 As she went on, new parts of the trail presented new challenges. Frustrating times in Maine and New Hampshire required hiking nearly straight up because there weren't opportunities to take an easier zig-zag approach.
"Sometimes you're actually rock climbing through a boulder field, so it gets kind of like an obstacle course," Conerly said. "I've done a lot of hiking in the past two years of my life, but I've done nothing quite like this hiking. It was pretty intense. It was also very rewarding and fun at the same time."
She added that she was fortunate to have avoided a forecasted hurricane, which changed course.
Conerly said a typical day on the trail included convincing herself to get out of her sleeping bag and pack up, which could take between 45 minutes and two hours, depending on how determined she was to get out of camp.
Next would be instant coffee and a quick breakfast followed by locating water sources before beginning hiking for the day. Conerly would tackle as much mileage as she could before needing to stop, estimating there were shelters every seven or eight miles. While there were some frustrating days, Conerly never thought of quitting.
"I had a couple of moments where I maybe doubted myself, but the whole time I was out there, there was no place I would have rather been," she said. "I never really wanted to quit. It was a matter of, 'Can my body actually keep going?'"
Conerly said her final day of hiking was "quite a doozy," as it had rained nonstop the day prior. Although Conerly had the comfort of a friend who had come out to hike with her at this point, their clothes and shoes were completely soaked when they reached a shelter the night before the last day. With an added overnight temperature drop, Conerly said she and her friend were "frozen solid." 
It took Conerly 10 minutes on the final day just to put on her frozen shoes. She didn't warm up until after reaching the summit of Springer Mountain in Georgia, but she did it.
"The thing that got me up out of my sleeping bag was that the sun was finally out after not seeing the sun for about a week," she said. "It was the rainiest, dreariest week of the whole trail for me until the sun came out on the last morning, so that was really special."
Starting July 23 and finishing on Dec. 12, 2021, Conerly finished the trail in 143 days. She said she intends to continue hiking, hoping to tackle a shorter trail — perhaps in Colorado — in 2022.
She will also be returning to her retail job and exploring what she can do in the field of music therapy. For the time being, she said she's just reintegrating with society.
"My mom and dad were really excited to see me again," Conerly said. "They were very proud — and very vocal about how proud they were. So yeah, it was good to come home to them being so supportive. They really supported me while I was out there on the trail too, which I was very thankful for."
For those who might be interested in some hiking, or long-distance hiking, Conerly suggests starting with shorter hikes, getting involved in hiking groups and talking to experienced hikers.
"You don't have to start with a 2,000-mile trail," she said. "We have a beautiful trail in Missouri called the Ozark Trail, so you could get your feet on that and see what it feels like. But also the thing that really sold it for me was being able to talk to people who had done it before. Being able to hear people's experiences I think can make it a little less intimidating, which is what it was like for me."