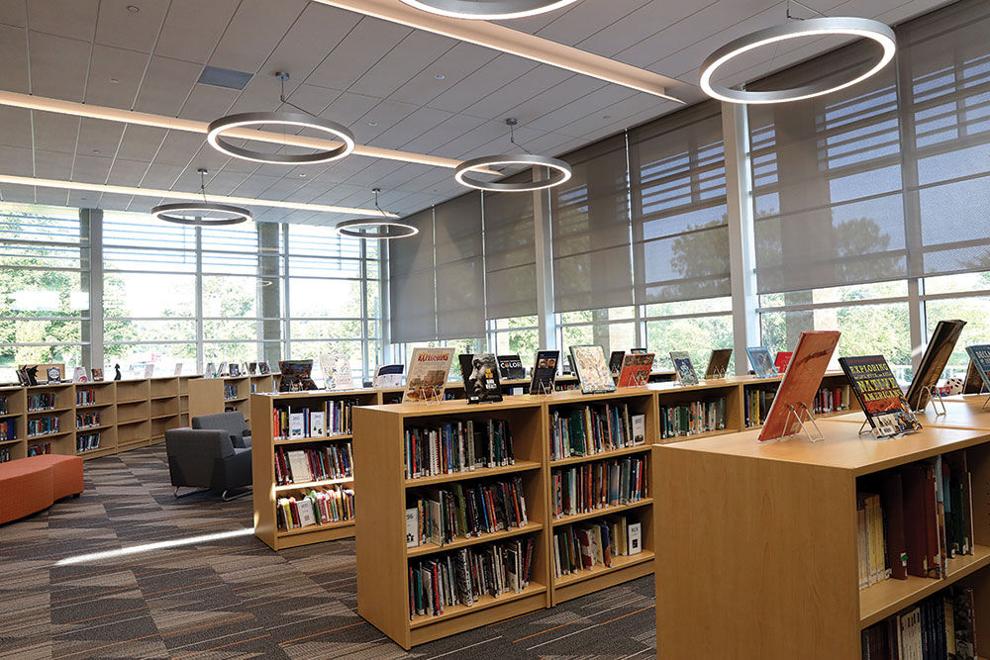 Residents of the Webster Groves School District can see how their tax dollars have been put to use as the newly-renovated Hixson Middle School opens to the public this weekend.
Community members may tour the new additions at Hixson, 630 S. Elm Ave., from 2 to 3:30 p.m. on Sunday, Sept. 19. The $18.5 million project added approximately 77,000-square-feet of space and allows Hixson — which formerly housed only seventh and eighth graders — to accommodate the district's 329 sixth graders previously  stationed at the Steger Sixth Grade Center, now Givens Elementary School. Hixson Middle School now serves 995 students in total. 
The expansion was funded by Proposition  E, which was approved by voters in 2019.
The construction, which began in March 2020, included four major projects — a new two-story gymnasium and classroom wing, an expansion of the cafeteria, a library and front office expansion, and a music classroom expansion. The crown jewel of the renovations is a new entryway off of Elm Avenue. 
"The problem with the old setup was the main office was off the north side of the building facing Highway 44. The school didn't have an identity. You couldn't drive down the highway and get off and know that this was the main entrance to the building," said Rob Steuber, the district's construction project manager. "So we relocated the office to this side on Elm."
To enter the building, students must pass through a secure checkpoint, where they will swipe ID cards or be buzzed in by the front office. The old entrance remains as a secondary entryway with card-swipe access only.
"The main front also provides access to the new library," Steuber said. "We wanted to make this a grand focal point, with the library being a showpiece for the new building."
At three times the size of the old library, students can look forward to plenty of space to study, explore new books or access technology. Breakout areas can accommodate several classes at once, and the enormous space can be flooded with natural light or shaded with screens that lower from the ceiling. 
But the library isn't the only recipient of major renovations. According to school nurse Amy Hensley — a 1987 Hixson grad herself — the nurse's office hasn't seen this much love in decades. 
"We had one window. We literally had a closet with a toilet in it, with one sink. If you were throwing up, if you were bleeding, if you had just used the bathroom, if you were taking your daily medicine, that was the sink. It was tragic," said Hensley. "Now, not only is there plenty of space, but it's so beautiful and everyone who comes in here feels calm. It feels like a place where you can get well."
After moving the main office suite, which shared space with the counselor's office and the nurse's office, both the counselors and nurses now have their own larger spaces. Hensley said she feels like she's been handed an important gift to cherish.
"This is an incredible transformation," she said. "I'm thrilled to be a part of it."
Other Highlights
To accommodate the influx of additional students, a two-story wing adds 15 new classrooms, as well as a gymnasium. Athletes will appreciate a new girls' locker room, while athletic directors will enjoy their own office. The gymnasium itself doubles as a storm shelter that can withstand 200 mph winds.
A music expansion creates designated spaces for the choir and school band. The new rooms are acoustically engineered, with protrusions on the upper walls and ceilings that reflect sound.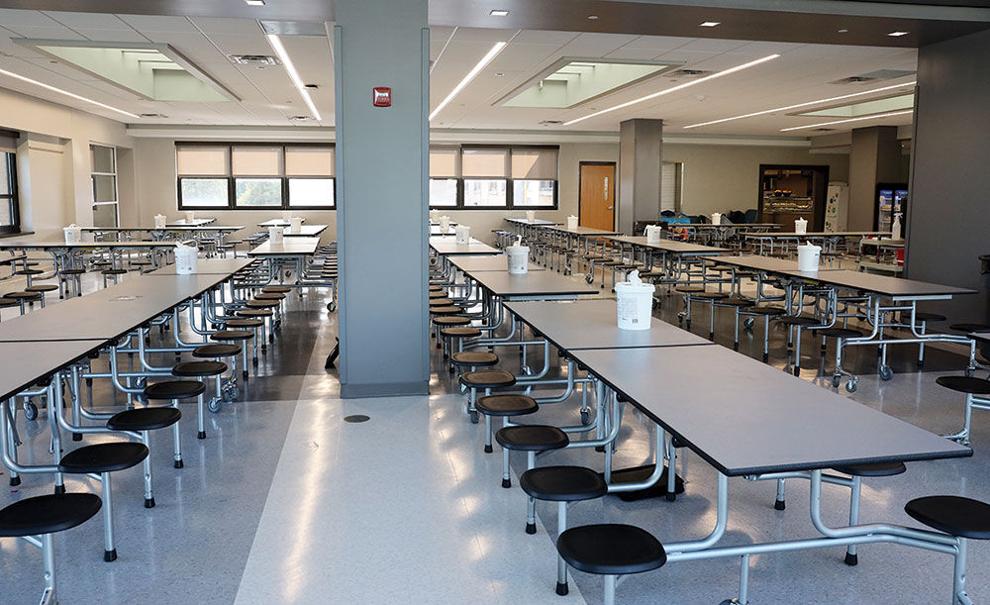 The completely renovated cafeteria adds about 1,500-square- feet of space for student dining. A sensory room at the back provides a quiet space for anxious students to eat in peace.
Science teacher Eric Hayes said he's most excited about the new Sustainability Courtyard, which is currently being developed with help from students. When complete, the courtyard will boast several gardens, a chicken coop, a pond, a greenhouse and several outdoor learning spaces.
"We are in the process of naming this 'The Heart of Hixson' for a variety of reasons," said Hayes. "It's right there in the middle of the building, kids are pouring their hearts into it and we're going to get stuff out of it that can go back towards the community."
Hayes said vegetables grown in the gardens and eggs laid by chickens will supplement the student-run food pantry, and may also be used in the school's family and consumer science classes. A pollinator garden, bird houses and bat houses will support local flora and fauna.
While the project is not yet complete, Hayes said it will continue moving along thanks to student efforts, rocks and a whole lot of mulch. Community members can look forward to endless possibilities as the courtyard takes root.
"We pretty much have a blank slate right now and we are developing this program from the ground up," said Hayes. "We don't know where it's going to lead and that's the exciting part. It's growing with us."