It might surprise some people to learn that Adam Schluter is an introvert. The former Des Peres resident has made a name for himself through a wallflower's worst nightmare — walking up to strangers  and starting a conversation.
Schluter, 36, created photography/storytelling project "Hello from a Stranger" as a way to break out of his own shell and create real connections. The project is an ever-growing series of human portraits paired with a quote or story from each subject. Every person featured was a stranger seconds before the shutter clicked.
"A few years ago, I went through a big heartbreak with someone I was madly in love with and felt all alone in the world," said Schluter. "When I started thinking about suicide, I knew I had to do something to get out of my head. 
"I booked the cheapest flight I could, the farthest I could get away, with a crazy idea — to just walk up to strangers and say hello," he continued. "I'd ask for their photograph and then put the camera away to have a genuine conversation with them."
What started as running away from his problems has blossomed into multiple books, a television series, hundreds of portraits, travel to over 20 countries and countless conversations with former strangers who have become lifelong friends.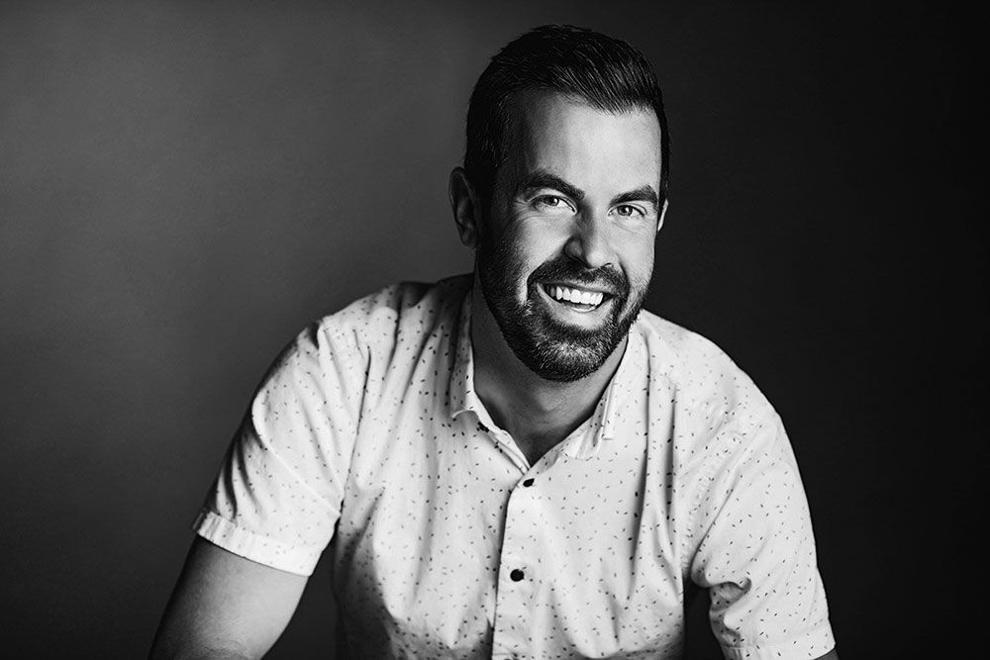 Throw Away The Script
Schluter's wanderlust started early, when he was a travel-hungry teen who loved taking pictures of the places he visited. When he was 16 years old, he became fascinated with the concept of driving all the way to the Golden State.
"I fell in love with the idea that I could live in St. Louis and still visit California, so I used to wait tables and save up to drive as far as I could, out to the ocean, and sleep in my car on the beach," he said.
Schluter graduated from Parkway South in 2004. After earning a business degree at Mizzou, he left for Los Angeles with $300 to his name. He spent the next several months trying to survive, working in restaurants and aiming to become a talent acquisition agent.
Eventually, he got the job. And turned it down.
"In L.A., you have to work so much. You're always moving, you're always busy, and relationships are very transactional because you don't have time to have real friendships outside of your career," he said. "When I got this offer, it was more money than I'd ever had, but I couldn't imagine giving 10 years of my life before I could have a marriage and a family."
Instead, Schluter moved to Mexico to be near friends and take landscape photographs, living a beach bum life he called "blissful," but without direction or opportunity. After a few years, he decided to put his photography skills to good use.
He reached out to Eureka, a brand of camping equipment, about a collaboration — in exchange for sponsorship — Schluter and his then-girlfriend would travel the entire Pacific Coast and take pictures of merchandise along the way.
Schluter spent the next 10 months with his girlfriend on an unglamorous but adventurous camping trip, traveling roughly 22,000 miles. For someone like Schluter who doesn't like to sit still, it was pure happiness.
Unfortunately, it wasn't meant to last. After pouring every last cent into purchasing a home in Coeur D'Alene, Idaho, the couple split up, and Schluter was cast into a pit of despair.
"Here I was going through a breakup with no money. I was broken, depressed, really lonely, with no clue how to make friends," he said. "It was a very dark, low moment in my life, and after a month or two, I was suicidal. I was just sitting in my head. I looked at a world map and realized I just needed to go somewhere or I wasn't going to make it."
Schluter found the cheapest flight he could to Copenhagen and booked it. To fund his travel, he reached out to Eurail, a train pass company permitting travel to 33 European countries, and secured a sponsorship. Armed with a camera and craving human connection, Schluter began approaching people for pictures. 
His goal was to push himself to meet people and get over his fear of rejection. And there was a lot of rejection at first.
"Initially, I was photographing people from afar. It was safe because I didn't have to interact. So I wanted to make myself more vulnerable," he said. "In the beginning, I thought I needed some eloquent speech, but that was the worst thing.
"When you approach people, you have a millisecond to convince them you don't want anything from them. Everyone thought I was trying to sell them something," he continued. "When I threw away the script and just asked people for a picture, that vulnerability ended up being the key. I could be awkward and goofy and shy, but as long as it was perceived as authentic they would say yes."
Schluter's biggest shift in thinking came in the form of a young refugee outside of a train station in Milan. The boy initially rejected having his picture taken, but later agreed after hearing more about the project. When Schluter showed him his photograph, the boy's eyes filled with tears.
"He looks up at me and he says, 'No one has ever asked to take my photograph before.' And I finally got it. Most of the time, people don't feel seen. He's surrounded by people all the time and he feels invisible," said Schluter. "We're all surrounded by people every day, but we don't interact enough. From there, I realized I needed to swallow my fear and pride, and get close to people so I can help others feel seen."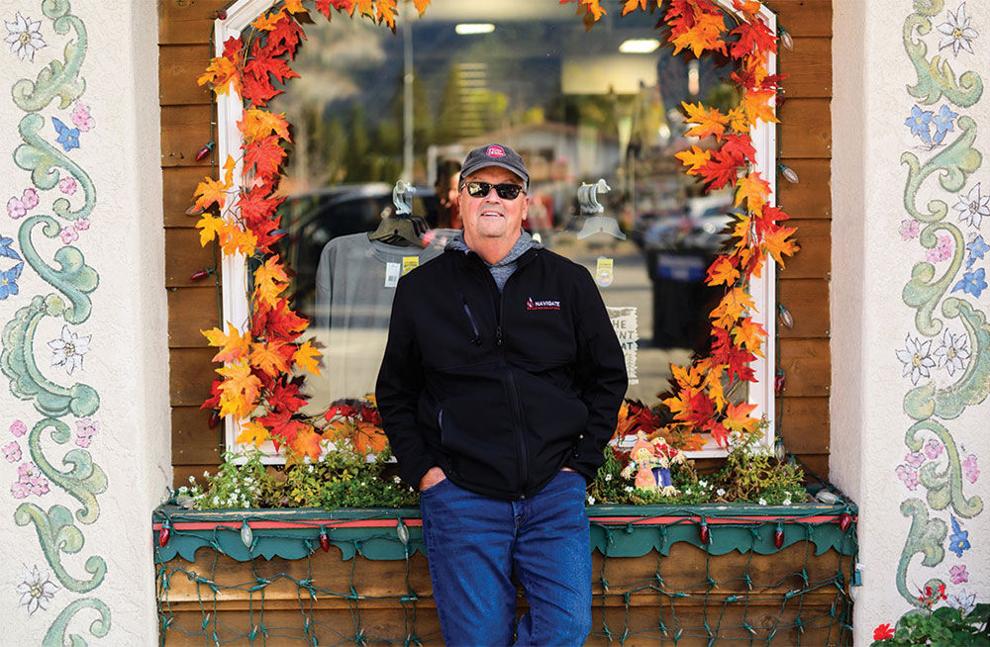 Bringing It Full Circle
Now years into the project, Schluter's life has completely turned around. He's amassed hundreds of pictures and heard countless stories. He's done a TED Talk, had photos published by National Geographic, and earned numerous awards and recognitions. Schluter's first book, "The World I See," features over 70 of his interactions over the years. A second book is in the works, as is a television series.
And while he's kept in touch with many of the people he's met over the years, Schluter has always been searching for a way to connect the "strangers" in each country he visits. To find an answer, he went back to his roots.
Growing up in Des Peres, Schluter's family would eat dinner together every Monday night, sometimes inviting neighbors or friends. Now in Coeur D'Alene, Schluter has employed the methods he's learned on the road to continue the tradition at his new home.
"I had this understanding of how to build genuine relationships, so I wanted to build those relationships in Coeur D'Alene," he said. "So I decided I'd just invite people to have dinner at my house. I called them Monday Night Dinners, after my mom's idea. I invited some strangers and didn't know if anyone would come. Eleven people turned up and we all sat around the table — no politics, no business, no religion, all ages. We just had our 64th Monday Night Dinner and over 200 people came."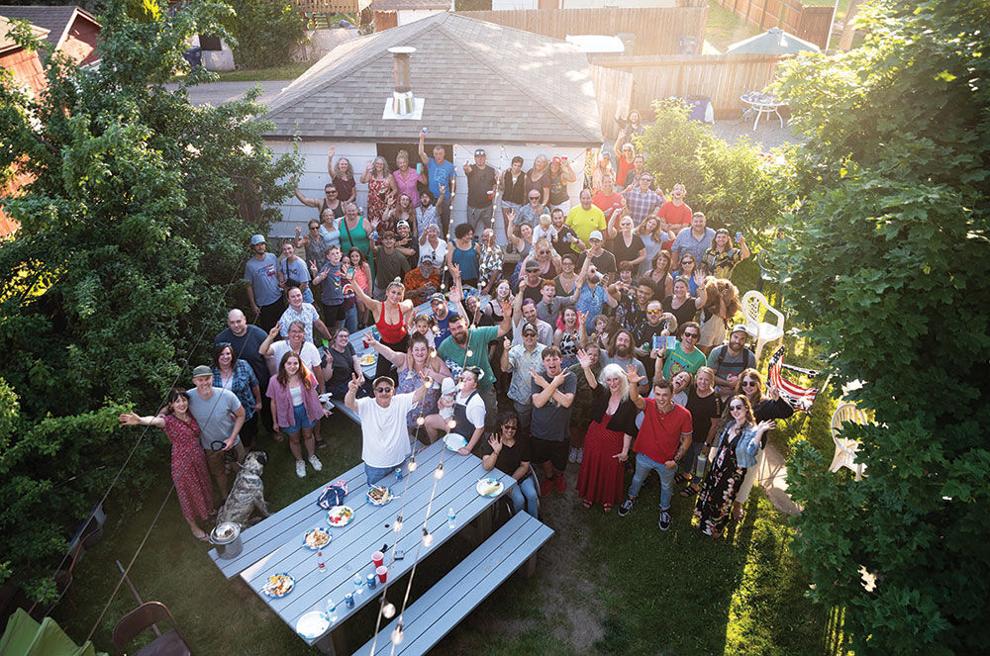 To bring "Hello from a Stranger" full circle, Schluter is now planning to employ Monday Night Dinners in the cities he travels to for the project.
"The idea is that at the end of my travels, I can connect all the strangers I've met with each other, so they can stay connected after I leave," he said.
And those human connections, said Schluter, are crucial, especially in this day and age. That's why he doesn't use social media. In fact, Schluter doesn't profit at all from "Hello from a Stranger." The project continues to serve only as a love letter to himself — and to anyone out there feeling afraid of letting people in.
"I go to third world countries, dangerous places, the murder capital of the world — still to this day, nothing scares me more than vulnerability in a relationship," said Schluter. "This whole project is me telling myself that I need to let people be close to me. I can't run all the time."
Ever humble, Schluter not only encourages, but implores, others to follow in his footsteps.
"I'm not doing anything special. I'm just walking up to people and being a human," he said. "I started this from nothing. You can do the same thing."
Learn more about Schluter and the project at hellofromastranger.com.