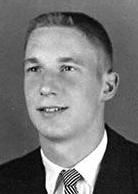 Lansing, Harry S. of Webster Groves died on Jan. 20, 2019, at Bethesda Dilworth in St. Louis, of metastatic bladder cancer. He was 80 years old.
Born in 1938 in New Orleans, Louisiana, to Paul Bennett and Elizabeth Cather Lansing, he was the second of three sons. When he was 4 years old, the family moved to Webster Groves. He attended Webster Groves High School, playing basketball as the 6-foot-5 center for the varsity team.
Harry graduated from Washington University in St. Louis, a Sigma Chi, and varsity basketball team center in 1962. He joined the U.S. Air Force for pilot training in 1963, but after six months was found to be too tall for the cockpit, his head slightly higher than the pilot seat, which would break through the cockpit during an emergency.
Upon honorable discharge, he traveled to San Francisco, California, where he lived for over 30 years. In San Francisco, Harry became a salesman for John Hancock Life Insurance Company, being awarded the Sales Achievement Award in 1965.
In the late 1990s, Harry moved back to Webster Groves to help manage the care and finances of his mother, who had suffered a stroke some years before.
After the death of his mother in 2006, Harry suffered health problems in the last five years of his life. Following two hip replacements from falls, he was diagnosed with cancer, which was brought to remission with chemotherapy. The cancer later returned.
Harry is survived by his two brothers, Paul B. Lansing II and James C. Lansing, plus nephews Trent Lansing and Garrit Lansing. He was preceded in death by both parents, his uncles and aunts, and his close cousin, A.B. Lansing.
After cremation, he will be buried in the Lansing family plot in Bellefontaine Cemetery in St. Louis.