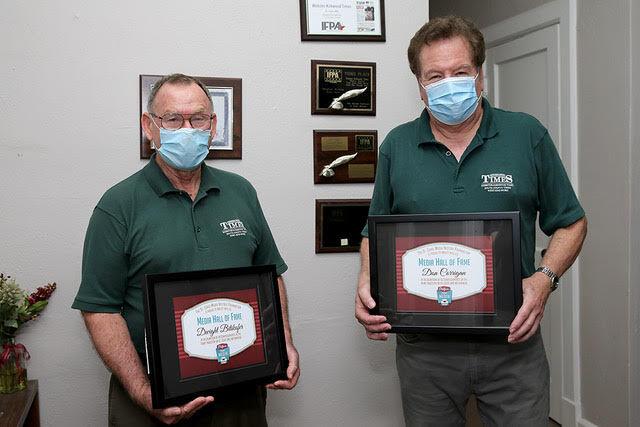 On Oct. 3, Dwight R. Bitikofer and I will be inducted into the Hall of Fame. Never in my wildest dreams could I ever have imagined myself finding a place alongside the likes of Dizzy Dean, Joe Medwick, Cool Papa Bell, Lou Brock and the "White Rat" from Sunset Hills.
Wait a second ... this is not the Hall of Fame in Cooperstown? Oh, this is the St. Louis Media Hall of Fame. Well, I can go with that. Especially knowing that I will be inducted along with Tim McCarver. 
McCarver and I both played catcher back in the day. He played with the St. Louis Baseball Cardinals and I played in Khoury League with a team across the river in "Red" Schoendienst country.
Neither McCarver, nor I, are being inducted for our work behind the plate. McCarver is being inducted into the St. Louis Media Hall of Fame for his work as a broadcaster with ESPN and other sports media. Dwight and I are being inducted for our many years of work in the community journalism field.
It is customary on these occasions to make an acceptance speech thanking everybody who made this all possible. It also helps to break things up a bit with a mention of the need to save the whales or for America to finally honor treaties with many indigenous peoples.
I am all in with that political stuff, but mostly I will thank Dwight for managing our media business; also for taking angry phone calls on Fridays over my columns. I will also thank our staff, our readers, our faithful advertisers, as well as the media academics I teach with down the street at Webster University.
Mostly, I am going to thank my late mother. She is responsible for getting me into the journalism field. There is so much to tell, but one short story is going to have to suffice. After all, McCarver will need some time to tell his story.
Mom gave me a birthday gift when I was 8. It was a print type set, about 24 point, with an ink pad. It was not as cool as a scale model blue Thunderbird convertible that the rich kid next door got for his birthday. Billy actually drove it on our street. All the girls and boys in the neighborhood loved riding with Billy.
I was jealous, but also concerned over issues like street safety and the impact of income inequality. I made a one-page paper with a headline: "BILLY BOGARD IS A RAT." I went up and down our street and sold my scandal sheet for a dime.
My mother was mortified. She was also worried about libel. She told me to apologize at every house, give back the dimes, and retrieve the newspapers.
Funny thing – none of the neighbors gave back my paper, or took back their 10 cents. They thanked me and said things like: "That boy is going to get killed driving in the middle of the street," or "That nine-year-old has a better car than I do, and I've been working for 20 years."
Billy was not a bad kid. Some years later he introduced me to Marlboros, bourbon and articles in Playboy. These things also proved helpful in journalism.
The St. Louis Media Hall of Fame inducts 12 to 20 persons annually. The induction event recognizes individuals who made major contributions to local written, broadcast, advertising, and digital media, or who began their careers here and went on to success on the national media stage. This year's Hall of Fame event was originally scheduled for March. It was postponed due to COVID-19, and has since transformed into an online video celebration. The 14 men and women of the 2020 Class will be introduced to the public on Saturday, Oct. 3, on HEC-TV, at 7 p.m. CDT. The broadcast can be seen on HEC's various media platforms. In addition, the event can be accessed on STLMHF's social media: Facebook, Twitter, and YouTube. The entire Hall of Fame, describing 259 persons who influenced the area's media landscape, is available on the STLMHF website, www.stlmediahistory.org.