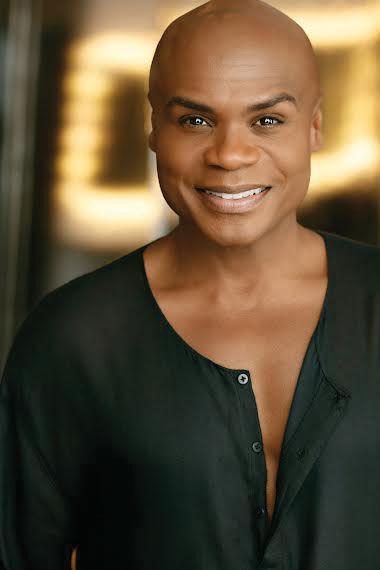 When Nathan Lee Graham returns to St. Louis to star as Hermes in the national tour of "Hadestown," it will be a special homecoming. Not only will he see his family post-pandemic, but also reunite with his college family and all the friends he's made here through theater — and that's a long list of people. 
Graham, who graduated from Webster University's Conservatory of Theatre Arts in 1991, has kept in touch with alumni and faculty. He will present a master class while in town.
"I formed a family there," he said. "They got me ready to go out into the world. It was my second home. They were absolutely wonderful inspirations."
Graham noted that many Webster graduates can be seen on stages and screens all over the country.
"They taught us to be working actors," he added. "We learned the discipline and what it takes. They got us where we needed to be. We may not be famous, but we're working, and it's all about the work."
Among his local mentors, Graham  cited actor Ken Page as a great influence on his career, and the late Steven Woolf, artistic director emeritus at The Repertory Theatre of St. Louis, where Graham performed as the Emcee in "Cabaret" in 2013.
"Steve touched so many people. He was a golden treasure," Graham said. "I have worked with Hal Prince and Steve as producers, and they are visionaries who saw things and then made them into reality."
After graduating from Webster University, Graham moved to Chicago for a year, where he worked at the Goodman Theatre, Drury Lane Theatre and Steppenwolf Theatre.
"It was a great transition," he said. "There was a lot of New York talent, and experiencing their professionalism and how they did things, I carried that with me when I moved to New York."
Since 2000, Graham has been involved in multiple high-profile projects. His movie credits include as Todd in "Zoolander" and "Zoolander 2," Reese Witherspoon's assistant Frederick Montana in "Sweet Home Alabama" and Geoff in "Hitch." 
On TV, he originated the role of Peter in the HBO show "The Comeback" starring Lisa Kudrow, played Bernard on the Fox comedy series "LA to Vegas," and was Francois in the "Riverdale" spinoff "Katy Keene." He also appeared as a guest star on "Scrubs," "Absolutely Fabulous," "Law & Order SVU" and "Broad City."
He was a soloist on the 2005 Grammy Award-winning Best Classical Album, "Songs of Innocence and of Experience" by pianist William Bolcom.
On Broadway, Graham has been in the original casts of "The Wild Party" as Phil D'armano and "Priscilla, Queen of the Desert" as Miss Understanding. In Off-Broadway shows, he received a Drama League nomination for Alvin McCraney's "Wig Out!" and a Lucille Lortel nomination for "The View Upstairs."
During a phone interview while still in rehearsal in Tulsa, Graham said he was among several new cast members joining the "Hadestown" North American tour, which has been extended through spring 2024. He replaced Levi Kreis, who won a Tony as Jerry Lee Lewis in the "Million Dollar Quartet."
Graham opened with the show in Houston, Texas, earlier this month and will perform at the Fox Theatre when "Hadestown" comes to St. Louis Oct. 11 through Oct. 23.
Graham said he's eager for people to experience the musical that won eight Tony Awards, including Best Musical in 2019. Forbes described it as "an epic celebration of music, togetherness and hope."
"It's great fun. It's an exciting show," Graham said. "People will be invested in what happens and the score is so beautiful. It's easy to follow and everyone can relate to it — it's a story as old as time."
With music, lyrics and a book by Anaïs Mitchell, "Hadestown" tells a version of the ancient Greek myth of Orpheus and Eurydice. Hermes acts as the narrator and is the role originated by Andre De Shields, who won a Tony for Best Actor in a Featured Role in a Musical.
"Andre is a dear friend and mentor to me, so I am thrilled to join the 'Hermes Club' — we have a special bond," Graham  said.
This won't be Graham's first time at the Fox though — he was in "Jesus Christ Superstar" during its last tour and "Showboat" in the 1990s.
Graham's first professional job was as a Munchkin in "The Wiz" starring Eartha Kitt as the Wicked Witch in Los Angeles in the late 1970s. He said it was a full circle moment when he starred in the title role for "The Wiz" in his debut at The Muny in 2018.
He graduated from Hazelwood Central High School, and his parents still live in North St. Louis County. He said his family has always been supportive of his involvement in the arts.
"Whether it was singing in church or being in plays, they were always positive," Graham said. "My grandparents and parents are the reason I'm here. They supported the arts, and they supported me."
Because he's been in a "pandemic bubble," Graham said he's looking forward to seeing his parents and grandparents, his two sisters and several of his other relatives.
For tickets and more details about "Hadestown," visit fabulousfox.com.