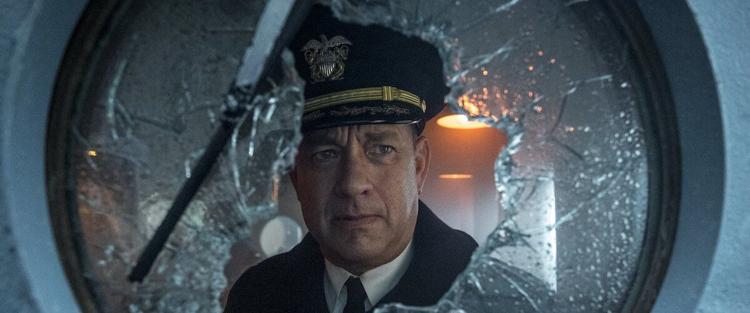 Lynn's Grade: B
Genre: Drama, War
Rating: PG-13 for war-related action/violence and brief strong language
The Plot: On the destroyer USS Keeling, AKA "Greyhound," U.S. Navy Cmdr. Ernest Krause (Tom Hanks) is assigned to lead an Allied convoy across the Atlantic during World War II. His convoy, however, is pursued by German U-boats. Although this is Krause's first wartime mission, he finds himself embroiled in what would come to be known as the longest, largest and most complex naval battle in history: The Battle of the Atlantic.
Lynn's Take: With its you-are-there immediacy, "Greyhound" is a thrilling action film set on choppy ocean waters. Over 48 grueling hours, we experience the taut maneuvers, the duty, split-second decisions and sacrifice it took for the pivotal victory known as "The Battle of the Atlantic."
Based on C. S. Forester's 1955 book, "The Good Shepherd," it is such an immersive, tense experience, you feel the lurches, the sounds, the scraped metal of this vessel as it tries to lead 37 ships carrying troops and supplies to Liverpool, England. The time is February 1942, only a few months after Pearl Harbor. We are thrust into combat as German U-boats attack ships in the area known as "The Black Pit," which can't be covered by airplanes. They are on their own.
As Captain Ernie Krause, national treasure Tom Hanks is at home in an action role that takes him back to World World II again, only this time he is a Navy officer. Hanks conveys a decent man's bravery and strong sense of duty when he is tasked with commanding a ship, his first crossing. That inexperience is shown on his face, as he second-guesses himself and tries to honor his men and keep them safe. It's a task that he lives up to, but it is not without cost.
Hanks wrote the screenplay for "Greyhound," his third feature film after "Larry Crowne" and "That Thing You Do!" Along with director Aaron Schneider ("Get Low" 2009), they don't waste time with subplots and focus on the battle plans. It's a very authentic account, and this inside look at what all the men must do on board is admirable. The cast blends into their service roles realistically.
There isn't much time spent on character development, though. Elisabeth Shue appears briefly as Ernie's girlfriend. The wonderful character actor Rob Morgan, last seen in "Just Mercy," plays loyal messmate Cleveland. And British actor Stephen Graham, who appears different in every role, is solid as navigator Charlie Cole.
The best is the cat-and-mouse taunting of the German U-boat captain who is piloting "Gray Wolf," and trash-talking Captain Krause.
This is a straightforward, sturdy war action drama that tells its story well, presenting the life-or-death consequences in a realistic manner.
This film is only available on Apple+ as of July 10.