For the past two decades, Great Rivers Greenway's expanding network of recreational trails have been a St. Louis success story. Now, the organization is asking residents to help envision the next 20 years of trail expansion and amenities.
Residents are invited to guide the future work of Great Rivers Greenway by providing feedback through a survey by Jan. 15 at www.GreenwayPlan.org. One survey participant will be selected to receive a $300 grocery gift card.
Great Rivers Greenway has built more than 128 miles of greenways that connect people to their jobs, schools, parks, rivers, neighborhoods, business districts, transit and more. Greenways typically include a paved trail, conservation projects to enhance the environment, amenities like restrooms and vital destination connections.
The trails have spawned "People of the Greenways" — hiking, biking, in-line skating enthusiasts and more. Korri Thomas of South County is one of those people. An Alabama transplant, Thomas said she loves to exercise safely and explore the St. Louis region via trails.
 "I love to walk, run and cycle and do these activities with minimal road crossings," said Thomas. "I've always loved rivers so the views of the Mississippi, Missouri and Meramec rivers from the greenways bring me so much joy."  
Thomas' vision for trails in the next 20 years includes more connections between greenways.
"I recently trained for and ran a marathon on the greenways," she said. "I've logged a lot of miles. Having longer segments connected would add more variety to training.
"The bridge connecting the River Des Peres Greenway and Grant's Trail that was just completed in 2020 is wonderful," added Thomas. "This is a big win for the running and cycling communities, and I would love to see more of these types of projects."
The greenways are funded by sales tax revenue from St. Louis City, St. Louis County and St. Charles County. Great Rivers Greenway, created by a vote of the people in 2000, updates a long-term strategic plan every five years with community input.
"Your voices are central to bringing the greenways to life — these are your tax dollars at work," Great Rivers Greenway Board President Bernard DuBray said.   "A vision this bold takes all of us — thank you to all our partners and community members for their collaboration."
Tracked by electronic counters, visits to the trails have risen 72% in 2020 as compared to 2019. The survey will add to such data. To request a copy be mailed to you, take the survey by phone or to learn about the history of Great Rivers Greenway, call 314-436-7009 or visit www.GreenwayPlan.org.
"We've heard time and again that the greenways are an important part of people's quality of life and our region's well-being," Great Rivers Greenway  CEO Susan Trautman said. "That has been loud and clear in 2020. More people than ever have turned to the greenways for fresh air, to stay active and connect to nature."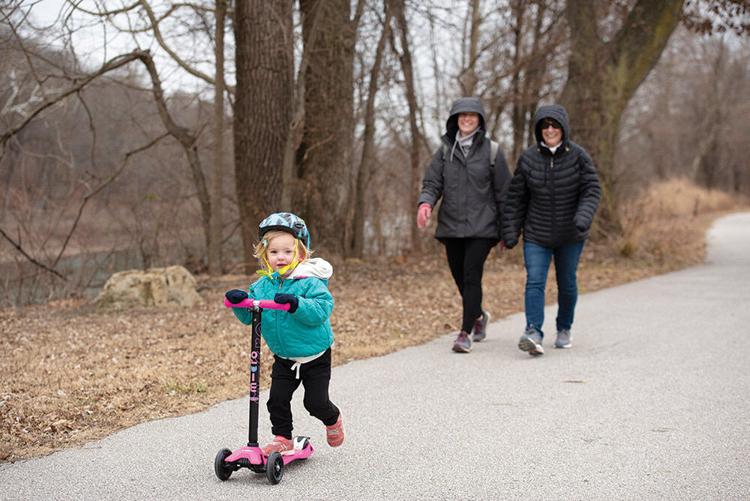 The Pandemic Effect
"With so many things closed as a result of the pandemic, people have turned to the outdoors," Great Rivers Greenway Communications Director Anne Milford said. "Being in nature and getting fresh air is a proven stress reliever.
"The greenways have been a place for people to feel connected to other people — safely and at a distance," added Milford. "They get that important connection while doing their part to maintain their own physical health in a looming pandemic."
The increase in trail traffic may be here to stay. Great Rivers Greenway is attentive to resulting safety issues and that will be one focus it hopes to get some feedback on through the survey.
Grant's Trail, also known as Gravois Greenway, is one of the most used greenways in the Webster-Kirkwood Times area and across the system. There can be challenges with so many people out walking, running and riding bikes.
"We are going to do a safety campaign in 2021 to remind people about how to share the greenways," said Milford. "With Grant's Trail, large signs will be added that include one rule or safety reminder at a time, with a photo, so they are easy to read and everyone understands what is expected."
Pedal-assist bikes have not been an issue to date. They are generally used by people who need a little assistance due to physical limitations. Great Rivers Greenway's goal is to get everyone to slow down whether they are on bikes or rollerblades — and to be alert and communicative in order to react quickly when others are nearby.
Great Survey Response
"We are getting great responses so far; we've had more than 3,800 people respond," Milford said of the survey. "At quick glance, we're seeing that many people love the outdoor settings and would like to volunteer for trail events.
"We've also gotten several comments that people wish more small businesses would set up along the greenways to vend food, drinks, local goods and more," she added.
One national nonprofit that has benefited from the greenways is the Ulysses S. Grant National Historic Site. Nearby Grant's Trail is used for the site's popular "Bike Through History" tours.
"Our visitors are so impressed with the greenway and the many interesting historic locations and parks that it borders," said David Newmann of the National Park Service, which oversees the historic presidential site. "We look forward to our continued partnership with Great Rivers Greenway."
Newmann said he's excited about the prospect of a new greenway segment connecting the River Des Peres Greenway and Jefferson Barracks County Park. 
"Our visitors will then be able to continuously ride, walk or run along the route that Ulysses S. Grant traveled from White Haven to the barracks back in the mid-1840s," he said.