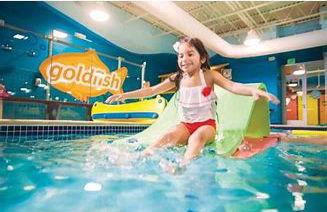 Goldfish Swim School, a water safety and swim lesson school offering infant and child swim lessons, is under construction with a 10,000-square-foot facility in Warson Woods.
The newest addition to the Goldfish Swim School family, located at 9967 Manchester Road, will welcome swimmers this winter.
Goldfish Swim School-Warson Woods will provide indoor, year-round swim instruction to children ages 4 months to 12 years in a family-friendly setting with highly-trained instructors.
In addition to swim lessons, Goldfish Swim School offers weekly family swims and party packages. Facility highlights include an air-conditioned viewing gallery for parents, private changing rooms, snack bar, retail shop and warm, tropical décor.
Goldfish Swim School-Warson Woods is owned and operated by Amy and Brad Kocher of Kirkwood, along with their business partners Gretchen and Dave Klotz and Traci and Bret Gruley.
"Our children learned to swim at Goldfish so we have experienced the curriculum first-hand," note Traci Gruley and Gretchen Klotz.
Goldfish Swim School-Warson Woods begins lessons this winter. Families can pre-register for lessons by visiting www.goldfishswimschool.com or calling 314-717-0888.