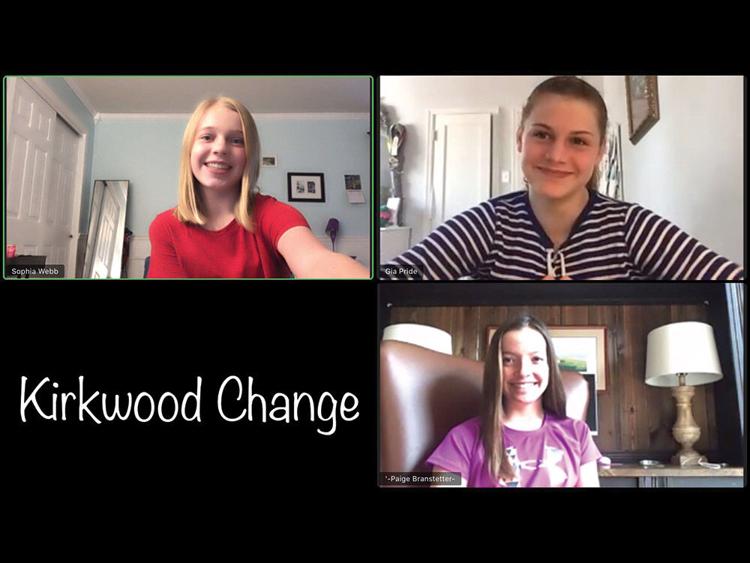 Earlier this semester, a North Kirkwood Middle School social studies class was assigned a project to promote a positive change. A team of three eighth graders completed their assignment on the environment, but when they were done, they realized they didn't want it to end with just an "A."
Paige Branstetter, Gia Pride and Sophia Webb are now trying to get their new organization, "Kirkwood Change," off the ground. Focused primarily on reducing waste, the group has developed a "green certification" system for Kirkwood businesses and residents.
"For a business, there's a list of 10 things you can do. If you complete five, you get green certified," said Branstetter. "If you are an individual wanting to do this, there's a calendar where you can follow the activities for a month. Once you're green certified, you get a certificate and a sticker to show you're trying to help."
The team is also working on "extreme certification" for companies who are green certified and whose employees complete the monthly calendar of green activities.
Those interested in earning the certification can visit https://sites.google.com/view/kirkwoodchange to view the requirements. Businesses can choose from options like replacing plastic flatware with compostable alternatives, planting trees and eliminating the use of plastic bags. Individuals can complete activities such as buying organic products, reusing containers and sharing environmental facts with others.
According to Pride, many of the activities required for green certification focus on plastic consumption. Plastic, she said, is a well-known issue for which few have a solution.
"People don't know how to change ... plastic is part of our daily routine," said Pride. "We came together because we all feel so strongly about the environment. We're not going to let being in eighth grade stop us from making a difference."
The Kirkwood Change website offers numerous alternatives to plastic, as well as information on how to safely reuse it. There's also links to several petitions requesting more plastic bag recycling bins, encouraging Kirkwoodians to use bar soap instead of bottled, and switching Kirkwood schools to reusable or compostable silverware.
Though Kirkwood Change is currently active only in Kirkwood, Webb said there are plans in the works to expand into other St. Louis areas.
"St. Louis is a big city. We're hoping to grow once we get more people involved and raise more awareness," said Webb. "Plastic really is a huge issue. We want to educate more. Education is a good thing."
To reach out to Kirkwood Change or inquire about becoming green certified, email kirkwoodchange@gmail.com. Look for Kirkwood Change on Instagram and Facebook in the near future.