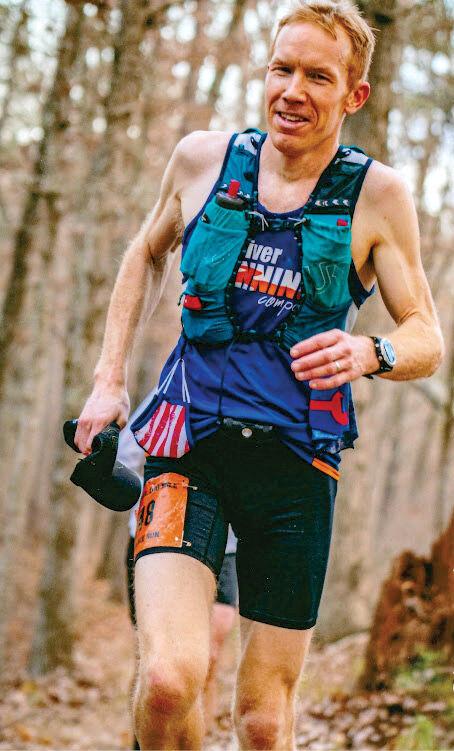 In a brutal race that nearly half of the competitors did not finish,Derek Brown of Glendale not only finished, but won the Ozark Trail 100-Mile Endurance Run.
On top of that, it was Brown's first ultramarathon — with "ultra" characterizing long-distance races beyond the traditional 26.2-mile marathon. Ultramarathons range from 50K, roughly 31 miles, up to 100 miles or more.
Although Brown ran two 50K races as part of his training for the Ozark Trail 100-miler, the 45-year-old husband, father of two and Washington University professor made the leap from marathoner to ultramarathoner in roughly 10 months of dedicated training.
Finishing in a time of 22 hours and 15 minutes, Brown took first place overall in the 12th annual Ozark Trail 100-Mile Endurance Run held Nov. 7-8. The point-to-point race takes runners through a remote area of the Mark Twain National Forest near Steelville, Missouri, and the moderately technical trail includes several water crossings and about 12,000 feet of elevation gain.
"I'm still in shock, my first 100-miler and my first win — it's crazy!" Brown said. "For my first
win — it's crazy!" Brown said. "For my first trail 100-miler, I just wanted to finish — and maybe break 24 hours if I felt good."
Finishing an ultramarathon in less than 24 hours is considered quite respectable among "weekend warriors" in the sport, so Brown was thrilled. Twenty hours into the race, more than a third of the 79 competitors had quit. Brown was among the 45 who finished.
"I got lucky and had a really good day," he said. "The conditions were good, I had good training and I had great pacers, which were a huge help."
Pacers often join runners for several miles in ultramarathon events, helping them navigate the course, manage nutrition and hydration, keep the pace and stay safe.
Friend and fellow runner Mitch Faddis was waiting at mile 40 with a large slice of cheese pizza, a Red Bull and some Kit Kat Dark, all as requested, and a smile — a big mental and physical boost for Brown. In the miles and hours prior, the trail put Brown to the test.
"After mile 31, I was walking a lot due to steeper and longer uphills, and it was hot," he said, noting the temperature was in the mid-70s at the time. "I had not seen another runner in hours, and I was entering uncharted territory since my longest runs ever had been those two 31-milers in training. I kept moving steadily, but mentally, that was the toughest section of the race for me."
After picking up Faddis, the miles began to pass quickly again.
"Mitch and I chatted over several hours, and we hit 50 miles at 10 hours and 12 minutes — another mental boost," he said.
Brown got another boost when his pacers switched out and friend Tim Storck took over at mile 65 and ran with him until the finish.
"Tim was waiting for me with our friend Gregory and they got to work with my bottles, socks and drop bag number four like a NASCAR pit crew," he said. 
Brown ate another slice of pizza, downed a second Starbucks Doubleshot Expresso and they hit the trail. 
"Tim and I were moving well. He was excited and thought I was in second place," Brown said. "It was still warm, and I had memories of covering this same ground in the night two years ago when I paced Tim."
Coming Full Circle
It was Brown's experience pacing Storck during the 2018 Ozark Trail 100-Mile Endurance Run that sparked his own desire to run the race.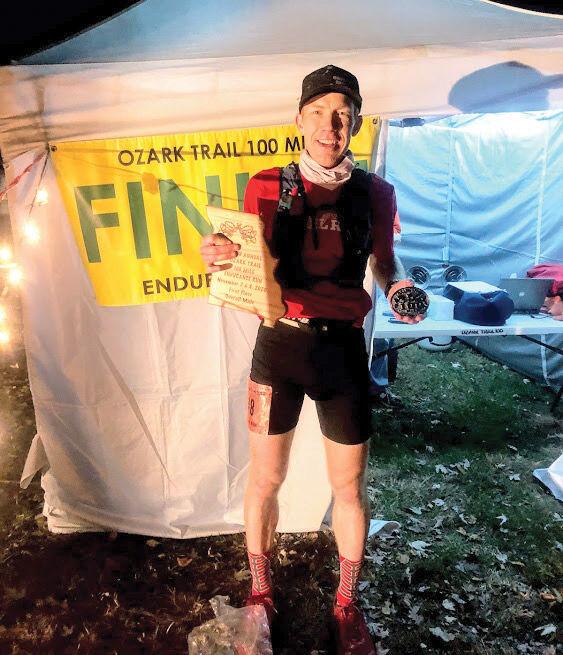 "I got the bug from pacing Tim two years ago," he said. "The 29 miles that we ran overnight, the pre-race planning, and the camaraderie with the crew and runners were exciting, and I wanted to join the 'hundo' club."
Storck's chance to pace Brown in last month's Ozark Trail 100-Miler brought things full circle for the pair of friends who belong to the SLUGS — St. Louis Ultrarunners Group.
"It was great to be able to return the favor when this year's race rolled around," said Storck, 45, who lives in Webster Groves and teaches at Nipher Middle School in Kirkwood. "He was doing great when I picked him up at mile 65, and he never faded. A lot of people will hike the last 10-12 miles, but he just kept steadily running."
After Brown passed the lead runner around mile 80, he ran with a sense of urgency for the remainder of the race. Still holding the lead, he pushed even harder in the final mile.
"I kicked it down as much as I could — to about a 10-minute mile pace — and we ran into the finish (at Bass River Resort in Steelville) 4:15 a.m.," Brown said. "There's wasn't a lot of fanfare at that point and the finish was low key, but there were a few folks around and I was overjoyed."
Brown said overall his entire race was even keel — no massive lows or epic highs, which helped him in terms of pacing and his successful finish. He never slept, took advantage of all 13 aid stations and stayed focus. 
"Tim and Mitch were awesome pacers, and really helped me get it done and stay strong," he said, adding much of his success can also be attributed to his family's support.
Some fun highlights from the day included seeing an armadillo for the first time in the wild, which was "very cool," unexpectedly eating a bratwurst, "which was risky, but ended up working out," and stopping long enough to take in the clear night sky with sightings of Mars, Saturn, Jupiter and even the Milky Way.
"It was an amazing experience that I'll never forget," he said. "I have so many people to thank for it, but especially my family, my pacers, my coach and the friends that I trained with over the last several months. Every volunteer on the course was positive and motivating all day and all night, which also helped a lot."
Consistent training since January of this year, along with four prior marathons and two endurance cycling events in the past, also helped. Brown ran five days a week, reserving long back-to-back runs, typically three-to-five hours each, for the weekends. During the week, he hit the streets of Webster, Kirkwood and Glendale, and on the weekends he took to trails at Greensfelder Park and Rockwoods Reservation, as well as the Chubb Trail in Eureka.
A Strong Running Community
Brown encourages anyone considering an ultramarathon — or a running in general — to go for it.
"I didn't really start running until about 2013, and I initially just wanted to do a marathon as a bucket list kind of thing and be done, but then I really enjoyed it and stuck with it," he said. 
Running also helped Brown meet new people and make friends when he and his family moved from North Carolina to Kirkwood in 2012, and later to Glendale in 2017.
"We discovered it was a really nice place to run, and there are a lot of great streets and parks and trails," he said. "There's a strong St. Louis running community, and we've met a lot of friends that way."