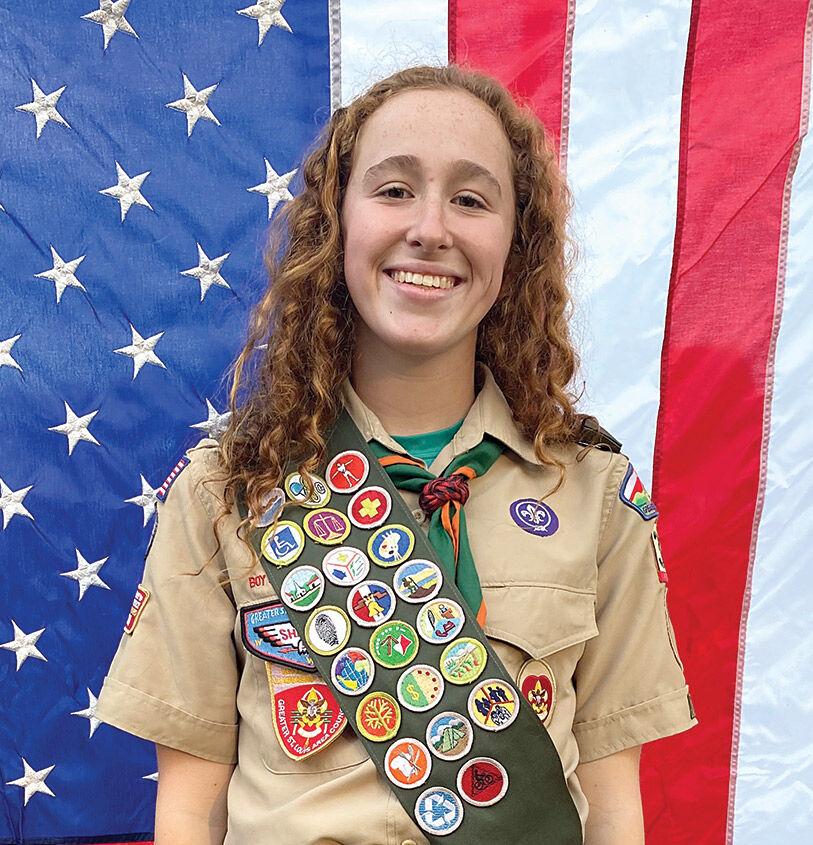 Since its inception in 1911, the rank of Eagle Scout has been the highest honor of achievement in the Boy Scouts of America. Requirements include a lengthy review process, 21 earned merit badges, demonstration of leadership and an involved volunteer service project. And while membership in the Boy Scouts is a prerequisite, as of February 2019, being a boy is not.
Meet BSA Troop 313G. Based in Des Peres, this adventurous group is an all-female offshoot of the original Troop 313. And while it may have fewer members than its male counterpart, this troop is no less ambitious, having produced five graduates for the inaugural class of female Eagle Scouts.
While the parent organization is still called the Boy Scouts of America, the program for ages 11-17, formerly called the Boy Scouts, became Scouts BSA in 2019. Scouts BSA follows the Cub Scouts, which started accepting girls in 2018. Scouts BSA welcomed its first female members on Feb. 1, 2019, including Troop 313G. 
"In the girls' troop we have around 16 members. When we started, we had five," said Kirkwood High School senior Maggie Pennington, who achieved Eagle Scout in October 2020. "The guys' troop was really helpful in the beginning as mentors. They have around 100 scouts in Troop 313. Looking at them and seeing how they operate helped us."
Like the other girls in her troop, Pennington entered the organization with plenty of camping and wilderness experience, having participated in BSA's co-ed Venturing programs, which focus on specific activities like hiking, kayaking or mountain climbing.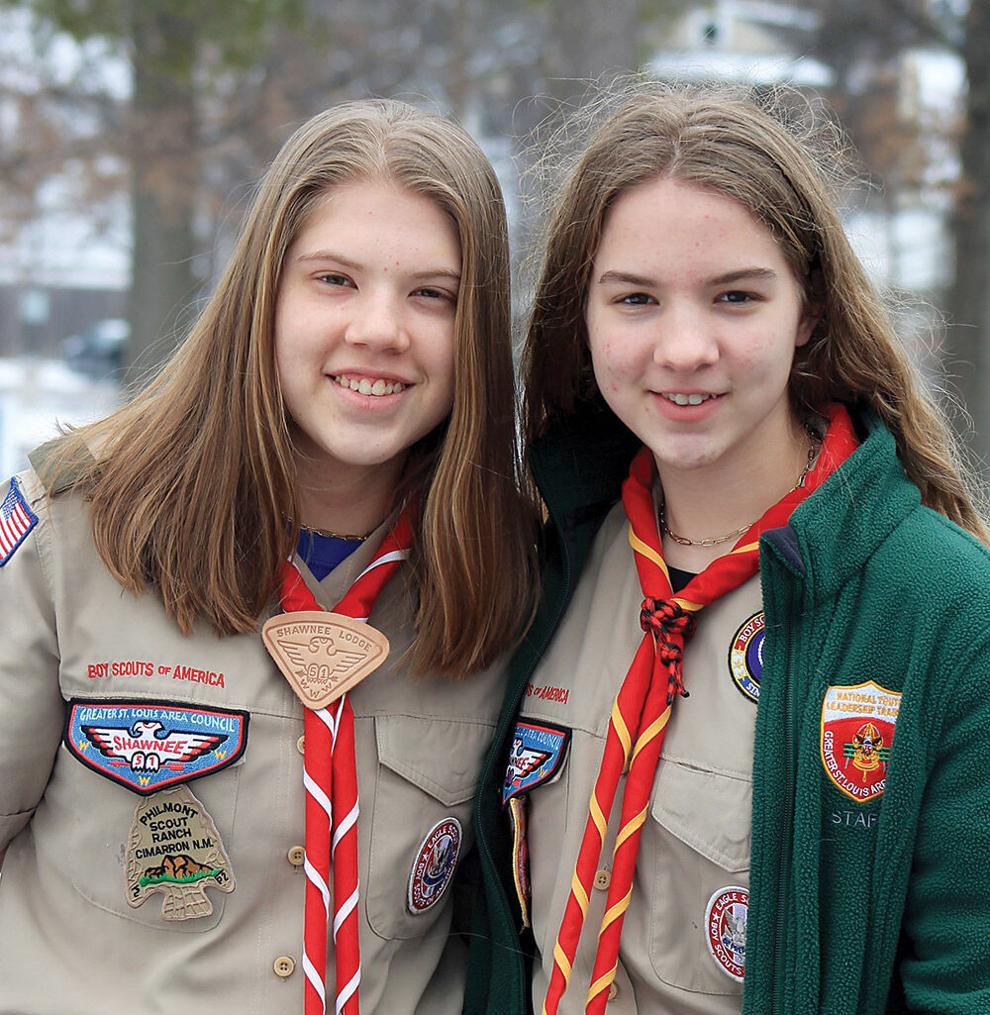 Eagle Scout requirements must be completed before a scout turns 18, so anyone joining after age 11 has an uphill battle compared to those who start younger. According to Pennington, any experience is helpful for fast-tracking the path to Eagle Scout.
"The girls in our troop came in with a different type of maturity level and set of skills because a lot of them were already camping with their families or involved in Girl Scouts," she said. "We knew how to set up a tent and tie knots and stuff. All the girls who have done their Eagle have done it in 18 months. We're paving the path for future female Eagle Scouts to come."
A Tale Of Two Scouts
For Kirkwood High School freshman Addie Ludbrook, joining the Boy Scouts was more than a choice — it's a family tradition.
"My dad was an Eagle Scout from the same troop," she said. "To me, it shows the other girls who may think 'that's just for boys' or aren't sure if they want to join that they can do the same thing the boys can."
Ludbrook was once a Girl Scout, but said she felt more at home with the Boy Scouts, thanks to her father's legacy and watching her brothers participate. Ludbrook isn't the only member of 313G who shares this view. For many, BSA was a better fit.
"With the Girl Scouts, the adults run the meetings when you're younger. If you want to go camping, but the adults don't want to, you can't go," said Paige Brush, a student at Nerinx Hall High School. "The Boy Scouts of America have a set program. You do certain things at certain ages."
Brush became an Eagle Scout alongside older sister Ceri Brush, a junior at Rosati-Kain High School. Both quit the Girl Scouts at a young age, but remained connected to the scouting world through their brother, a Boy Scout.
While both organizations are highly respected, the differences between them are deeper than selling cookies versus starting campfires. In addition to curriculum differences, Girl Scout activities tend to be more communal, with 30% of badge work taking place in groups compared to less than 20% for Boy Scouts. Boy Scout groups cover large age ranges, whereas Girl Scouts participate in troops of same-age individuals. 
With two good options on the table, what's a girl to do? For Kirkwood High School sophomore Kyra Goudsmit, a lifelong Girl Scout, the answer was clear — do both.
Goudsmit, who achieved Eagle Scout in December 2020, joined her brother in the Boy Scouts as soon as she could, but will stay in the Girl Scouts to earn her Gold Award — the highest honor a Girl Scout can achieve.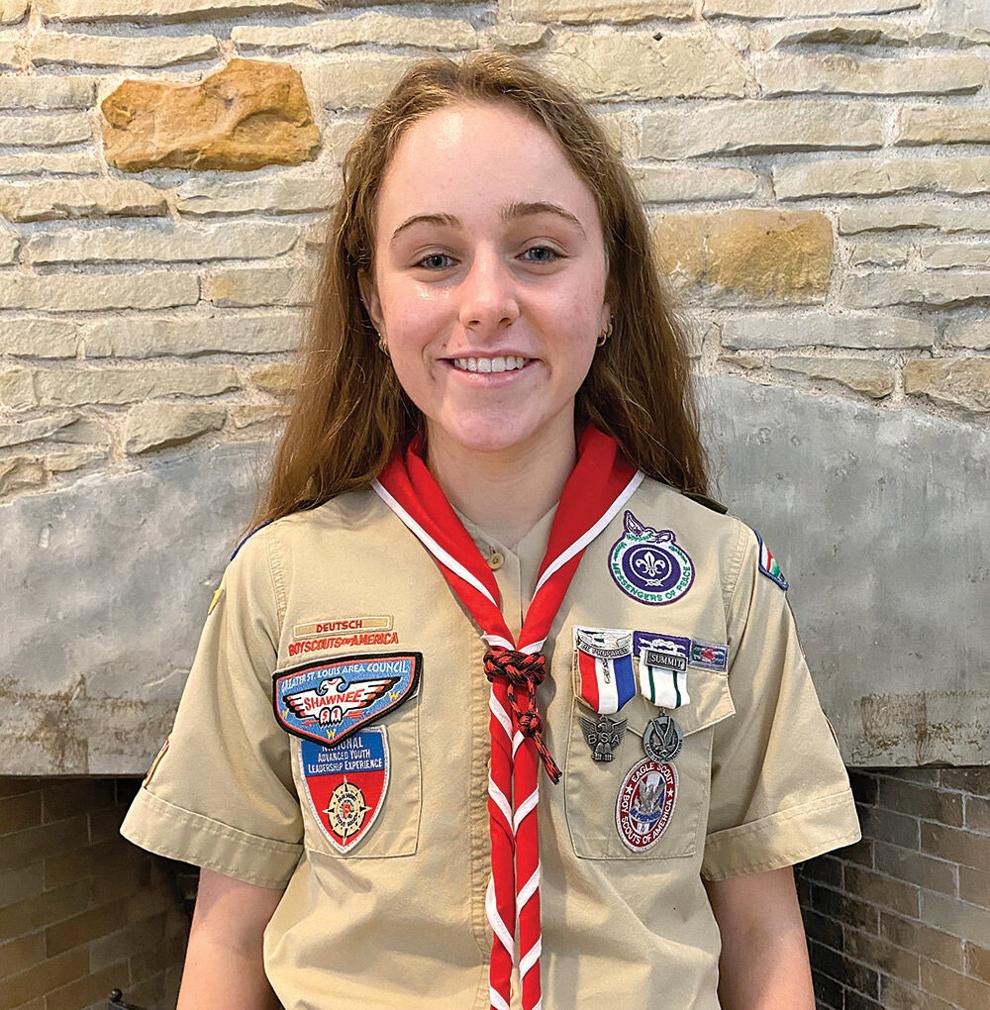 "It's amazing to have gotten the opportunity," she said. "I always knew I was going to do my Gold Award, but seeing my brother become an Eagle Scout and knowing I've done that too is really cool."
"It's About The Path"
From college applications to future jobs to continued involvement with BSA, there are many reasons to achieve Eagle Scout. According to Kirkwood's Pennington, one perk is instant respect from those in the know.
"Whenever I hear someone's an Eagle Scout, the first thing that comes to mind is their ability to think on their feet and lead as an example," she said.
The rank comes with a lot of benefits. Including the title in an application can boost chances for college admissions and financial aid, with some scholarships established for Eagles only. Every branch of the U.S. military allows Eagle Scouts to enter at a higher rank — and with more pay — than their non-Eagle counterparts. It may also mean extra consideration in job searches.
Though they've definitely earned their bragging rights, the Eagle Scouts of 313G know the true fruit of their labor is what they've gained along the way.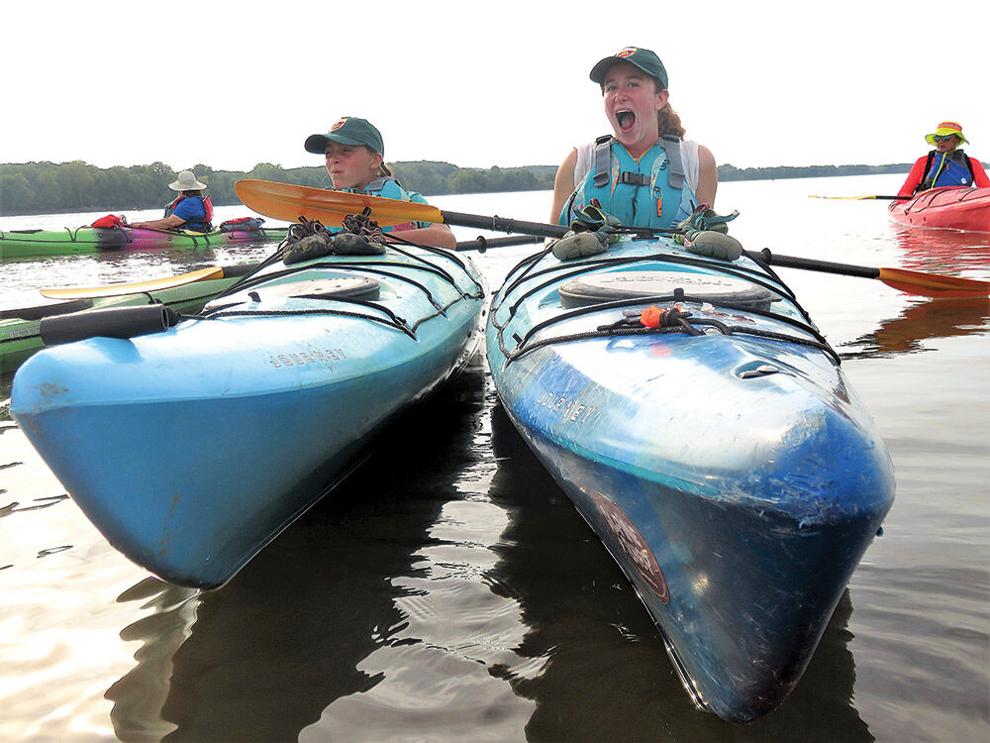 "I'm an Eagle Scout, but it's not about that. It's about the path to getting it," said Ceri Brush. "I went through this. I worked really hard. I gained these skills."
To learn more about BSA Troop 313G, reach out via email to scoutmaster@troop313.org.