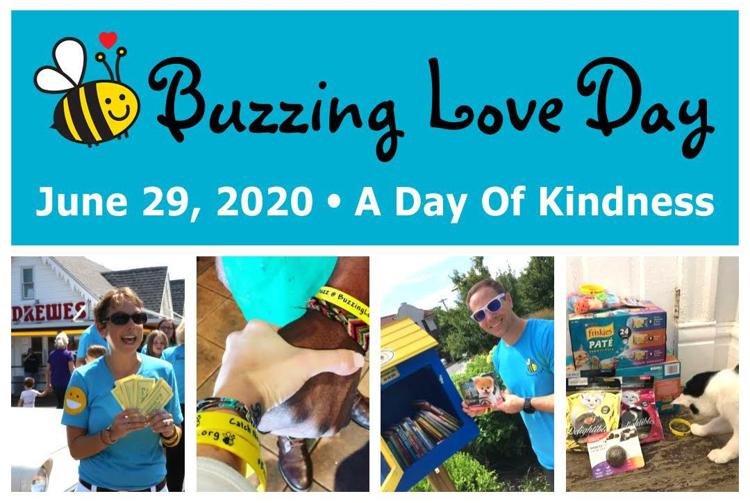 Wherever you happen to be on Monday, June 29, Buzzing Love invites you to practice random (or not-so-random) acts of kindness on its annual "Buzzing Love Day."
Buzzing Love also invites you to share those acts of kindness on social media using the hashtag #buzzinglove, as sharing encourages and inspires others to participate.
While Buzzing Love encourages acts of kindness anywhere and everywhere — on any day — the special day every June 29 has roots in Webster Groves.
Buzzing Love Day began five years ago as a way to honor the life and memory of longtime Webster Groves resident Gary A. Baranyai, who was killed tragically on June 29, 2014. It has since grown into a kindness project — a movement — that seeks to spread love, kindness and hope to others.
Led by Baranyai's daughter, Jaime Mowers, Buzzing Love is big on small acts of kindness — treating a stranger to coffee, leaving extra quarters at the car wash, adding books to a free little library, putting a positive note on someone's car in the parking lot, and so much more. It's those little acts of kindness that can make a big difference in someone's day — and their life.
Buzzing Love is a reminder to love big, laugh often, lend others a helping hand, give someone a smile, spread as much kindness as possible and leave the world a better place than you found it, just as Baranyai did.
Buzzing Love encourages people to put more kindness into the world wherever they are. And not just on June 29, but any day. Because everyone, everywhere, could use a lot more love, kindness and compassion.
"Because everyone has a story, and everyone has a struggle," Mowers said. "Because you never know how much your love and kindness could help someone. Because when the pain shatters us, it's the love and kindness that saves us."
For more information about Buzzing Love and how you can join the movement to spread more love and kindness, visit buzzinglove.org or find Buzzing Love on Facebook (@BuzzingLove) and Instagram (@buzzing_love).
Editor's Note: Webster-Kirkwood Times reporter Jaime Mowers is the daughter of the late Gary Baranyai.