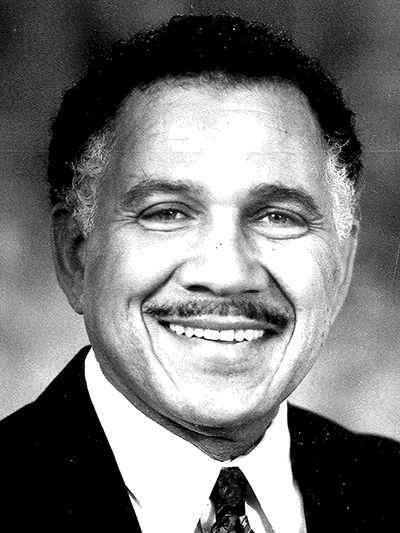 Davis III, George C. died Dec. 14, 2019 of heart failure. He was the 4th of 7 generations of the Davis family who have lived in Kirkwood. The trumpeter earned a degree in music education from Howard University and was commissioned in the US Air Force Reserves and served active duty in Germany. After 10 years he retired from the Reserves with the rank of captain. As president of the financial firm Davis & Associates, he received many awards including the Tower Square Securities "Quality of Life" award for his efforts in real estate housing.
The 155 unit Alpha Terrace Senior Apartments at Etzel and Skinker boulevards was constructed when he was president of the development corporation. As chairman of the private investment firm ISIS Development Corporation, the directors upgraded Horton Place in St. Louis by building twelve new single-family homes.
Music lured him back, and he co-founded The Jazz Edge Orchestra and was a performer for 10 years. The band has performed at many venues in Missouri and Illinois for more than 25 years. He produced many tribute concerts with international jazz artists at The Sheldon Concert Hall, The Florissant Civic Center, and the UMSL Touhill Performing Arts Center. He also oversaw the production of multiple events for the St. Louis "Salute to General Benjamin O. Davis, Jr.", Commander of The Tuskegee Airman; this was one of his proudest accomplishments.
Activities include past president of the STL Howard University Alumni Club, life memberships in The NAACP, and Alpha Phi Alpha Fraternity. Member, Kirkwood Human Rights Commission, Kirkwood Historical Society, and Director and Treasurer, The Jazz Edge, Inc. His passions were baseball, performing and producing jazz concerts, and catching and releasing trophy bass in Missouri, Arkansas, Mexico, and the Amazon River in Brazil.
George was an activist for human justice and a member of the Free South Africa movement and picketed The Fox Theatre and Clayton Coin Dealers who sold the Kruggerrand. He marched behind Leader Randall Robinson protesting Royal Dutch Shell, violating the trade boycott of South African petroleum products. He joined the Eliot Chapel protests in Kirkwood to support fair housing and public access and served on the Social Action Committee for 30 years. Standing vigil for Ferguson holding a sign saying, "Black Lives Matter", Davis said he was reminded of the civil rights events of the sixties.
His wife Sandra S. Davis preceded him in death. Survivors are Denise L. Davis, Daughter; David C. Davis, Son; Drew H. Davis, Son; Steven, George, and Eric Rhinehart, Sons; nine grandchildren, and two great-grandchildren.
In lieu of flowers, memorial contributions may be forwarded to The Southern Law Poverty Center, 400 Washington St., Montgomery, Alabama, 36104 or the ACLU.
A celebration of George Davis' life will be held Friday, Jan. 3, 11 a.m. at Eliot Unitarian Chapel, 200 E. Argonne in Kirkwood. In lieu of flowers, contributions can be made in his name to the Southern Poverty Law Center, Montgomery, Alabama.