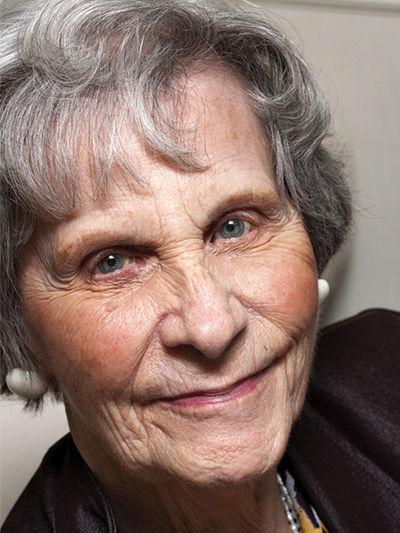 Vandewater, Garneita Rita 'Nita', nee Gramann, 93, died peacefully with family by her side, Nov. 4, 2019. She was born Jan. 24, 1926, in South St Louis. Nita was loving known as Nina by her great grandchildren.
She was preceded in death by her husband, Edward Vandewater; daughter Donna Vandewater; parents Harry and Helen Gramann; three sisters Ciel Bruns, Lorraine Simpson, Vera Yeager; and brother Harry Gramann.
Nita worked at Southwestern Bell, where she met Edward Vandewater, Jr., a Navy veteran. They wed on Oct. 9, 1948, and their matrimonial bond would last 60 years until her husband's death in 2009.
They raised their daughters, Donna Marie Vandewater and Paula Vandewater Rice in Belleville, Illinois.
A homemaker and skilled seamstress, Nita sewed window curtains and clothes for herself, her daughters and their dolls. She made her own stylish hats. She hosted children's birthday parties in her garage and bridge parties in her living room, where, she said, her close group of friends did much more talking than card playing. Nita shared her services in numerous community volunteering organizations, including St. Anthony's Hospital for 25 years.
When the music started, Ed and Nita were always among the first couples on a dance floor. Even as her memory faded, Nita remembered that life is precious and fleeting and she always parted with a hug and and an, 'I love you.'
In retirement, Nita and Ed lived in the St. Louis suburbs of Sunset Hills and Des Peres, always in near proximity to their grandchildren who were so central to their lives. In recent years, Nita lived with her daughter Paula and son-in-law, Pat Rice, in a home enlivened by their eight grandchildren.
Nita's husband claimed she was a nomad at heart, traveling at every opportunity. In the 1990s, as young retirees, the couple became snowbirds, heading to Harlingen, Texas to pass the winter in an enclave of lifelong friends from Ed's career at Southwestern Bell.
Nita enjoyed traveling with her family too, and the group trips continued as she began to decline. Her family circled closer to make this possible. On multiple occasions, four generations traveled together to Disney World and Kiawah Island. To celebrate her 90th birthday they took a trip to Cardinals spring training in Jupiter, FL. There was a time, not so long ago, when Nita could cite the batting averages of every player on the team.
In addition to her daughter and son-in-law, Nita is survived by grandchildren Jennifer (Jayson) Haxton; Kyle (Sarah) Rice; and Lisa (Mike) Frischer; great grandchildren William Martin and Nicholas Haxton; Nate, Bella, Jake and Sadie Rice; Eddie and Emma Frischer; and brother Ron Gramann.
A memorial mass was held at St. Gerard Majella Catholic Church, with burial following at Jefferson Barracks National Cemetery.
In lieu of flowers the family requests donations to the Alzheimer's Association of St Louis, 9370 Olive Blvd., in memory of Garneita Vandewater. The family would like to express gratitude to the compassionate staff at Family Partners Home who turned up the music for impromptu dance parties with residents and kept Nita safe and content. You gave us peace of mind and made the center feel like home. Arrangements by Bopp Chapel.