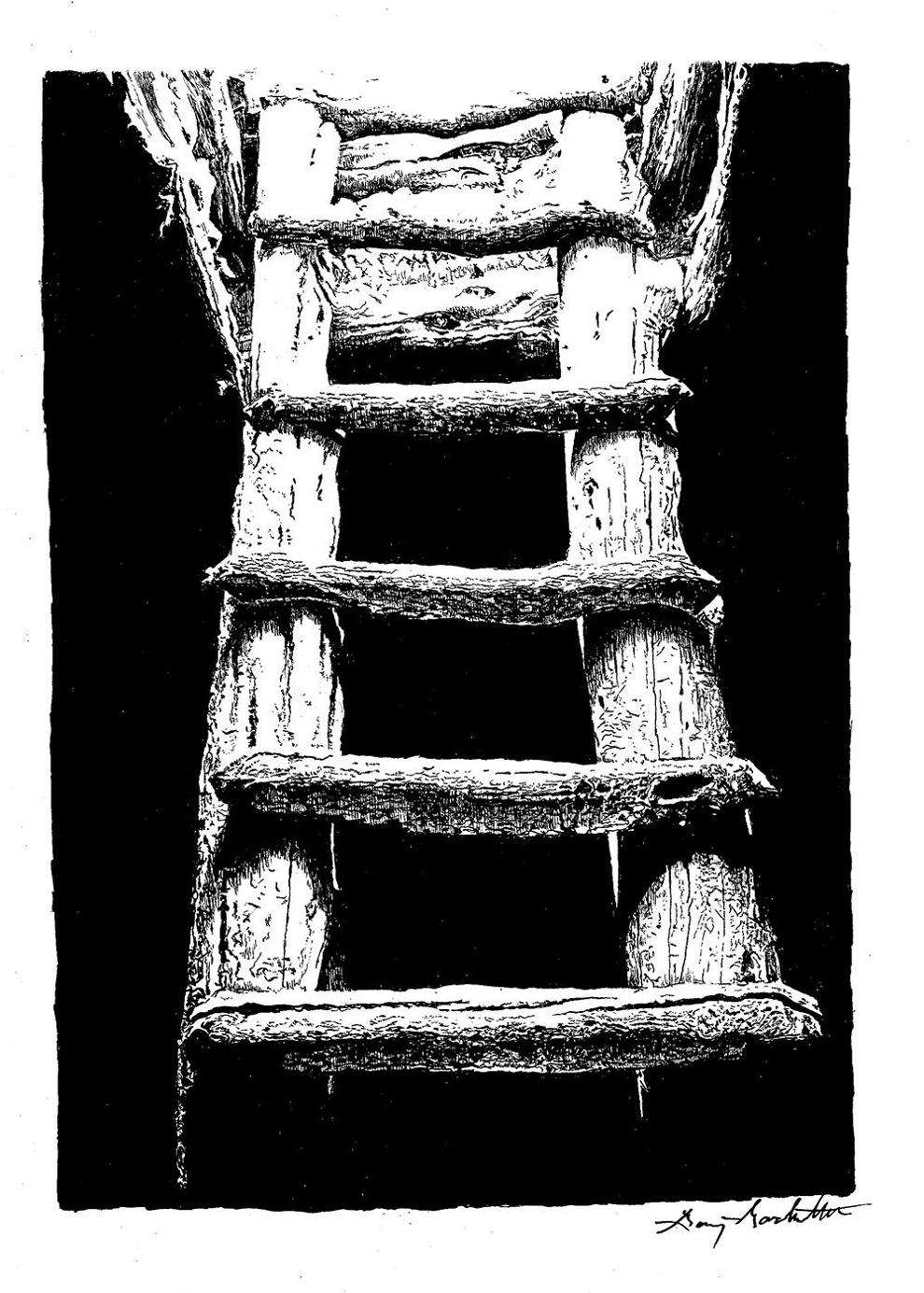 A crow quill is a tubular steel pen nib introduced in the early 1800s. It was used by draughtsmen and lithographers for fine details on printing plates.
The crow quill is Gary Gackstatter's drawing tool of choice. Gackstatter, a Kirkwood resident, is an artist, composer, conductor, performer and teacher. In his artwork, he creates representational ink drawings using only the tiny hairline marks of a crow quill. In order to create a wide dark shadow using this method, Gackstatter must layer thousands of these lines.
Gackstatter knows that it would be much quicker just to pull out a hake brush and drop a wide wash of dark ink. But to him, the method of making a work of art contributes to its meaning. For Gackstatter, it's important that the drawing process take time enough to allow a deep connection with his subject matter. In our conversation, Gackstatter remarked that "time is all we have been given."
Each layer of his ink, then, is a layer of meaning, a gift of time and self.
A few years ago, Gackstatter traveled to Chaco where he spent a couple months camping, drawing from nature, and composing music. Chaco Canyon is located in the high deserts of New Mexico. In the mid 800s the canyon was the cultural center of the Chacoan people, who are central to the origins of several Navajo clans and ceremonies. The cultural center is evidenced today by massive stone buildings notable for their complex architecture. These buildings are marked by sophisticated astronomical markers, communication features, and water control devices.
Since that visit, Gackstatter says that his attention has moved away from picturesque stone bridges and trees, to the pictographs and architecture of this Chacoan culture. The mystery and beauty of their creations speak to him. In these works, Gackstatter sees confirmation that humans are born to be creative, that our happiness comes with being creative, and that creation is a gift.
Learn more about Gackstatter's work by visiting www.garygackstatter.com. Or better yet, stop in to the Kirkwood Train Station and see his crow quill drawings in person. The exhibition is up through the end of the month.