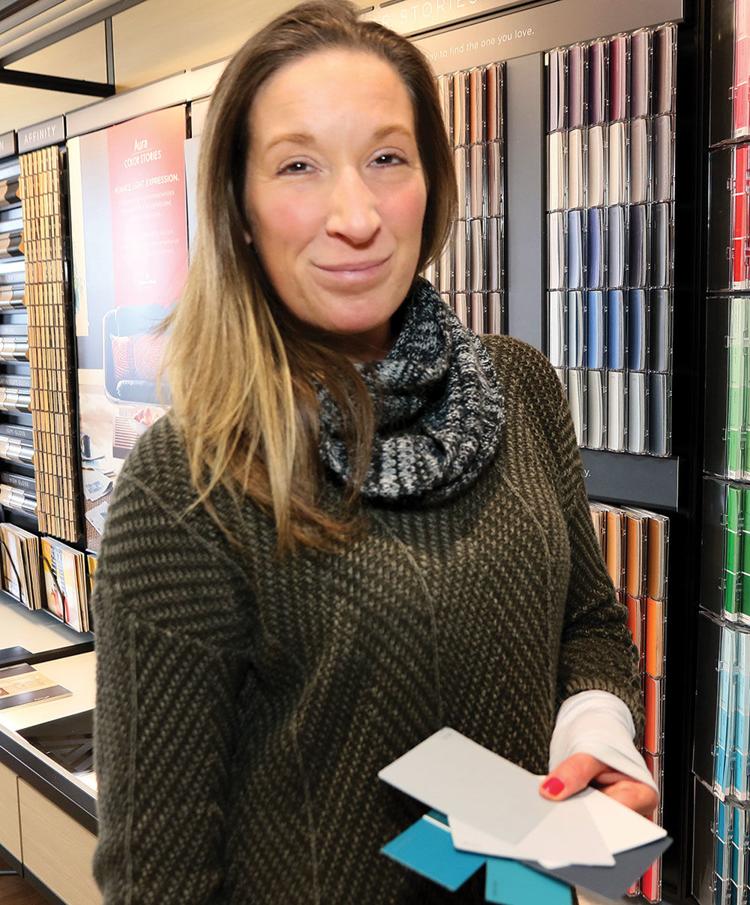 Spring is on the way and what better way to welcome the season than by doing a bit of redecorating?
Painting a room, replacing old carpet with new flooring, or adding new splotches of color can do wonders for the soul.
Like hemlines and shoes, trends in wall colors and flooring do come and go. Don't make the mistake of hanging on to the trend that has gone.
Sarah Haggard, decorator at Reineke Decorating Center, 12017 Manchester Road, has her finger on the pulse of color trends and stands ready to educate consumers looking for a change.
"Grays have been in at least for five years in St. Louis, and are still kind of big, but whites are what we are selling the most now," Haggard said. "Gray tends to be more popular in St. Louis where it's more traditional, and now we're seeing it in the white — softer white with gray undertones," she said.
With accenting, the trend is to do a backdrop color, a light muted color on the walls, with accents in pops of color in pillows, rugs and curtains.
"It's much easier to change the accents and get something new, while your backdrop color supports it," she said.
Another trend shift in the past 20 years is avoiding different colors in every room.
"In the early 2000s, we had mustard, catsup and relish, which was red, yellow and green, and you did a neutral in a hallway, then a red dining room, gold or green living room, and the other color would flip to the back of the house," she said. "Now, the trend is to do everything in one color with a darker shade somewhere else like the dining room or powder room."
Haggard said she has seen a lot of golds, navys, burgundies and greens.
"Lots of those deep rich colors are coming," she said. "We still have a lot of neutral going on with a pop of color, and I don't think that trend is going to shift. Those deeper, richer colors are coming. It will just take some time to get here."
Years ago, wallpaper reigned supreme. Almost every room in the house was papered in designs and colors that would flow into another room. And while painting rooms then became popular, Haggard said wallpaper has never gone out entirely. In fact, it is making a resurgence.
"For the past two years we have been selling a ton of wallpaper," she said. "I don't think it will ever return to where it was in the 1980s, '90s and 2000s where you papered every wall surface from entry to ceilings.
Haggard said people papered because they believed it to be more durable than paint and would better protect the surface.
"Plus, the cost was reasonable, so it was a quick fix to protect your walls and bring some pattern into the house," Haggard said.
Today, wallpaper is used more for cosmetic purposes than durability.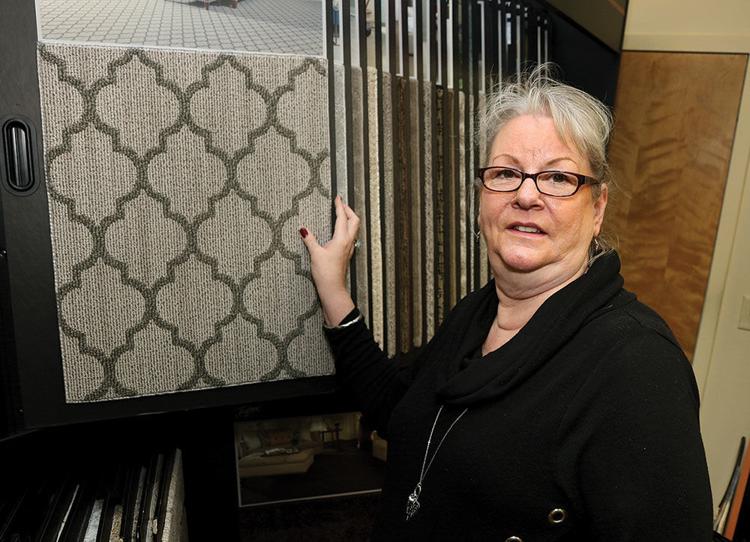 Flooring
Changing the colors in a room can only mean one thing. The floors come next, and Mary Curtis at Mid-West Floor, 2714 Breckinridge Industrial Court, can explain the options to prospective buyers.
For years, carpeting was the floor covering of choice until hardwood flooring picked up in popularity.
"Wood floors have been around forever and can last a long time if they are maintained correctly," Curtis said. "Especially with the new finishes that are on these floors. But that's not to say if someone walks across the floors in stiletto heels that they won't dent."
Three types of flooring are most popular – luxury vinyl tile, engineered wood and laminate.
"Luxury vinyl tile is probably the most sought after now," Curtis said. "There are different boards, colors, styles and textures which we can suggest based on a consumer's lifestyle.
"For a single person with no kids or dogs, I say do the hardwood," she said. "But for someone with three kids and pets, we could do a heavy-duty, wearable carpet in one room and maybe do a wood in the dining room or foyer.
"It depends on the lifestyle of the person and I like to find out what they're wanting and their ideas for performance," she said.
Engineered wood is multiple layers of plywood put together with a layer of thin wood on top.
"Some people don't think it's real wood, but it is," she said. "It's just in layers, and when you put the two together, you can't tell which is hardwood and which is engineered.
Curtis said maintenance for engineered wood is the same as for solid, while the luxury vinyl tile can just be wiped with a cleaning product or dust broom.
"Laminate is a compressed product similar to Pergo," Curtis said. "The laminates have come a long way, and have a core that's waterproof and scratch proof."
The trend is for hickory, oak and maple with consumers moving away from the Brazilian woods. The hardness of a wood has nothing to do with its wearability.
"It's the finish on the wood," Curtis said. "If you walk across a hickory, oak or maple floor in stiletto heels, you will make little divots. The hickory and oak will be more forgiving, but you will see every divot in maple."
Carpet is still a popular floor covering, especially on the second floor where some folks like the warm, cozy feel of carpeting in the bedroom.
"The trend is for hardwood on the first floor, then we can put a contrasting carpet color on the stairs to pop with the hardwood," Curtis said.
Go forth and have a colorful spring.