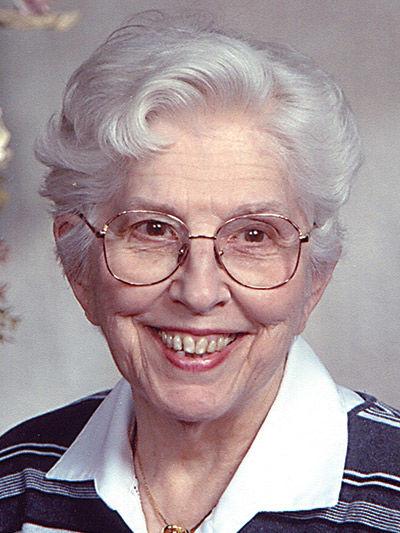 Head, Frances Lee (nee Key) passed away peacefully on March 16, 2020.  Frances was born on May 6, 1916 to William Orville and Zelma (nee Leezy) Key in Steelville, Missouri.  She graduated Valedictorian of her 1934 Steelville High School class and went on to teach in three one-room Missouri Schoolhouses for several years, including Vine Hill (near Cuba, Missouri,) Peaceful Bend (Highway 8, Steelville, Missouri) and Taylor School (Highway 19, eight miles outside of Cuba, Missouri.)  
During the summer recesses from teaching, she matriculated from Southwest Baptist College in Bolivar, Missouri and then Southwest Missouri State in Springfield, Missouri with a degree in teaching.  For seven years she taught in the Cuba, Missouri School District and completed her master's degree in education from Colorado State College of Education during the summer. 
In 1944, Webster Groves School District in St. Louis County hired Frances to teach at the Lockwood School where she taught fifth and sixth grades until she retired in 1950.  
On Dec. 27, 1950, Frances embarked on a new and exciting chapter in her life when she married Forrest E. Head and began raising a family of three children in Brentwood before moving to Kirkwood in 1978.  Frances was preceded in death by her husband in 2002.  Frances is survived by her three children and their spouses: David and Etta Head, Mary and Mark Clyne, and Elizabeth and James N. Foster. She is also survived by her six grandchildren and their spouses: Virginia Foster and Nicholas Coco, Margaret Curtis, M.D. and David Curtis, Katharine Foster, M.D. and Jose Nehme, Karen Clyne, Robert Clyne and Rosee Head.
A private memorial with her loving family was held on Friday, March 20, 2020.  In lieu of flowers, charitable contributions on her behalf may be mailed to the Tuscan Masonic Lodge No. 360, c/o James Stemmler, 1602 S. Big Bend, Blvd., St. Louis, Missouri 63117 and/or Southwest Missouri Baptist University, 1600 University Ave., Bolivar, Missouri  65613. Arrangements by Bopp Chapel.