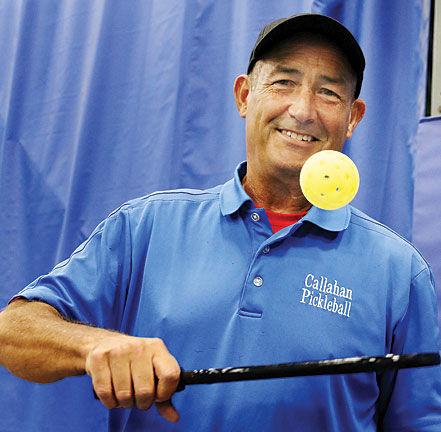 When "pickleball" began 52 years ago at Bainbridge Island, Washington, some soured on the new sport, while many senior citizens embraced the tennis-like activity.
John Callahan, Kirkwood resident and founder of Callahan Pickleball Academy, said that for seniors, regular exercise can be hard to come by. Callahan, a certified pickleball professional through the U.S. Pickleball Association, started the academy in July 2017. He's the tennis and pickleball pro at Frontenac Racquet Club.
"It has to be fun and of all the racquet sports like tennis, squash, pickleball and badminton, pickleball can be the most fun," Callahan said.
A pickleball court, at 20 feet by 44 feet, is smaller than a tennis court. In pickleball doubles, players only have 10 feet to cover, making it easier to keep the ball in play. Points tend to last longer.
"A smaller court means less running and less wear and tear on the knees, hips and ankles," Callahan said. "The paddle has no strings and the ball is like a Wiffle Ball. The serve is underhanded so that puts less stress on the shoulders and arm muscles."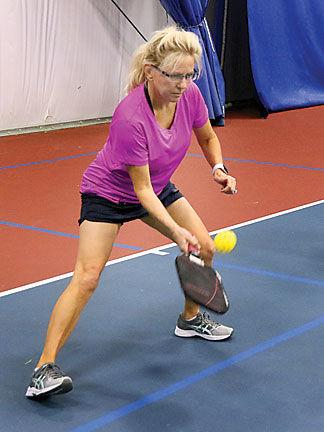 According to the U.S. Pickleball Association, 2.8 million people played the sport in 2017, and 75 percent of core players, those who play over eight times a week, were 55 years and older. Of that percentage, 66 percent are over 66 years old and 27.5 percent are between 40 and 59.
Pickleball venues have grown 375 percent in the past eight years, with St. Louis boasting 30 pickleball facilities.
Medical research shows that endorphins released by exercise help to elevate self-esteem and combat depression.
"Why are baby boomers and seniors taking to this so quickly?" Callahan asked. "Because it's easy to play, it's very social, and it's less stressful on muscles, tendons and joints. Former tennis players who, for physical reasons, cannot play the way they used to are enjoying pickleball as much as non-racquet sports players."
Callahan, who also teaches at Tower Grove Tennis Center in Tower Grove Park, was recently "holding court" at Frontenac Racquet Club.
"We have lessons for beginners and intermediates, and they just want to have fun," he said. "But there's a certain percentage that are getting ready for a tournament and they want to raise their game as much as possible."
This particular morning, eight women were on the courts having a ball. Warson Woods resident Carolyn Peterson has been playing for just a few months.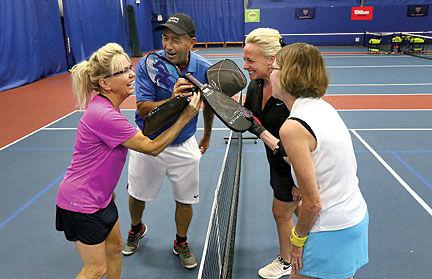 "I had no experience in sports, but the couple of times I played it was really fun. I felt confident that I could play this game without a lot of experience," she said. "I jumped into it and I'm playing five times a week."
Bibi Franceschelli is from Sunset Hills.
"We are empty nesters and my husband wanted to find something we could do together. We took part in a clinic a couple of years ago and fell in love with the game immediately," Franceschelli said. "I was a former tennis player and he played every other sport, but his hip went bad. Now he has a fake hip, but we play all the time, and we love the social aspect of it."
Shrewsbury resident Susan Adolph played racquetball for 33 years, but when some players began to pick up pickleball, she decided to give it a try.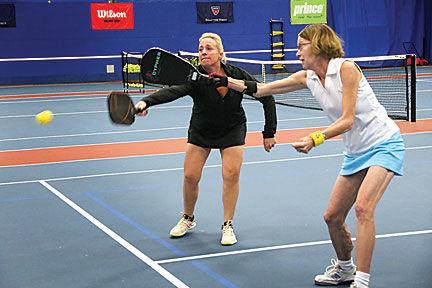 "Now I play every day," she said. "It's easy to learn, but hard to master."
Last spring Callahan and two students attended the U.S. Open Pickleball Championship Tournament in Naples, Florida, where they represented his academy.
"There were 2,000 people there and it was fabulous," he said. "It's all about patience, then attack the ball when it's attackable. The game can move fast, but we can go as slow as we want.
"All you need are tennis shoes and a smile," Callahan continued.