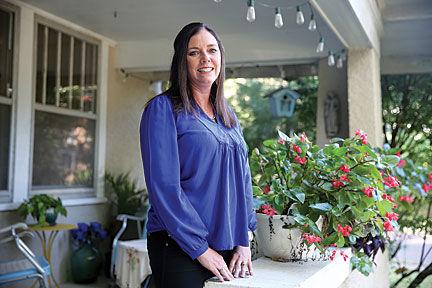 Webster Groves resident Melanie Maynor is passionate about giving people the chance to write their own stories' late-life chapters.
With that in mind, 10 years ago, she founded Aging Gracefully, which brings care management to clients' homes. As a geriatric care manager, she is a health and human services specialist who acts as a guide and advocates for families who are caring for older relatives or disabled adults.
Aging Gracefully evolved out of a natural progression.
Maynor grew up in a small town in southern Louisiana surrounded by grandparents and great-grandparents.
"I loved hearing their stories and interacting with the older generation," she said.
She studied psychology at Belhaven College then completed a master's in Social Work at Washington University with a concentration in gerontology and a specialization in family therapy. She is also a certified care manager. As a social worker, she worked in psychiatric, medical and geriatric settings.
"When I was 22, my mom died of cancer," Maynor said. "At the time, I realized how much we just needed an advocate, to navigate situations and create a plan of care.
"I feel passionate about bringing intentional and personalized care to every family we serve," she said.
She's been married for almost 20 years to Peter Maynor, a marriage and family therapist. Their daughter Lillian, 16, is a sophomore at Webster Groves High School, while son Grayson, 13, is an eighth grader at Hixson Middle School.
"Just before Aging Gracefully, I was working part time after I had my kids, doing work for a company that did geriatric care management. It turned out to be my perfect job," Maynor said. "Older adults are the population I love to work with, and it seemed like the perfect time to do this on my own."
Aging Gracefully has grown and has developed into her full-time occupation over the last several years. She has two employees: Deborah Moll, another care manager, and administrative assistant Ashley Cade.
The company's services start with consultations with the clients and the patient. Following an initial consultation, staff write an individualized care plan for the family, which could be meeting with the patient anywhere from several times a week to twice a month. This may be ongoing or can be used for times of respite such as coverage for a caregiver vacation.
Aging Gracefully also can provide services to care for clients' needs, as well as provide rest for family and caregivers. Those services include transportation; appointment companionship, shopping, organization, errand running, etc.
The company also provides mediation, having staff function as a non-anxious presence. Maynor said this is often helpful to families in making decisions. Staff can meet with all the parties involved in a patient's care to make a plan that meets the needs of all caregivers and patients.
Rebecca Ward, a 1967 Webster Groves High School graduate who lives in Washington state, said Aging Gracefully, worked with her late mother, Emma DuBose, for about six years. Her mother died in 2014 and had lived in Webster Groves since 1966.
"I can't say enough good things about Aging Gracefully," said Ward. "Melanie was really an angel and made it possible for my mother to stay in Webster Groves where all her friends were as opposed to moving to the West Coast where my brother Bob DuBose and I live and where she knew no one," Ward said.
Maynor took her mother, who had dementia, to doctors' appointments, made followup appointments and kept an eye on her general health.
"A couple times when mom had to go to the emergency room, Melanie would go and stay with her until discharge or admittance and call us with updates," she said. "Melanie used to take my mom out on rides in Webster Groves, sometimes stopping and visiting neighbors or going out to lunch.
"She would set up gatherings or parties if it was mom's birthday or if things with friends were going on or if I was visiting," Ward said. "Later, when mom was in assisted living, Melanie would ensure mom would go to events, if they were appropriate."
Ward said Maynor would attend meetings with staff at Laclede Oaks or Sunrise Assisted Living retirement centers and help interpret to doctors what was going on with DuBose.
She added that Maynor "did all the things I would have done if I was there and enabled my mom to live near her friends, who visited her, so she could live a full, happy life, which meant so much to me and my brother,"
"I care deeply about helping people finish well," said Maynor. "We ask people, if you could write this story, how would you write it?
"And we do our very best to create a plan of care where their wishes and desires are being met," she said. "We find that this becomes a positive experience for the family, too. Our hope is that families will come together rather than fall apart during this season of life."