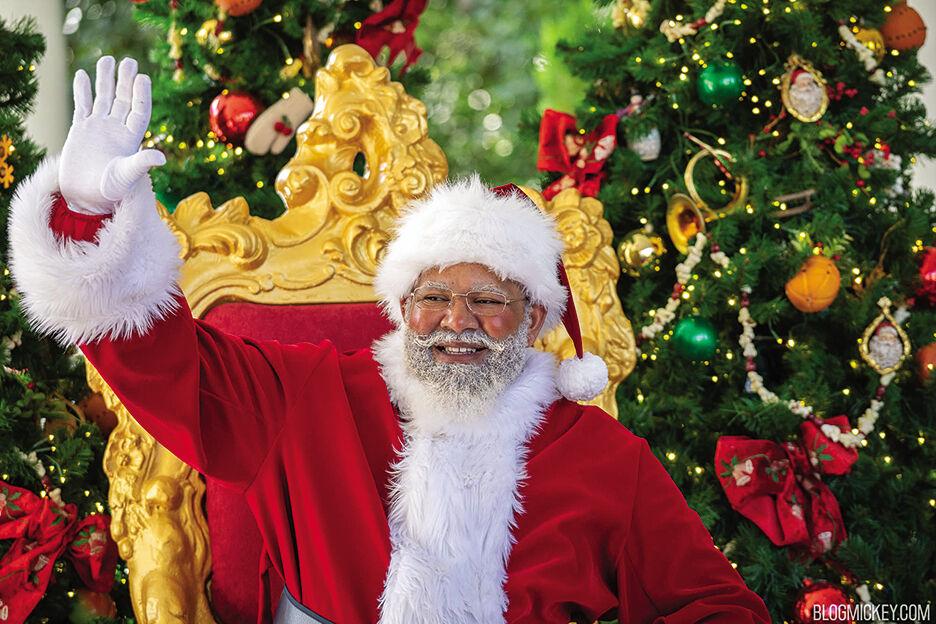 When Christopher Saunders graduated from Kirkwood High School, he didn't realize he was fated to become a Pioneer in more than one sense. This winter, the 1997 graduate is rocking Kirkwood's red and white in Orlando, Florida, as one of the first Black Santas to appear at a Disney park in the United States.
Saunders first donned a Santa uniform in 2017, when a friend from high school asked if he'd participate in a holiday celebration in The Loop. While he considered himself a jolly person, he wasn't sure he'd do the role justice — but one experience changed his mind.
"I saw this very beautiful girl in a window who got super, super excited when she saw me (as Santa). The only way I can describe it is that she exploded. She was just so happy. She ran back to tell whatever adult was there with her, 'Santa looks like me,'" said Saunders, who was the first Black Santa for The Loop's holiday celebration.
"At that point, the business end of it faded away, and just being a Santa to represent children of all backgrounds, the possibilities that are out there, became very important to me," he added.
From then on, Saunders — who dubs himself "Saunders Claus" — was hooked on spreading the joy of Santa. In 2019, he graduated from the Charles W. Howard Santa Claus School, the oldest institution of that type in the world. Now living in Texas, Saunders spends the winter seasons wherever he's needed, listening to Christmas wishes, sharing laughs and answering pressing questions like, "Just how does Santa get his magic?"
"Sometimes I will thank the child for helping Santa because it's 'belief magic' that accumulates all year around. It goes up to the North Pole through the Aurora Borealis and collects in the star on Santa's tree," he said. "Right before we take off on Christmas Eve, the star releases the magic over me and the reindeer, and gives us the power we need to visit every house."
While children may supply Santa with his magic, there's a special kind of magic Saunders gives back to the kids as well. As a Black man portraying Santa, he's gotten used to side eyes and confusion from parents. But he's learned to ignore any unpleasantness and focus on what's most important — delighting believers of all races.
"Children, for the most part, do not see color. They see a man in black boots, a flowing suit and a hat with a beard and a smile. They see Santa," said Saunders. "It's important for children from all diverse backgrounds to have a Santa who looks like them, but it's also important for Santa to be a Santa to everyone."
A Day In The Life Of Santa
Though most of Saunders' Santa appearances are scheduled around the winter holidays, Saunders has to prepare months in advance, starting with his beard. It takes time and plenty of bleach to lighten his normally jet black beard to Santa's iconic white. Self promotion, he added, is also a job throughout the whole year.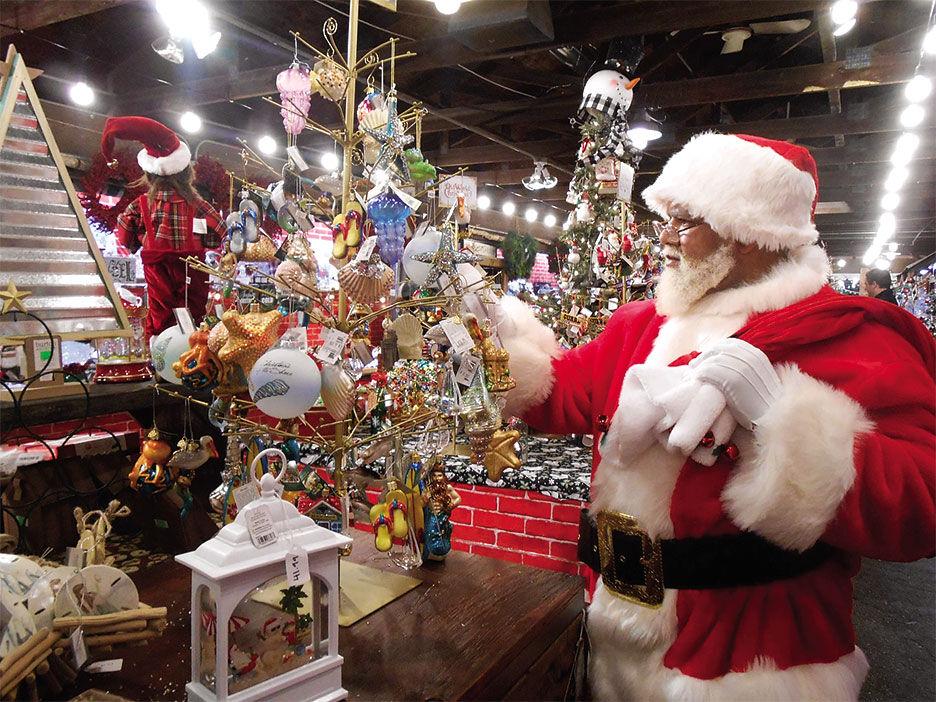 All of this is made much easier with help from Mrs. Claus — known as Elizabeth Trousdale Saunders in the warmer months — a 1999 graduate of Kirkwood High School herself. Just two years apart in school, the two met when they were both sporting their red and white as Kirkwood Pioneers.
"She is really my strongest supporter," Saunders Claus said of his Mrs. Claus. "She helps me pick out the different suits, and different venues, helps with my beard and all my social media presence. She's my photographer, my business manager — she is literally the engine behind Saunders Claus. I'm just the factory model."
In addition to visiting with children at Disney, Saunders Claus offers home visits, virtual visits and event appearances. While he's mastered the iconic Santa smile and wave routine, Saunders has also needed to learn how to respond in character in any situation.
"The world views Santa as a safe place, so they will ask and they will say anything," he said of the kids. "You have to be ready to know what they ate for lunch that day. You also have to be ready to know that they just lost a family member or that their parents are getting divorced.
"I let them know they are always in Santa's thoughts and that Santa will relay any information to help the situation," he continued. "Then I try to turn it around to what they want for Christmas. What gift can I give them that would make them happy and lessen the pain? Just giving them the brief moments without thinking about it is valuable."
While most of Saunders' visitors are children, he's met with more than a few adults. Some are just playing along, he said, but many are true believers. One of the best parts about becoming Santa, he said, is sowing the seeds of belief amongst children and adults alike.
He also likes to keep the ho-ho-holidays alive in other seasons.
"One of my favorite things to do in March, when my beard has returned to its natural color, is surprise a little kid at the grocery store with a coin that says 'I met Santa,'" he said. "They'll look up and say, 'But your beard,' and I'll hold a finger up and say, 'Shhhh.' It's Santa in disguise. It keeps the belief alive."
With five years of experience under his big black belt, Saunders still considers his Santa career in its early stage. The Kris Kringle from Kirkwood has no intention of giving it up, and will continue spreading Christmas joy as long as he's able.
"The only thing that will outlive me being Santa is my love for Mrs. Claus," he said.
When asked about his own Christmas wish, Saunders requested that his beloved Kirkwood come first in the "Webster-Kirkwood Times" logo for this issue. Check the front page to see if his wish came true. Learn more about Saunders Claus at www.saundersclaus.com, or catch up with him on Facebook and Instagram.