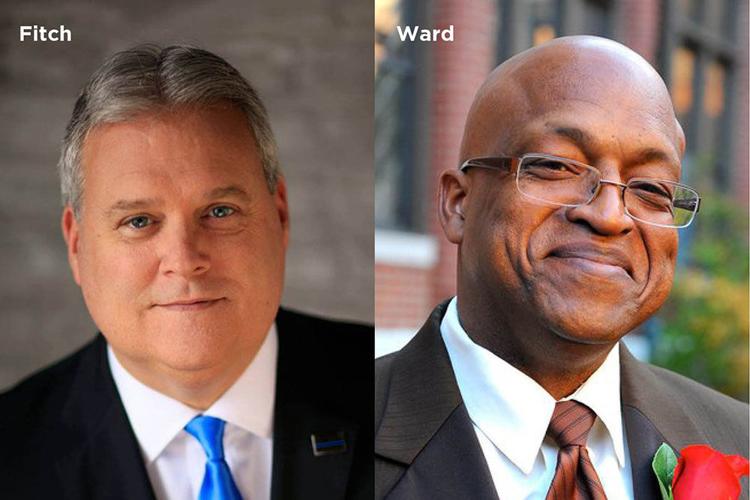 Only one of the four elections for St. Louis County Council seats is being contested in Tuesday's election: that for the 3rd District.
The district encompasses Kirkwood, Sunset Hills, Des Peres, Valley Park, Fenton, Town & Country, Frontenac and much of Creve Coeur. About 20 percent of the district is unincorporated.
The Democratic candidate is Paul Ward, a 62-year-old resident of Kirkwood. In April he finished his 14th year as a city councilman (2000-2004; 2008-18), retiring (as required by the city charter) at the conclusion of his second consecutive four-year term. The Republican candidate is Tim Fitch, 57, a resident of the unincorporated county near Fenton. He served as member of the St. Louis County Police Department for 31 years, the last five as chief (2009 to 2014).
Fitch lives with his wife of 34 years. Ward currently is unmarried. Each is father to two grown children.
Both men are deeply experienced in public service, and both say they want to use that experience to foster a healing process in the rancorous county government.
Ward cites his knowledge of the legislative process, and his record of working persistently to achieve a goal. He points to the Kirkwood Performing Arts Center, which after a long gestation will go under construction next week.
"I had proposed that before I became a council member; it took all that time," he said.
Fitch, as police chief, has experience working both with the county council and the St. Louis County Executive. He knows the workings of the county government procedurally, financially and politically.
As chief, "you're a department head, but you're much more visible than any other department head," said Fitch. Having attended every county council meeting for 20 years, "I know what I'm getting myself into."
Both men are confident they can strike a note of harmony in a government that now borders on the dysfunctional. The council, though under a Democratic majority, is suing Democrat County Executive Steve Stenger over its purported right to retain separate legal counsel. Stenger, on his part, has vetoed the funds budgeted for the council's basic operations, thus threatening to shut down the legislative branch of the county government.
The Nov. 6 ballot is replete with charter amendments aimed at one or another of the many points of dispute between Stenger and the council. And Stenger himself is on the ballot, opposed by candidates from the Republican, Libertarian and Constitution parties.
Both Ward and Fitch are critical of Stenger in this internecine war – Fitch obliquely, Ward pointedly.
"Stenger is a train wreck, just a train wreck," said Ward. "As inept as Charlie (Charlie Dooley, Stenger's predecessor as county executive) could be on some things, his record is much better than Stenger's."
Fitch recounted his successful dealings with Stenger when he was police chief and Stenger a council member. Like Ward, Fitch believes he could be influential in healing the rift between the council and the executive.
"I've already talked to all the council members. I said, if elected I'd like to sit down with you before I take office and let's repair some things," Fitch said. "We need to kind of hit the reset button and start over.
"I realize there is a lot of bad blood, and rightfully so in many respects," he added. "However, we can't continue to operate that way for the next four years."
Ward sees it similarly.
"I want to be in the gap – someone has to get in the middle and say 'let's take a piece of what they want, and let's put that together and let's move forward. Then everybody wins,'" Ward said. "If you keep this fighting up, we're going to keep diminishing."
Neither man is deeply partisan. Fitch said he became a Republican after he saw Democratic leaders on the local, state and national level mismanage law enforcement personnel during the 2014 riots in Ferguson. That "firmly pushed me over into the Republican camp."
To bolster his partisan zeal, retiring 3rd District Council Member Colleen Wasinger recruited him to run, Fitch said.
Ward said he likewise had no strong partisan identification (except a belief that Republicans are a bit myopic and stiff-necked) but agreed to run as a Democrat for the 3rd District seat in hope of bringing a wider economic and political perspective to the county government.
"If we can get that vibrancy back that we had in the '60s and '70s … I think we can be at least in the top 20 regions of the country. Personally, I think we can shoot at least at being in the top 10," Ward said. "But we've got to work with the city, and we've got to work with the surrounding counties. They have to understand that we're all on the Titanic. If we sink, everybody sinks."
Ward is not in favor of merging the county with the city in the near future.
"First the county has to get its house in order and the city needs to get its house in order," but "I think there needs to be a serious conversation at some point," Ward said. "I don't think you just say 'no.' That's not smart."
Fitch flatly opposes a merger in any form as "not in the best interest of the county and will not improve our regional competitiveness."
Fitch's principal goal as a council member would be public safety. He would, for example, seek to ensure that funds from the Prop P sales tax passed last year be used for law enforcement, as was originally promised – a point on which Ward agrees.