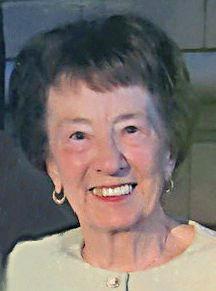 Corrigan, Ethel R., mother of Webster-Kirkwood Times Editor Don Corrigan, died Sunday, Aug. 18. Mrs. Corrigan, nee Lorenz, 96, of Belleville, Illinois, was born Aug. 23, 1922, in Belleville and died Sunday at Memorial Hospital, Belleville.
Mrs. Corrigan was a lifetime resident of Belleville and graduated from Notre Dame Academy. She was a member of Our Lady Queen of Peace Parish and was a member of the St. Clair County Women's Club. She worked for the Belleville Special Education District for 18 years. She shared her talents in numerous community volunteer organizations.
Mrs. Corrigan was preceded in death by her husband, of 62 years, Howard J. Corrigan, who died on May 14, 2008; her parents, Arthur W. and Katherine V., Mueller, Lorenz; a sister, Alita McCarron; and brothers-in-law, Stanley McCarron and James Huling.
She is survived by a daughter, Kathleen M. (W. R. "Randy") Hartman of Prairie Village, Kansas; a son, Don H. (Susanne) Corrigan of Sunset Hills; six grandchildren, Courtney (Steve) Anderson, of Fairway, Kansas, Kyle (Natalie) Hartman, of Mission Hills, Kansas, Clay (Kate) Hartman, of Mission Hills, Kansas and Craig (Heidi) Hartman, Fairway, Kansas, Brandon Corrigan of St. Charles, and Christa Corrigan, Dublin, Ireland; 11 great grandchildren, Zoe, Lucy, and George Hartman, Will and Liesel Anderson, Nicholas, Maggie and Annie Hartman, and Reese, Adam, and Hanna Hartman.
Friends may visit from 10 a.m. to 11:15 a.m. on Friday, Aug. 23, 2019, at Our Lady of the Snows Shrine Chapel in Belleville. A funeral Mass will be held at 11:15 a.m., Friday, at Our Lady of the Snows Shrine, The Esquiline, Chapel. Burial will be at Green Mount Cemetery.
Arrangements by George Renner & Sons. Condolences may be expressed online at www.rennerfh.com.