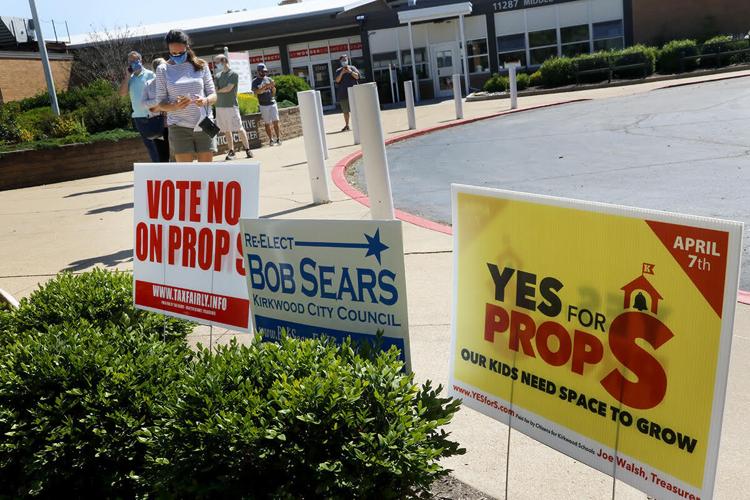 Updated Wednesday morning, June 3, with reactions to the results from opponents and supporters of the measure.
Kirkwood voters have rejected Prop S, a multi-million no-tax-increase bond issue that would have built a new elementary school and funded several other improvements.
The measure failed with 6,118 — or 54.4% — votes against it and 5,137 — or 45.6% — votes in support. It would have needed more than 57.14% of "yes" votes to pass. The election was held on Tuesday, June 2.
Prior to the election, Kirkwood School District officials said Prop S would be necessary to address the district's growing enrollment and alleviate overcrowding in its schools. Critics said although the district labeled the measure as a no-tax-rate increase bond issue, passage of the multi-million dollar plan would have likely meant a tax increase for voters in the future. Those against Prop S also cited traffic, water runoff and environmental concerns.
Martin Bennet, treasurer of a citizen group called Tax Fairly that opposed Prop S, said he was glad voters rejected the measure.
"We're very satisfied that Kirkwood School District voters soundly defeated Prop S," Bennet said late Tuesday night after the votes were in. "We live in a great community where people have the common sense and intelligence to research a complex issue. They looked at both sides and chose wisely. We're very satisfied and thankful that people recognized our arguments and made the right decision."
Kirkwood School District Board of Education President Darnel Frost said it was a difficult night for Prop S supporters, and there will still be much work to do on how to address the district's growing enrollment and alleviate overcrowding in its schools.
"Last night was tough. A hard fight. However, we did not pass Prop S," Frost said Wednesday morning. "Thanks to the Prop S committee and all the volunteers who helped with tremendous effort. Their time, blood, sweat and tears are so very appreciated. You worked hard for our students and that is to be commended. To our students, teachers, staff and administration, I am truly sorry. For our district, hold your heads high and stay strong. We will continue to work with and learn from our community. We have an enrollment growth that still needs to be addressed. We have a lot of work ahead of us, however, we will get this done for our students. They deserve our best."
Prior to the election, the district said if Prop S failed, redistricting will still be necessary to address overcrowding, and schools will continue using hallways and closets for small group instruction. Rooms currently being used for music and art will likely need to be used for grade-level classrooms, which means art and music would be transferred onto carts that would move from room to room. 
The district will also have to consider adding trailers to elementary schools for instructional space, as well as the possibility of moving library books to a storage trailer and using the library as a classroom. 
As a last resort, class sizes would be increased. Although many community members have expressed a desire to keep class sizes the same, that may not be possible with the failure of Prop S.
To read our pre-election story on Prop S, click here.