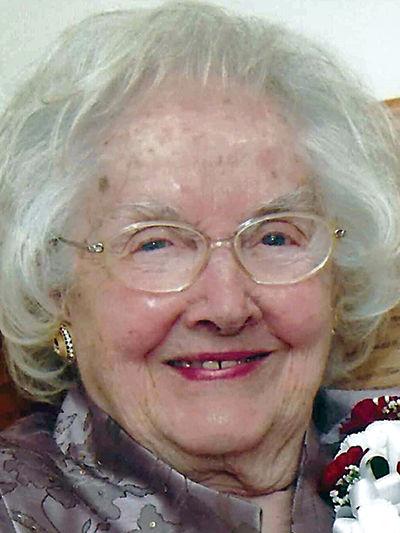 Johnson, Eleanor Margaret, Oct. 1, 1917 to Aug. 23, 2019. Eleanor was born and raised in Iowa City, Iowa. She graduated from the University of Iowa with her degree in elementary education. She taught school from 1939 until WWII broke out in 1941. She returned to Iowa City and worked as a secretary for the Navy. She met Tom Johnson at a USO dance in 1942. After the war ended, Tom came to Iowa City and proposed. The couple married June 15, 1946 and moved to Kirkwood. They lived there until 2009. Eleanor enjoyed church activities, traveling, bridge, golf, and other social activities.
She is preceded in death by her husband, Thomas H.I. Johnson II and survived by her three children: Carol (Ben) Groves, Sandra (Steve) Winter, and Thomas H.I. Johnson III (Debbie Lancaster), six grandchildren, and six great-grandchildren.
A Memorial service will be held on Nov. 27 at 10 a.m. at the First Presbyterian Church of Kirkwood, 100 East Adams Ave, Kirkwood, MO 63122. Donations to First Presbyterian Church preferred in lieu of flowers.