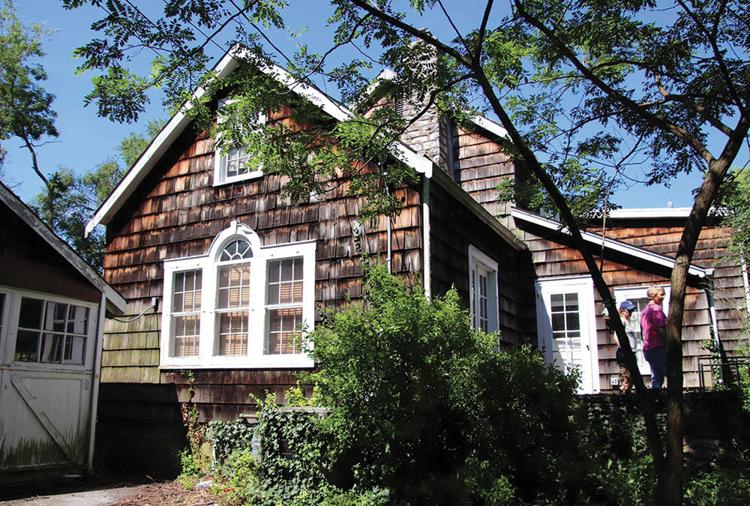 The Kirkwood Landmarks Commission campaign to prevent a nearly 200-year-old log cabin from winding up in a landfill is paying off.
That's because the prospective buyers of a ramshackle house at 518 Scottsdale Road, in Kirkwood's north end, have agreed to allow a well-known preservationist to rescue the log cabin from the house's interior before it's torn down and replaced with a new structure.
But it still remains unclear where the cabin, which dates from the 1830s, will wind up, said Mark Scheipeter, the owner of Schei Home Building. That's the firm the property's impending owners have hired to oversee the construction of a new ranch-style house at the site.
"It's still up for whoever wants to make a bid on it," Scheipeter said.
In early July, the landmarks commission approved a 270-day stay of demolition to prevent Ellisville-based Artful Home, which acquired the house in April, from tearing down the home.
If the commission lifts the 270-day stay, "Then my client will swoop in and close on the land right away," Scheipeter said, noting that disassembly of the historic cabin — which in the 1800s had served as a stagecoach stop, tavern and saddlery — could begin as early as October.
"It sounds like what they're proposing to do makes a lot of sense," said Andrew Ramist, a landmarks commission member.
What further pleases Ramist and other commission members is the fact that Scheipeter has been hired to undertake the Scottsdale Road project.
Scheipeter won major kudos a few years back because he oversaw the restoration of the so-called Gill House, a mansion at 419 E. Argonne in Kirkwood's Jefferson-Argonne Historic District.
Dating from 1858, the Gill House is listed on both the Missouri and National Registers of Historic Places. Nate and Ashley Harrison, of Wildwood, bought the house and, with Scheipeter's help, fully restored it after standing vacant for seven years.
Lynn Andel, another commission member, said she'd like to see the restored log cabin stay in Kirkwood.
"It would make the most sense to keep it in Kirkwood, since it was built in Kirkwood, versus it traveling somewhere else," Andel said.
The hitch, of course, is finding both a new home for the cabin and the dollars needed for its transportation and renovation.
"We'd certainly be open to somebody else with a big plot of land and who wanted it, to, say, 'Hey, You can put it on my land,' and donate it as a public space," she said. "We think it'd be a really wonderful thing."
The gritty work of preserving the cabin will be under the supervision of Tim Kilby, who specializes in the preservation of historic buildings.
A key question that will determine how much of the log cabin can be salvaged centers on the condition of it rear wall. It absorbed a lot of water over the years because of leaks in the surrounding house's roof, Kilby said.
"Other than that, the cabin seems pretty solid," he said, cautioning that he still has not yet seen the entire building.
Kilby, the owner of The Country Gentleman Restorations, located in Defiance, Missouri, estimates he's been involved in more than 100 historic building reclamation projects scattered across Illinois, Arkansas and Missouri.
"There's a common thread that's always in there," he said. "But every one has its own personality and issues."
Kilby described historic building restoration as a "very niche market" that "most people are smart enough not to enter it."
But it's a line of work he's been passionate about for 30 years because, he said, as "You go through the process of saving it and putting it back up, and it's just so rewarding to see the final product come out."
By every measure, the house at 518 Scottsdale Road is in a state of severe decrepitude, with its most notable deficiency a rotting roof that began disintegrating a few years back. What's more, the property at the time of its purchase was engulfed by overgrown brush, vines and trees.
Artful Home bought the property from Daniel Watson in April for $172,500, St. Louis County property records show. Watson owned the home for 21 years, and has been its sole occupant since 2011.
In a June 28 letter to the Kirkwood Landmarks Commission, Watson wrote that the buyer, Kris McCurdy of Artful Home, led him to believe that the home would be restored.
In the weeks and months following the April 19 closing date, Watson made frequent trips to his old home, and noticed that no work was being done and that a tarp had not been placed on the damaged roof.